I've been training for a big goal of mine: running a 100k in a specific amount of time. Yes, I've run farther than that before: last year I ran ~82 miles. However, I had someone in my family network who ran 100k last year, and I realized their time made a reasonable goal for me. I'm competitive, so the extra motivation of striving for a certain time is helpful for channeling my "racing", even if I'm "racing" someone virtually (who ran a year ago!).
Like last year, I decided I would run my 100k (which is 62+ miles) as a solo or DIY ultramarathon. I originally plotted five laps of various lengths, then figured out I could slightly alter my longest route by almost a mile, making it so I would do 2 laps of the same length, a third lap of my original longest length, and then a fourth lap of a shorter length that's also one of my preferred running routes. Only four laps would be mentally easier than doing five laps, even though it would end up being exactly the same distance. Like last year, I leveraged extensive planning (most of it done last year) to plan my electrolytes, enzymes, and fueling in advance. I had a lot less work to do this year, because I simply refreshed the list of gear and prep work from last year, shortened of course to match the length of my expected race (less than 18 hours vs ~24+ hours). The main thing I changed in terms of preparation is that while I set out a few "just in case" supplies, most of them I left in their places, figuring they'd be easy enough to find in the house by Scott (my husband) if I needed to ask him to bring out anything in particular. The few things I laid out were emergency medical supplies like inhaled insulin, inhaled glucagon, a backup pump site, etc. And my usual piles of supplies – clothes, fuel to refill my vest, etc – for each lap.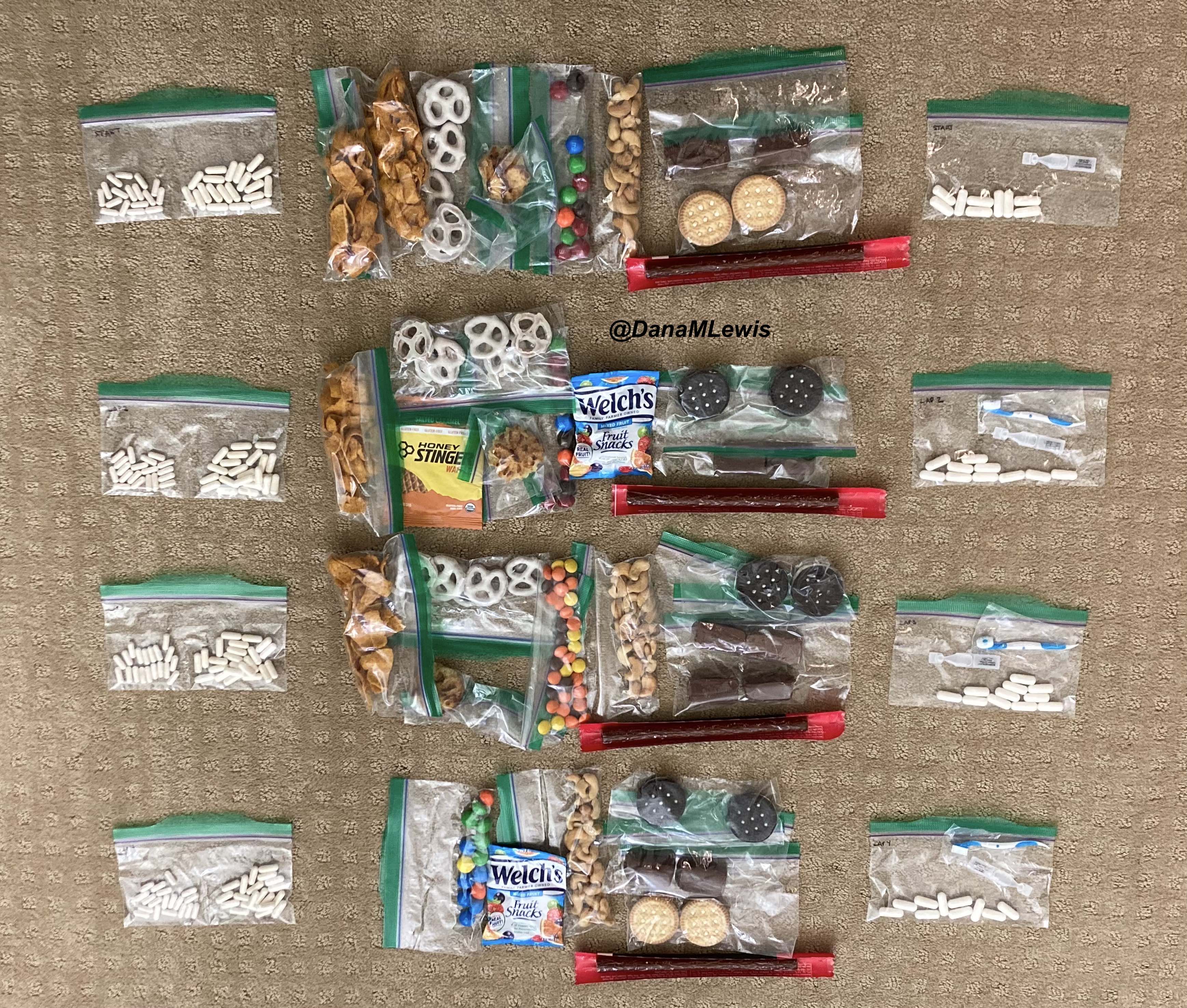 One thing that was different for my 100k was my training. Last year, I was coming back from a broken toe and focused on rebuilding my feet. I found that I needed to stick with three runs per week. This year, I was back up to 4-5 runs per week and building up my long runs beginning in January, but in early February I felt like my left shin was getting niggle-y and I backed down to 3 runs a week. Plus, I was also more active on the weekends, including most weekends where we were cross-country skiing twice, often covering 10-15 miles between two days of skiing, so I was getting 3+ extra hours of "time on legs", albeit differently than running. Instead of just keeping one longer run, a medium run, and two shorter runs (my original plan), I shifted to one long run, one medium long run (originally 8 and then jumping to 13 miles because it matched my favorite route), and the big difference was making my third run about 8 miles, too. This meant that I carried my vest and fueled for all three runs, rather than just one or two runs per week. I think the extra time training with the weight of my vest paid off, and the miles I didn't do or the days I didn't run didn't seem to make a difference in regard to recovering during the weeks of training or for the big run itself. Plus, I practiced fueling every week for every run.
I also tapered differently. Once I switched to three runs a week, my shin felt a lot better. However, in addition to cross country skiing, Scott and I also have access now to an outdoor rock climbing wall (so fun!) and have been doing that. It's a different type of workout and also helps with full body and upper body strength, while being fun and not feeling like a workout. I bring it up mostly because three weeks ago, I think I hurt the inside of my hip socket somehow by pressing off a foothold at a weird angle, and my hip started to be painful. It was mostly ok running, but I backed off my running schedule and did fewer miles for a week. The following week I was supposed to do my last longest long run – but I felt like it wouldn't be ideal to do with my hip still feeling intermittently sore. Sometimes it felt uncomfortable running, other times it didn't, but it didn't feel fully back to normal. I decided to skip the last long run and stick with a week of my medium run length (I did 13, 13, and 8). That felt mostly good, and it occurred to me that two shorter weeks in a row were essentially a taper. If I didn't feel like one more super long run (originally somewhere just under a 50k) was necessary to prepare, then I might as well consider moving my 'race' up. This is a big benefit of DIY'ing it, being able to adjust to injury or schedule – or the weather! The weather was also forecasted to be REALLY nice – no rain, high 50s F, and so I tentatively aimed to do a few short runs the following week with my 100k on the best weather day of the weekend. Or if the weather didn't work out, I could push it out another week and stick with my original plan.
My taper continued to evolve, with me running 4 easy miles on Monday (without my vest) to see how my hip felt. Mostly better, but it still occasionally niggled when walking or running, which made me nervous. I discussed this endlessly with Scott, who as usual thought I was overcomplicating it and that I didn't need to run more that week before my 100k. I didn't like the idea of running Monday, then not running again until (Friday-Sunday, whenever it ended up being), but a friend unexpectedly was in town and free on Wednesday morning, so I went for a walk outside with her and that made it easy to choose not to run! It was going to be what it was going to be, and my hip would either let me run 100k or it would let me know to make it a regular long run day and I could stop at any time.
So – my training wasn't ideal (shifting down to 3 runs a week) and my taper was very unexpected and evolved differently than it usually does, but listening to my body avoided major injury and I woke up feeling excited and with a good weather forecast for Friday morning, so I set off at 6am for my 100k.
(Why 6am start, if I was DIYing? My goal was to finish by 11:45pm, to beat the goal time of 11:46pm, which would have been 17 hours and 46 minutes. I could start later but that would involve more hours of running at night and keeping Scott awake longer, so I traded for an hour of running before it got light and finishing around midnight for a closer to normal bedtime for us both.)
*One other major thing I did to prep was that as soon as I identified that I wanted to shift my race up a week, I went in and started scheduling my bedtimes, beginning with the night before the race. If I raced at 6 from home, I would wake up at 5 to get ready, so I wanted to be sleeping by 9pm at the latest in order to get close to a normal night of sleep. Ideally it would be closer to 8-8:30. I set my bed time and each night prior, marked the bedtime 15 minutes later, so that when I started I was trying to push my bedtime from ~11pm to 10:45 pm then the next night 10:30pm etc. It wasn't always super precise – I've done a better job achieving the goal bedtimes previously, but given that I did an early morning cross country ski race on the morning of daylight saving time the week before (ouch), it went pretty ok, and I woke up at 5am on race morning feeling rested and better than I usually do on race days. 7 hours and 45 minutes of sleep is an hour to an hour and a half less than usual, but it's a LOT better than the 4-5 hours of sleep I might have otherwise gotten without shifting my schedule.
THE START (MILES 0-17)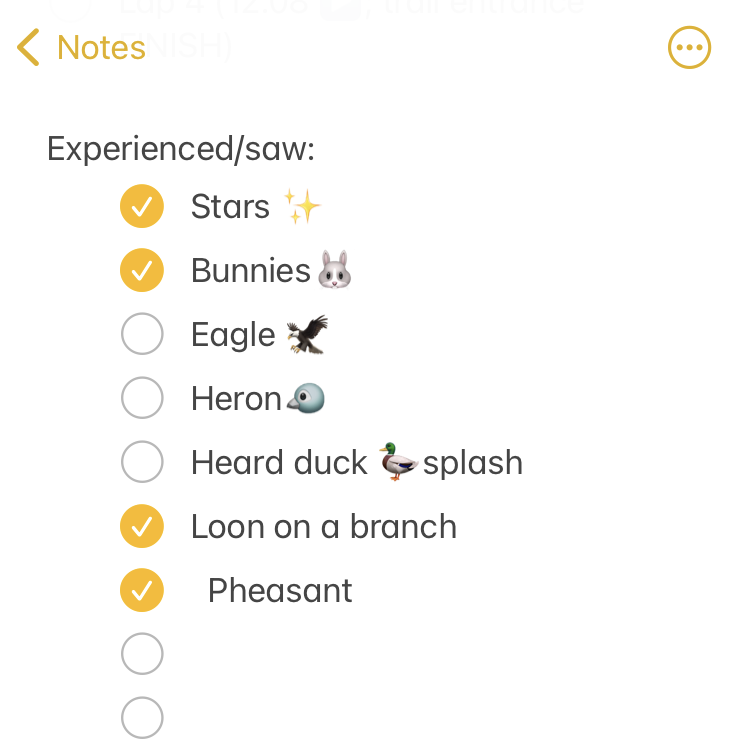 I set out at 6am, It was 33 degrees (F), so I wore shorts and a short sleeve shirt, with a pair of fleece lined pants over my shorts and a long sleeve shirt, rain jacket, ear cover, and gloves on my hand. It was dry, which helped. I was the only one out on the trail in the dark, and I had a really bright waist lamp and was running on a paved trail, so I didn't have issues seeing or running. I felt a bit chilly but within 3 minutes could tell I would be fine temperature wise. As I got on the trail, I glanced up and grinned – the stars were out! That meant I could "check" something off my experience list at the very start. (I make a list of positive and less great experiences to 'check off' mentally, everything from seeing the stars or seeing bunnies or other wildlife to things like blisters, chafing, or being cold or tired or having out of whack glucose levels – to help me process and "check them off" my list and move on after problem solving, rather than dwelling on them and getting myself into a negative mood). The other thing I chuckled about at the start was passing the point where, about a half mile in to my 82 miles, I had popped the bite valve off of my hydration hose and gotten water everywhere and couldn't find the bite valve for 3 minutes. That didn't happen this time, phew! So this run was already off to a great start, just by nothing wild like that happening within the first few minutes. I peeled off my ear cover at 0.75 miles and my gloves at a mile. My jacket then peeled off to tie around my waist by the second mile, and I was surprised when my alarm went off at 6:30am reminding me to take in my first fuel. My plan calls for fuel every 30 minutes, which is why I like starting at the top of the hour (e.g. 6:00am) so I can use the alarm function on my phone to have alarms pre-set for the clock times when I need to fuel.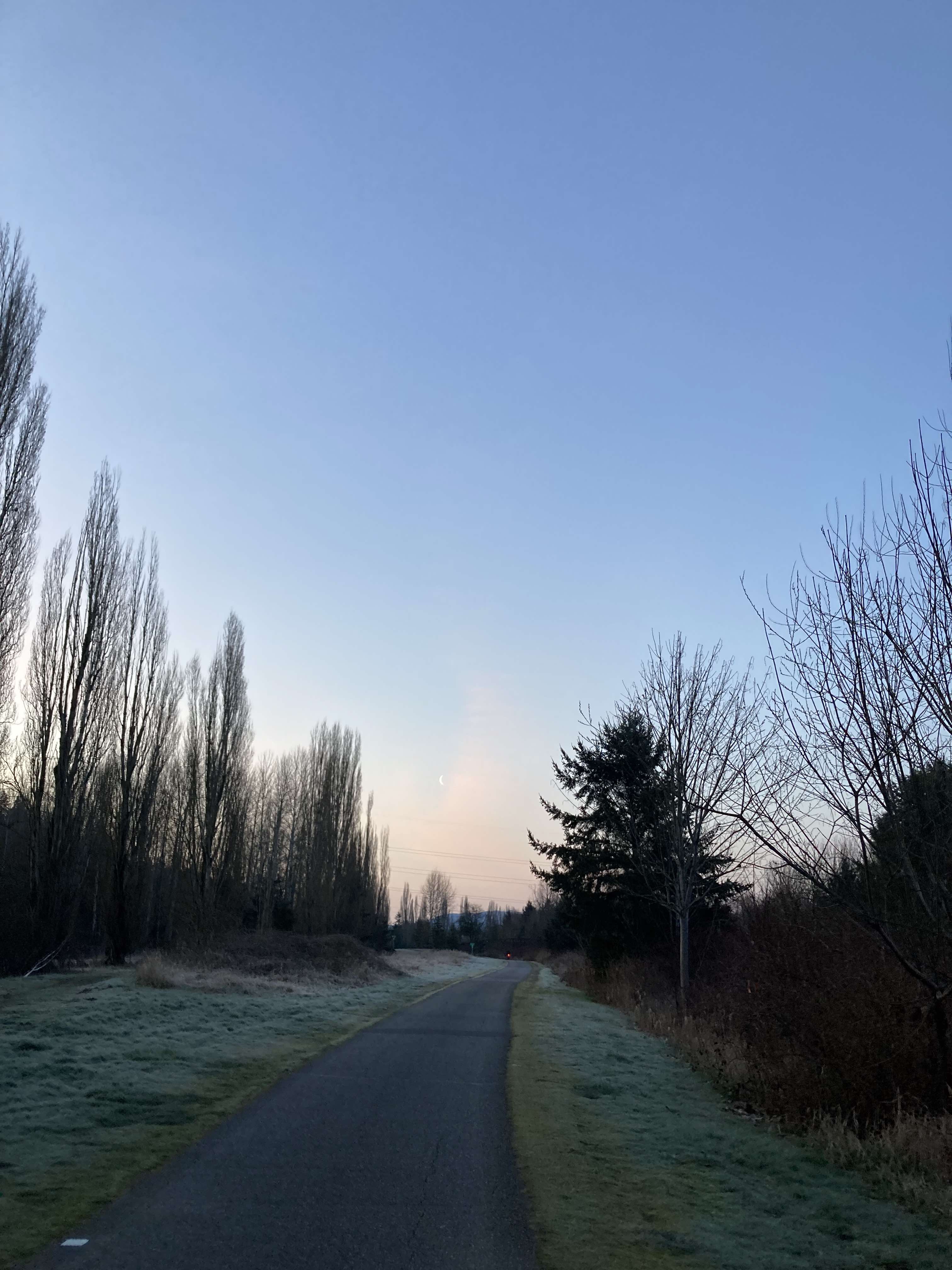 As I continued my run/walk, just like I do in all my training runs, I pulled my enzymes out of my left pocket, swallowed them, put them away, grabbed my fuel out of my right pocket (starting with chili cheese Fritos), then also entered it into my fuel tracking spreadsheet so I could keep an eye on rolling calorie and sodium consumption throughout my run. (Plus, Scott can also see it and keep an eye on it as an extra data point that I'm doing well and following all planned activities, as well as having live GPS tracking and glucose tracking capabilities). I carried on, and as the sky began to lighten, I could see frost covering the ground beside the trail – brrr! It actually felt a little bit colder as the sun rose, and I could see wafts of fog rolling along the river. I started to see more people out for early morning runs, and I checked my usual irritation at people who were likely only out for (3? 5? 10? Psh!) short morning runs while I was just beginning an all day slog.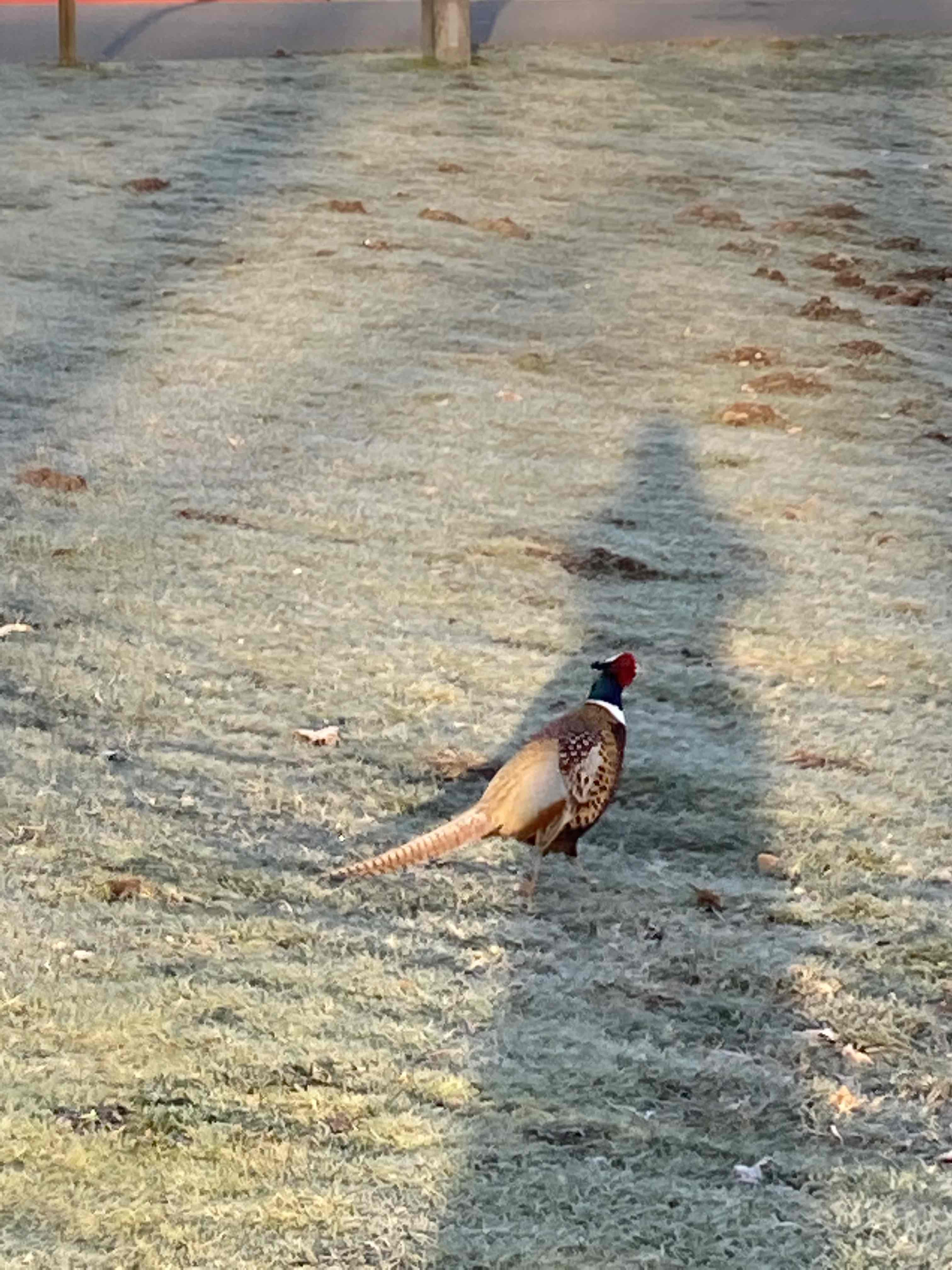 I was running well and a little ahead of my expected pace, closer to my usual long run/walk paces (which have been around 14:30-14:50 min/mi lately). I was concerned it was too fast and I would burn out as so many people do, but I did have wiggle room in my paces and had planned for an eventual slow down regardless. I made it to the first turnaround, used the trail bathroom there, and continued on, noting that even with the bathroom stop factored in, I was still on or ahead of schedule. I texted Scott to let him know to check my paces earlier than he might otherwise, and also stopped in my tracks to take a picture of a quail-like bird (which Scott thinks was a pheasant) that I'd never seen before. Lap 1 continued well, and I was feeling good and maintaining an overall sub-15 pace while I had been planning for a 15:10/ish average pace, so although Scott told me he didn't need me to warn him about being particular miles away for aid station stops, I saw he was still at home by the time I was less than a mile out, and texted him. He was finishing a work call and had to rush to finish packing and come meet me. It wouldn't have been a big deal if he had "missed" me at the expected turnaround spot, because there's other benches and places where we could have met after that, but I think he was still stressed out (sorry!) about it, although I wasn't. However, he biked up to me right at the turnaround spot, grabbed my vest and headed back to our normal table for refueling, while I used the bathroom and then headed out to meet him.
The other thing that might have stressed him out a little – and did stress me out a little bit – was my glucose levels. They were running normal levels for me during a run, around ~150mg/dL in the first 2-3 hours of my run. This is higher than I normally like to be for non-running times but is reasonable for long runs. I usually run a bit higher at the start and then settle in around 120-130mg/dL, because the risk of having too much insulin at the start from breakfast is prone to causing lows in the first hour; therefore I let myself reduce insulin prior to the run so that the first hour or so runs higher. However, instead of coming down as usual from the start of my run, I started a steady rise from 150 to 180. That was weird, but maybe it was a physiological response to the stress? I issued a correction, but I kept rising. I crossed 200 when I should have been beginning to flatten, and it kept going. What on earth? I idly passed my hand over my abdomen to check my pump site, and couldn't feel my pump site. It had come unclipped!!! This was super frustrating, because it means I didn't know how much insulin was in my body or when it had come unclipped. (Noteworthy that in 20+ years of using an insulin pump, this has NEVER happened before until this month, and it has now happened twice, so I need to record the batch/lot numbers and report it – this batch of sites is easily coming unclipped with a tug on the tubing, which is clearly dangerous because you can't feel it come unclipped and don't know until you see rising glucose levels.) "Luckily" though, this was when I was within 30 minutes or so of being back to Scott, so I texted him and told him to grab the inhaled insulin baggie I had set out, and I would use that at the aid station to more quickly get my body back into a good state (both in terms of feeling the insulin action as well as normalizing glucose levels more quickly. For those who don't know, injected/pump insulin takes ~45 minutes to peak activity in the body, whereas inhaled insulin is much faster in the ballpark of ~15-20 minutes peak action, so in situations like this I prefer to, when possible, use inhaled insulin to normalize how my body is feeling while also resuming/fixing the pump site for normal insulin from then on).
As planned, at every aid station stop he brought water and ice to refill my camelback, which he did while I was at the bathroom. When I came up to the table where he was, I quickly did some inhaled insulin. Then I sat down and took off my socks and shoes and inspected my feet. My right foot felt like it had been rubbing on the outside slightly, so I added a piece of kinesiology tape to the outer edge of my foot. I already had pieces on the bottom of my feet to help prevent blisters like I got during my 82, and those seemed to be working, and it was quick and easy to add a straight piece of tape, re-stick pieces of lamb's wool next to each big toe (to prevent blisters there), put fresh socks on, and put a fresh pair of shoes on. I also changed my shirts. It was now 44 F and it was supposed to warm up to 61 F by the end of this next lap. I stood up to put my pack on again and realized I had forgotten to peel off my pants! Argh. I had to unlace my shoes again, which was the most annoying part of my stop. I peeled off the pants (still wearing my shorts under), put my shoes back on and laced them again, then put my vest back on. I removed the remaining trash from my vest pockets, pulled out the old enzyme and electrolyte baggies, and began to put the new fuel supply and enzyme and electrolyte supply in the front vest pockets. Last time for my 82, I had Scott do the refilling of my vest, but this time I just had him set out my gallon bag that contained all of these, so that I could place the snacks how I like best and also have an idea of what I had for that lap. I would need to double check that I had enzymes and electrolytes, anyway, so it ended up being easier for me to do this and I think I'll keep doing this moving forward. Oh, and at each aid station stop we popped my (non-ultra) Apple Watch on a watch charger to top off the charge, too. I also swapped in a new mini battery to my pack to help keep my phone battery up, and then took off. All this, including the bathroom time, took about 15 minutes! I had budgeted 20 minutes for each stop, and I was pleased that this first stop was ahead of schedule in addition to my running slightly ahead of schedule, because that gave me extra buffer if I slowed down later.

LAP 2 (MILES 18-34)
The next lap was the same route as the first, and felt like a normal long run day. It was mid 40s and gradually warmed up to 63 F and actually felt hot for the second half! It hadn't been 60+ degrees in Seattle since October (!) so my body wasn't used to the "heat". I was still feeling good physically and running well – in fact, I was running only ~10s slower than my average pace from lap 1! If I kept this up and didn't fall off the pace much in the second lap, I would have a very nice buffer for the end of the race. I focused on this lap and only thought about these 16-17 miles. I did begin to squirt water from my camelback on to the 'cooling' visor I have, which evaporates and helps your head feel cooler – especially since I wasn't used to the heat and was sweating more, that felt good. The end of the second lap, I started to feel like I was slightly under my ideal sodium levels. I'm pretty sensitive to sodium; I also drink a lot (I was carrying 3-3.5L for every 17 mile lap!); and I'm a salty sweater. Add increased heat, and even though I was right on track with my goal of about ~500mg/hour of sodium intake between my fuel and additional electrolyte pills, I felt a bit under, and so the next while I added an extra electrolyte pill to increase my sodium intake, and the feeling went away as expected.
(My glucose levels had come back down nicely within the first few miles of this lap, dipped down but as I was fueling every 30 minutes, came nicely into range and stayed 100% in range with no issues for the next ~12 hours of the run!)
This time, Scott was aware that I was ahead of expected paces and had been mapping my paces. He told me that if I stayed at that pace for the lap, I would be able to slow down to a 16 min/mi pace for lap 3 (16 miles) and down further to a 17 min/mi pace for the last (almost 13 miles) lap and still beat my goal time. That sounded good to me! He ended up biking out early to meet me so he could start charging my watch a few minutes early, and I ended up taking one of my next snacks – a warmed up frozen waffle – for my 'last' snack of the lap because it was time for a snack and there was no reason to wait even though it was part of the 'next' lap's fuel plan. So I got to eat a warm waffle, which was nice!
Once we got almost there, Scott took my vest and biked ahead to begin the camelback process. I hit the turnaround, made another quick bathroom stop, and ran over to the table. This time, since it was 60s and I would finish my next lap while it was still above 50 degrees and light, I left my clothing layers as-is, other than a quick shirt switch to get rid of my sweaty shirt. I decided not to undo my shoes and check my feet for blisters; they felt fine and good. Because I didn't need a shoe change or have anything going on to troubleshoot, I was in and out in 5 minutes! Hooray, that gave me another 10 minute buffer (in addition to 5 before, plus all my running ahead of schedule). I took off for lap 3, but warned Scott I would probably be slowing down.
LAP 3 (MILES 35-50)
The third lap was almost the same route, but shorter by a little less than a mile. I was originally concerned, depending on how much I had slowed down, that I would finish either right around sunset or after sunset, so that Scott might need to bring me out a long sleeve shirt and my waist lamp. However, I was ahead of schedule, so I didn't worry about it, and again set out trying to not fall off my paces too much. I slowed down only a tiny bit on the way out, and was surprised at the turnaround point that I was now only slightly above a 15 min/mi pace! The last few miles I felt like slowing down more, but I was motivated by two thoughts: one was that I would finish this lap and essentially be at 50 miles. This meant, given my excellent pacing, that I would be "PR"ing my 50 mile pace. I've not run a standalone 50 miles before, just as part of my 82 mile when I wasn't paying attention to pace at all (and ran 2-3 min/mi slower as a result), so I was focused on holding my effort level to be close to the same. Plus, after this lap, I "only" had a ~13 mile single lap left. That was my usual route, so it would be mentally easier, and it's my last lap, so I knew I would get a mental boost from that. Psychologically, having the 50 mile mark to PR here really helped me hold my pace! I ended up only slowing down ~13s average pace compared to the ~10s deterioration between laps 1 and 2. I was pretty pleased with that, especially with hitting 50 miles then!
At this aid station stop, I was pretty cheerful even though I kept telling Scott I would be slowing down. I took ~10 minutes at this stop because I had to put my jacket back on around my waist and put my double headlamp on (which I wear around my waist) for when it got dark, plus do the normal refueling. I changed my short sleeve shirt again so I had a dry shirt, and debated but went ahead and put my fresh long sleeve shirt on and rolled up the sleeves. I figured I'd be putting it on as soon as it got dark, and I didn't want to have to hassle with getting my vest on and off (while moving) in order to get the shirt on, especially because I'd also have to do that with my jacket later, so I went with the long sleeve shirt on and rolled up the sleeves for now. I had originally planned to put my long pants back on over my shorts, but it was still 63 degrees and the forecast was only going to get down to 45 degrees by midnight, and I seemed ahead of schedule and should finish by then. If I did get really cold, Scott could always bike out early and bring me more layers, but even 45 degrees in the dark with long sleeves, jacket, ear cover, and two pairs of gloves should be fine, so I went without the pants.
Speaking of ahead of schedule, I was! I had 5 minutes from the first aid station, 15 minutes from the second aid station, 5 minutes from this last aid station…plus another ~15 minutes ahead of what I thought my running time would have been at this point. Woohoo!
LAP 4 (MILES 51-63)
However, as soon as I walked off with my restocked vest, I immediately felt incredibly sore thighs. Ouch! My feet also started complaining suddenly. I did an extra walk interval and resumed my run/walking and my first mile out of the aid station stop was possibly my slowest mile (barring any with a bathroom stop) for the entire race, which is funny, because it was only about a 16:30 pace. But I figured it would be downhill from there and I'd be lucky to hold a sub 17 pace for these last 13 miles, especially because most of them would be in the dark and I naturally move a bit slower in the dark. Luckily, I was so far ahead that I knew that even a 17 min/mi average pace (or even slower) would be fine. However, I had joked to Scott coming into the end of lap 3 that I was tempted to just walk lap 4 (because I was finally starting to be tired) but then I'd have to eat more snacks, because I'd be out there longer. Sounds funny, but it was true – I was eating ok but occasionally I was having trouble swallowing my enzyme pills. Which is completely reasonable, I had been swallowing dozens of those (and electrolyte pills) all day and putting food down my throat for ~12+ hours consistently. It wasn't the action of swallowing that was a problem, but I seemed to be occasionally mistiming how I would get the pills washed to the back of my mouth at the top of my throat to be able to swallow them down. Once or twice I had to take in some extra water, so it really wasn't a big deal, but it was a slight concern that if I stopped being able to enzyme, I couldn't fuel (because I have EPI) and I'd either have to tough it out without fueling (bad idea) or stop (not a fun idea). So I had that little extra motivation to try to keep run/walking!
Luckily, that first mile of the last lap was the worst. My thighs were still sore but less so and my feet stopped yelling at me and were back to normal. I resumed a reasonable run/walk pace, albeit at closer to a 15:30+ pace, which was a bigger jump from my previous lap average pace. I didn't let it stress me out, but I was wishing I felt like fighting harder. But I didn't, and focused on holding that effort level. I texted Scott, telling him I was averaging sub-16 pace (barely) at miles 4 and 5, then asking him to check my assumption that if I didn't completely walk it in, I could maybe be an hour ahead of schedule? He confirmed that I "only" needed 16:53 average pace for the lap to come in at 10:30pm (75 minutes ahead of goal) and that if I kept sub-16 I could come in around 10:19pm. Hmmm, that was nice to hear! I didn't think I would keep sub-16 because it was getting dark and I was tired, ~55 miles into the run, but I was pretty sure I'd be able to be sub 17 and likely sub 16:53! I carried on, turning my light on as it got dark. I was happily distracted by checking happy experiences off my mental list, mostly seeing bunnies beside and darting across the trail in the dark!
I hit the almost-halfway mileage point of the last lap, but even though it wasn't halfway in mileage it felt like the last big milestone – it was the last mini-hill I had to climb to cross a bridge to loop around back to finish the lap. Hooray! I texted Scott and told him I coudn't believe that, with ~7 miles left, I would be done in <2 hours. It was starting to sink in that I'd probably beat my goal of 11:45 and not doubt that it was real, and that I'd beat it by more than a few minutes. I then couldn't resist – and was also worried Scott wouldn't realize how well I was moving and be prone to coming out too late – and texted him again when I was <5 miles out and then 4 miles out. But by the time I was at 3 miles, he replied to ask if I needed anything else other than the bag I had planned for him to bring to the finish. Nope, I said.
At that point, I was back on my home turf, as I think about the last 2-3 miles that I run or walk on most days of the week. And I had run these miles 3 times already (in each direction, too), but it was pretty joyful getting to the point where I know not only every half mile marker but every tenth of a mile. And when I came up under the last bridge and saw a bright light biking toward me, it was Scott! He made it out to the 1.75 mile mark and rode in with me, which was fun. I was still holding just under sub-16 pace, too. I naturally pick up the pace when he's biking with me – even when I've run 60+ miles! – and I was thinking that I'd be close but a few minutes under an hour and a half of schedule. It didn't really matter exactly, but I like even numbers, yet I didn't feel like I had tons of energy to push hard to the end – I was pleased enough to still be moving at a reasonable speed at this point!
Finally, about a half mile out, Scott biked ahead to set up the finish for me. (Purple painter's tape and a sign I had made!) I glanced at my watch as I rounded the last corner, about .1 mile away, and though "oh, I was so close to beating the goal by over an hour and a half, too bad I didn't push harder a few minutes ago so I could come in by 10:16 and be an hour and a half ahead". I ran a tiny bit more but didn't have much speed, walked a few last steps, then ran the rest of the way so Scott could video me coming into the finish. I could see the light from his bike's light glowing on the trail, and as I turned the corner to the finish I was almost blinded by his waist light and his head lamp. I ran through the finish tape and grinned. I did it! He stopped videoing and told me to stop my trackers. I did but told him it didn't matter, because I was somewhere under an hour and a half. We took a still picture, then picked up my tape and got ready to head home. I had done it! I had run 100k, beat my goal time…and it turns out I DID beat it by over an hour and a half! We checked the timestamp on the video Scott took of the finish and it has me crossing at 10:16pm, so that makes it a 16 hour and 16 minute finish – woohoo!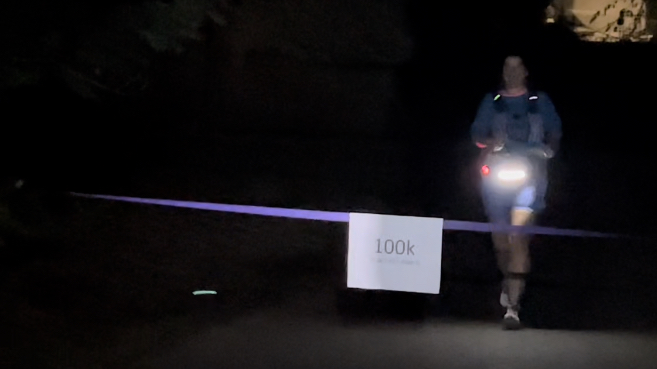 My last lap ended up being ~37 seconds average pace slower, so I had :10, :13, and :37 differences between the laps. Not too bad for that distance! I think I could've pushed a little harder, but I honestly didn't feel like it psychologically, since I was already exceeding all of my goals, and I was enjoying focusing on the process meta-goals of trying to keep steady efforts and paces. Overall, my average pace was 15:36 min/mi which included ~30 min of aid station stops; and my average moving pace (excluding those 30 minutes of aid station time but did include probably another ~8-10 min of bathroom stops) was 15:17 min/mi. I'm pleased with that!
FUN STATS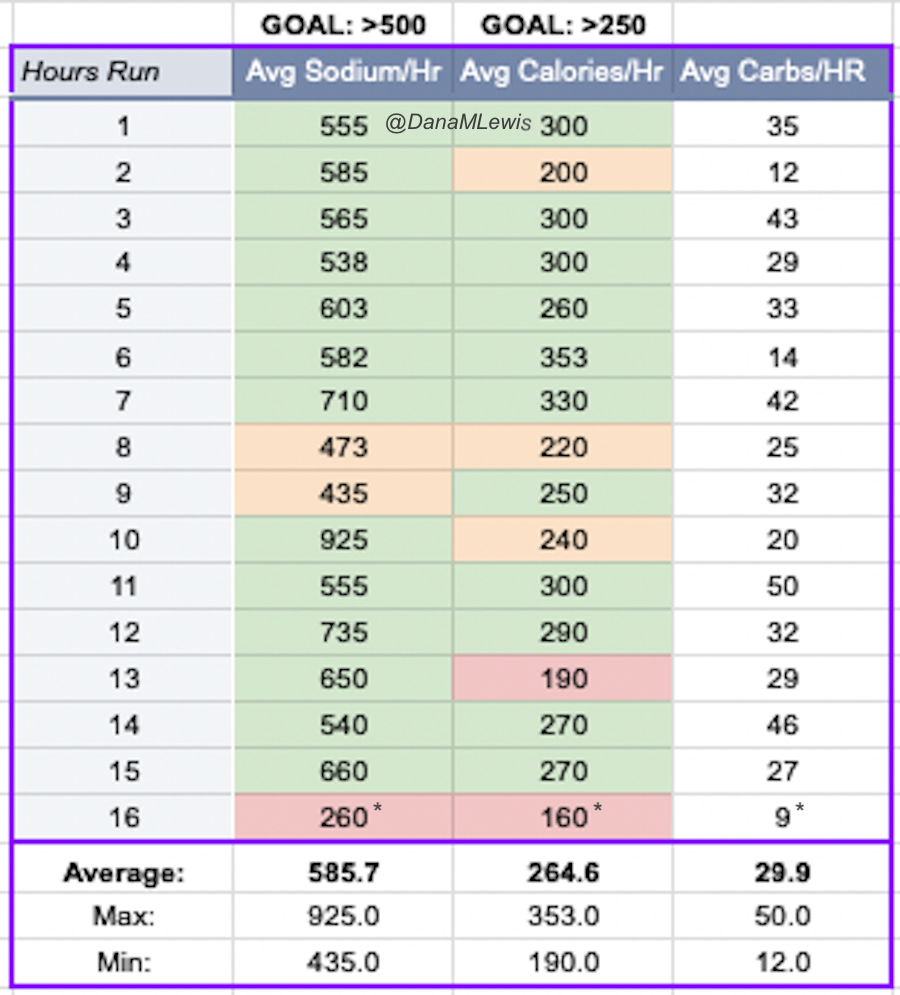 One of the things I do for all training runs but also races is input my fueling as I go, because it helps me make sure I'm actually fueling and spot any problems as they start to develop. As I mentioned, at one point I felt a tiny bit low on sodium and sure enough, I had dipped slightly below 500mg/hr in the two hottest hours of the day when I had also been sweating more and drinking more than I had been previously. Plus, it means I have cool post-run data to see how much I consumed and figure out if I want to adjust my strategy. This time, though? I wouldn't change a thing. I nailed it! I averaged 585 mg/hour of sodium across all ~16 hours of my run. I also averaged ~264 calories/hour, which is above my ~250/hr goal. I did skip – intentionally – the very last snack at the top of the 16th hour, and it still meant that I was above goal in all my metrics. I don't set goals for carb intake, but in case you were wondering, I ended up averaging 29.9 grams of carbs/hour (min 12, max 50, and the average snack is 15.4 carbs), but that's totally coincidental. Overall, I consumed 3,663 calories, which was 419 carbs, 195 g of fat, and 69 grams of protein.
With EPI, as I mentioned that means I have to swallow enzyme pills with every snack, which was every 30 minutes. I swallowed 71 OTC enzyme pills (!) to match all that fuel, plus 26 electrolyte pills…meaning I swallowed 97 pills in 16 hours. You can see why I get tired of swallowing!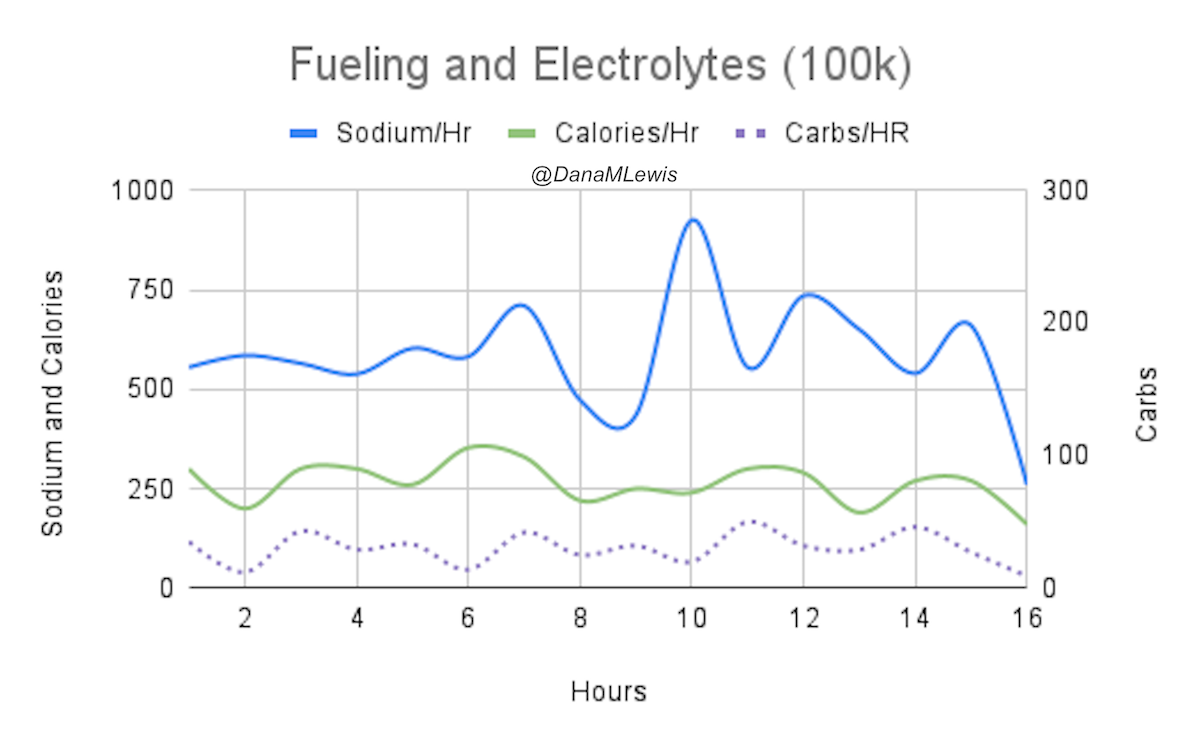 Here's a visual where you can see my consumption of calories, sodium, (and carbs) over the course of my race. The dip at the end is because I intentionally skipped the second snack of the hour 16 because I was almost done. Up to 15 hours (excluding the last hour), I had a slightly rolling increase in sodium/hr and a very slight decrease in calories/hr, with carbs/hr slightly increasing. Including the 16th hour (with a skipped snack intentionally), this changed the trends to slight rolling decrease in sodium/hr; the slight decrease trend in calories/hr continued; but it flattened the carbs/hr trend line to be neutral.
In contrast to my 82 mile where I had more significant fluctuations in sodium (and really felt it), I'm glad I was able to keep my sodium consumption at goal levels and also more easily respond when the conditions changed (hotter weather causing more sweat and more water intake than previous hours) so I could keep myself from getting into a hole sodium-wise. Overall, I feel like I get an A+ for executing my fueling and sodium strategy as planned. GI-wise, I get an A+++ because I had ZERO GI symptoms during and after the run! That's really rare for any ultrarunners, let alone those of us with GI conditions (in my case, exocrine pancreatic insufficiency). Plus, despite the unclipped pump site and BG rise that resulted, I resumed back to typical running glucose levels for me and achieved 100% TIR 70-180 after that and I think likely 100% TIR for a more narrow range like 70-140, too, although I haven't bothered to run those stats because I don't care exactly what the numbers are. More importantly, I never went low, I never had any big drops or rises, and other than the brief 30 minutes of annoyance due to an unclipped pump site, diabetes did not factor any more into my thinking than blister management or EPI pill swallowing or sodium did – which is great!
Here's a view of what I had leftover after my run. I had intentionally planned for an extra snack for every lap, plus I ran faster so I needed fewer overall. I also had packed extra enzymes and electrolytes for every lap, hoping I would never need to stress about running out on any individual lap – and I didn't, so those amounts worked well.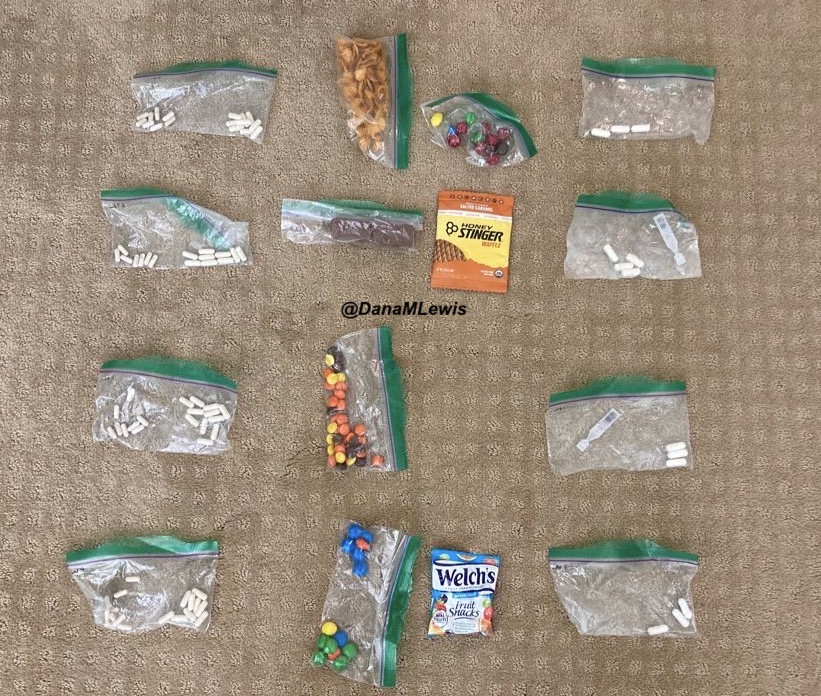 POST-RUN RECOVERY
As soon as I stopped running and took a picture at the finish line, we got ready to head home. My muscles froze up as soon as I stopped, just like always, so I moved like a tin person for a few steps before I loosened back up and was able to walk normally. I got home, and was able to climb into the shower (and out!) without too much hardship. I climbed into bed, hydrated, and was able to go to sleep pretty normally for about 5 hours. I woke up at 5am pretty awake, which possibly was also due to the fact that I had been sleep shifting my sleep schedule, but I also felt really stiff and used the opportunity to point and flex my ankles. I slept every 20-30 minutes off and on for another few hours before I finally got up at 8am and THEN felt really sore and stiff! My right lower shin was sore and had felt sore just a tiny bit in the last few miles of my run, so it wasn't surprising that it was sore. My right hip, which is the one I had been watching prior to the race, was sore again. I hobbled around the house and started to loosen up, enough that I decided that I would put shoes on and try to go for a short easy walk. Usually, I can't psychologically fathom putting shoes on my feet after an ultra, but my feet felt really decent! I had some blisters, sure, but I hadn't even noticed them running and they didn't hurt to walk on. My hip and ankle were more noticeable. I didn't try to take the stairs and used the elevator, then began hobbling down the sidewalk. Ouch. My hip was hurting so much that I stopped at the first bench and laid down on it to stretch my hip out. Then I walked .3 miles to the next bench and again stretched my hip. A little better, so we went out a bit farther with the plan to turn around, but my hip finally loosened up after a half mile where I could mostly walk normally! Hooray. In total, I managed 1.5 miles or so of a walk, which is pretty big for me the day after an ultra run.
Meaningfully, overnight, I still had 100% time in range (ideal glucose levels). I did not have to do any extra work, thanks to OpenAPS and autosensitivity which adjusts automatically to any increases and later return to normal insulin sensitivity from so much activity!

The next night, I slept even better, and didn't notice any in-bed stiffness, although again on the second morning I felt stiff getting out of bed, but was able to do my full 5k+ walk route with my hip loosening up completely by a mile so that I didn't even think about it!
On day 3, I feel 90% back to normal physically. I'm mostly fatigued,which Scott keeps reminding me is "as one should be" after runnning 100k! The nice change is that with previous ultras or long runs, I've felt brain fog for days or sometimes weeks – likely due to not fueling enough. But with my A+ fueling, my brain feels great – and good enough that it's annoyed with my body still being a little bit tired. Interestingly, my body is both tired but also itching for more activity and new adventures. My friend compared it to "sea legs" where the brain has learned that the body should always be in motion, which is a decent analogy.
WHAT I HAVE LEARNED
I wouldn't change anything in terms of my race pacing, execution, aid station stops, fueling, etc. for this run.
What I want to make sure I do next time includes continuing to adapt my training to listen to my body, rather than sticking to my pre-decided plan of how much to run. I feel like I can do that both because I now have 3000+ miles on my body of lifetime running (that I didn't have for my first ultra); and I now have two ultras (last year's 82 miles post-broken toe and this year's 100k with minor hiccups like a sore shin and a hip at different times) where I was forced to or chose to adapt training, and it turned out just as good as I would have expected. For my 100k, I think the adaptation to 3 runs per week, all with my vest, ended up working well. This is the first run where I didn't have noticeable shoulder soreness from my pack!
Same goes for taper: I don't think, at my speed/skill level, that exact taper strategy makes a difference, and this experience confirmed it, doing DIY ultras and being able to flex a week forward or back based on how I'm physically feeling and when the best weather will be is now my preferred strategy for sure.
—-
If you're new to ultras and haven't read any of my other posts, consider reading some of the following, which I've alluded to in my post and directly contribute to the above situation being so positive:
Feel free to leave questions if you have any, either about slow ultra running in general or any other aspects of ultra running! I'm a places-from-last kind of ultra runner, but I'm happy to share my thinking process if it helps anyone else plan their own adventures.