As I mentioned when I wrote about the process of writing my children's book about diabetes devices and how all people are different – I had to keep a lot of secrets. The topic of the book was a surprise from my mom. The fact that I wrote a book at all was a secret from my brother, sister-in-law, and niece.
As I started to add other fun things, like turning the CGM-robot into a "stuffy" (which you can get on Etsy), I also wanted to do something special as a surprise for my aunt. After all, she is  the one who donated her time and her efforts for the beautiful illustrations in the book!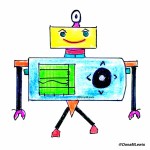 I love the CGM robot so much, because it's such a cute illustration, and it also was something that was 100% my aunt's idea (I just asked for some kind of illustration for the opening page, and it's totally her creation). So when I was speaking at an event and they happened to be giving out found-object robots as awards, I knew I had found my gift idea.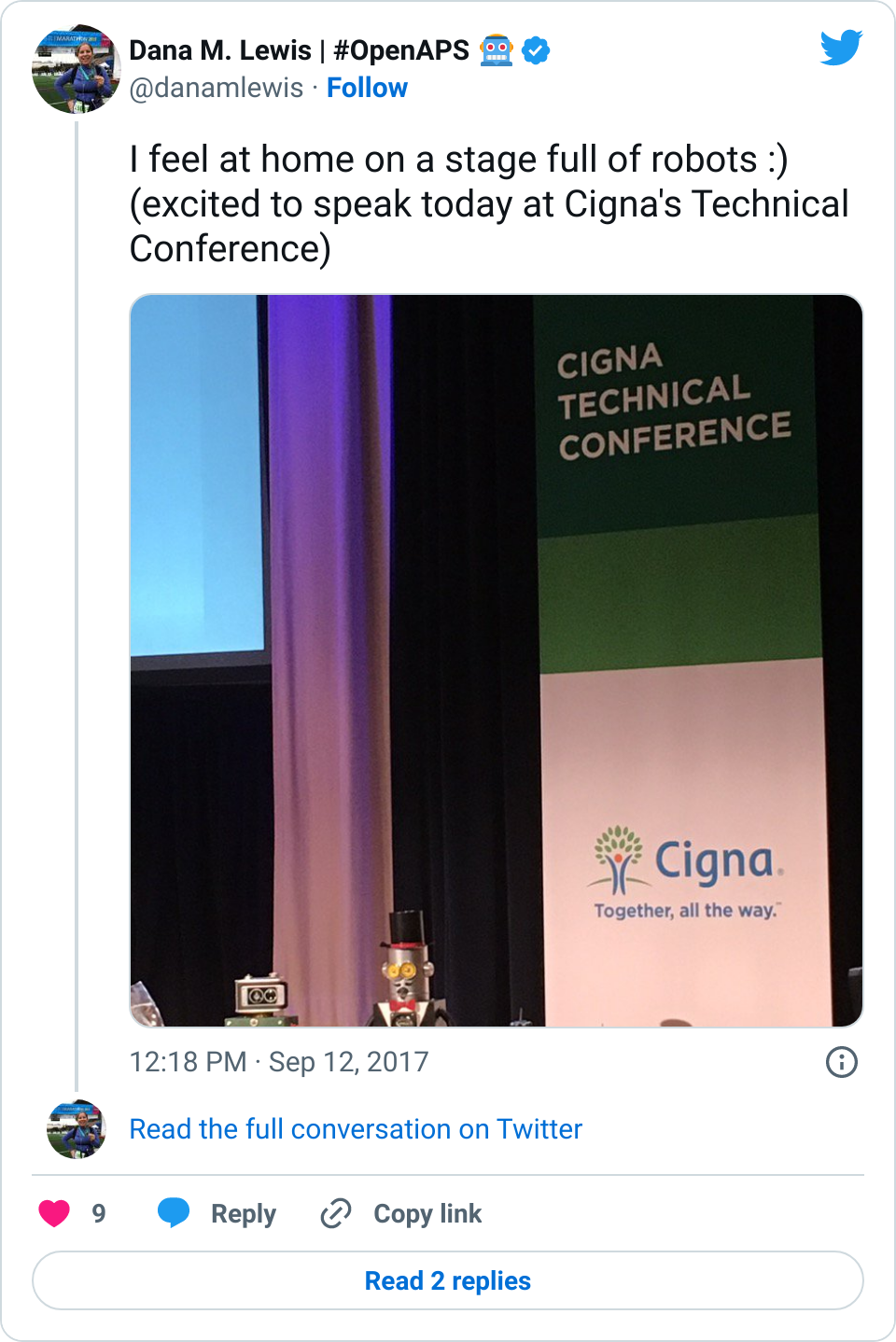 So, I almost immediately tweeted and began looking for a dead/broken CGM receiver. I had to be vague about it, though, given the topic of the book being a secret for my mom. I told the people who were reaching out with offers of busted receivers that this was for an "art project", not hacking, so they didn't get their hopes up about anything else!
I had reached out to the creator of the found-object robots, but she wasn't available until January. Ouch. I knew that timeline wouldn't work. I started thinking if maybe I could find someone local to help me create the robot. Then Scott had the idea of trying to do it with Lego's. So on a cold, rainy, typical Seattle Friday night, off to the Lego store we went!
Let's just say, an adult couple without kids is not the typical Lego store customer. However, I started poking around at the bins of for-sale Lego pieces, looking for pieces to help build the shapes that I wanted. The Lego store employees sidled up and said, "do you mind if we ask what you're making?" and also began to help scout the right size and type of pieces after I showed them the illustration of the CGM robot.
And so it began to come together: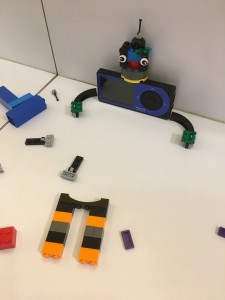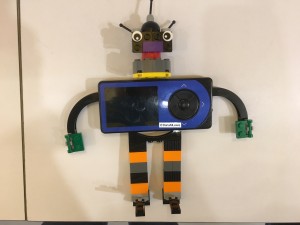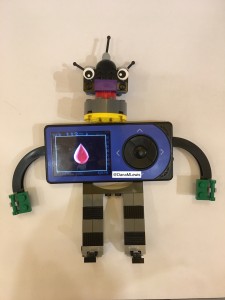 We bought a container of Lego pieces, plus some spares because why not, and brought them home. I played around with my receiver (blue) while I was waiting for the broken receiver someone had kindly donated to arrive.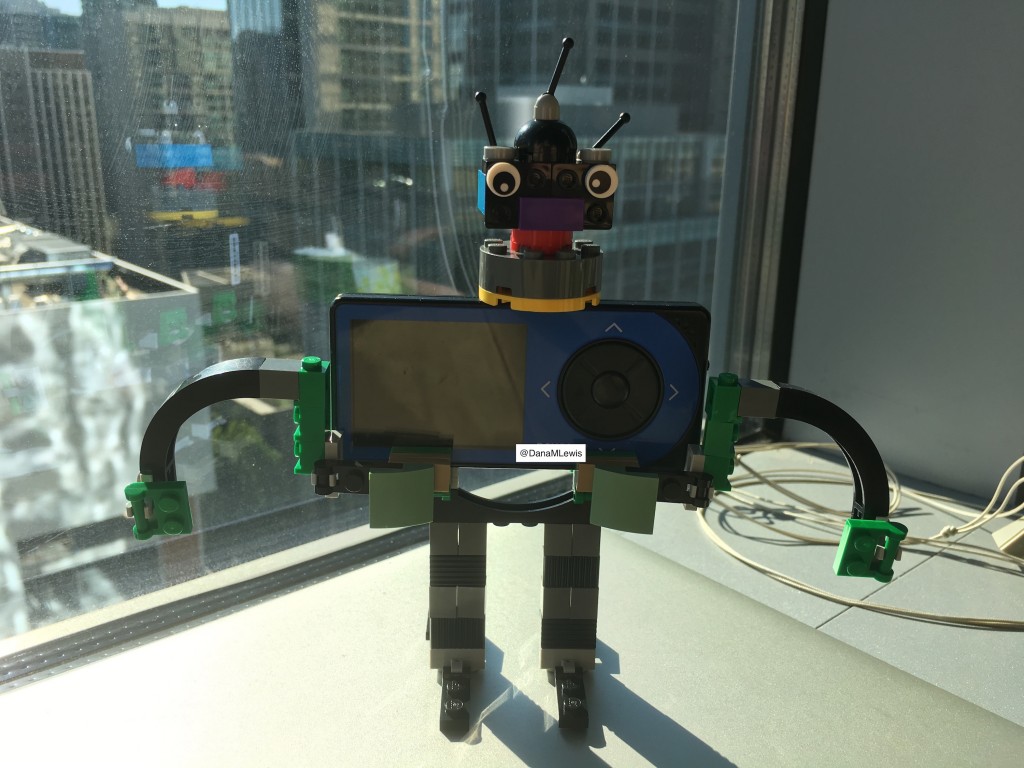 Then the broken receiver arrived, and the robot was finished! While the Lego store will never ever tell you to glue Lego pieces, our helpful Lego store staffer passed on what other customers have told him for keeping pieces connected – a bit of super glue. So we (thanks, Scott! ;)) used super glue to attach the receiver to the back support piece and for all the major joints, so it wouldn't fall apart in transit.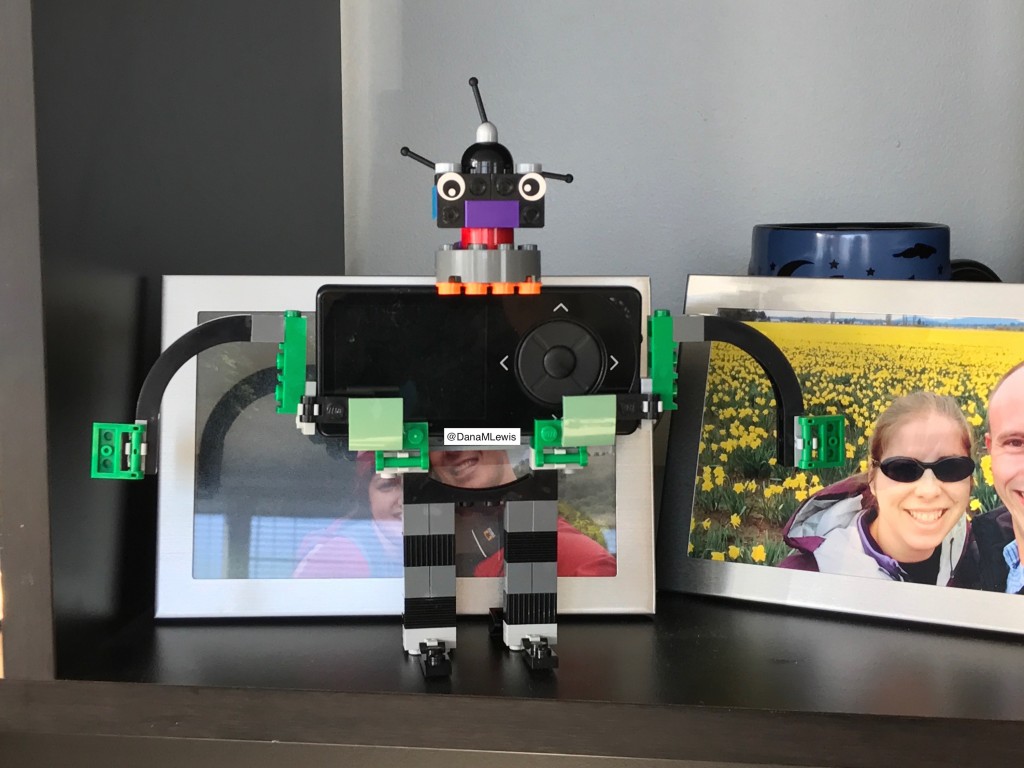 When I went to see my family, taking the books and the stuffy, I also took the robot in bubble wrap, and sent it home with my mom. My mom went to take the signed copy of the book to my aunt today, and surprised her with the robot!
So, the last secret is out :).