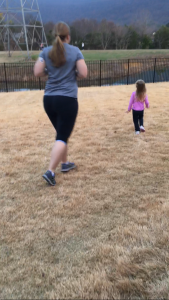 Last year after Christmas, I was running around my parents' backyard with my niece when she spotted my CGM sensor on my arm and asked what it was. I'm always struck when my niece and nephews have noticed my diabetes devices, and am interested to see what "new" humans think about and how they encounter things and what they mean. In this case, I explained the CGM and we went back to running around, but it stuck in my mind for a few days.
I also remember the excitement and attention any time a kids' book has a character with diabetes in it, or a storyline of diabetes, because there's just not much out there. I was diagnosed at 14, but I love seeing PWDs in the wild and like the idea of more diabetes inclusion in materials for all ages.
So, I wrote a kids book, with the goal of introducing the concept of diabetes devices and more broadly, how people are different in different ways. I talked my incredible artist aunt into illustrating this book.

This book is primarily for me and my niece and nephews, but I know there might be a few other people who like the idea, too (even as there may be a few people who sniff at the idea*). I investigated the publishing options and decided to go with self-publishing, which would allow for:
The cheapest copies for me as the author, to be able to give to my various family members who want them.
The ability to make it available to other people who want copies.
The ability to price said copies so it's accessible and reasonable to order easily.
(It's actually cheaper for you to order this on Amazon directly to your house, than it is for you to ask me for an author-priced copy and for me to go through the hoopla of getting it to ship.)
Every two copies purchased via Amazon yields an author-priced copy that I plan to donate to libraries, hospitals, etc. (If you'd like to sponsor 10+ books for a library system, feel free to ping me about the easiest way to do that.) I'm planning to use any "profits" from the book to pay for copies that I'm donating.
I've been working on it off and on for the past few months as my aunt illustrated it, and got to give a copy to my brother and niece as a total surprise to read when we were in Alabama this past weekend. So now that the cat is out of the bag, the book is available online! The book, "Carolyn's Robot Relative" (that's me!), is available on Amazon here (note that's an Amazon affiliate link). (There's also now a German-translated copy with the title, "Ist Carolyns Tante ein Roboter?" – see the German version on Amazon.de here!)
—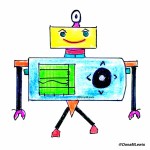 I also *love* the robot illustration that my aunt made with the CGM as the main body of the robot.  I reached out to someone on Etsy who does custom "stuffies" – and it turns out, she has a diabetes connection, too! So, you can get a stuffed CGM robot if you or your kids like it, for $20. Here is the link to the listing on Etsy. (I don't make any money from this; I paid $20 for my first one, but had worked with her on pricing so it would be reasonable for people to get if they liked it!)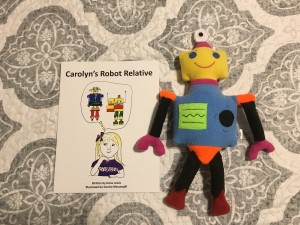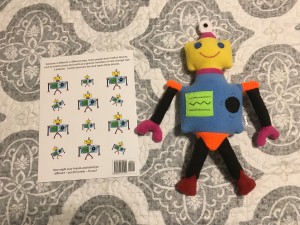 The stuffy with the book – it's an awesome sized stuffy!
And because I have also been playing with code fabric on Spoonflower (see tweet thread here, or this blog post here) and know they do fabric as well as gift wrap…I uploaded the CGM robot there so I could turn it into wrapping paper, too. Here's the link to see it on Spoonflower.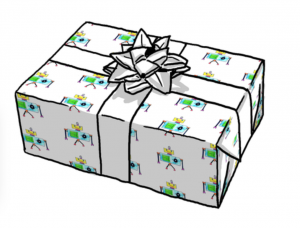 —
I learned a lot in the research process about self-publishing options and the route I took that I wanted to share here, especially for anyone who sniffs and goes troll on me about putting this out there.
*Tl;dr – self-publishing is easy, and if you don't like my book, go make a better one yourself!

The more books, the better!
—
Some background on the publishing process & how I made the book:
I chose self-publishing with CreateSpace on Amazon. They now have this new "Kindle Direct Publishing" (KDP) program that's similar, but less tested than CreateSpace, and seems to be higher cost for author copies. I never figured out what the benefits are of that, and chose CS.
I generally Google'd a bunch of questions and ended up on the CS forums, too, and read up on different programs to use to create the book, etc.
My process:
I wrote the book test in Microsoft Word, then translated it into a Google spreadsheet so I could visualize the left/right layout of the flow of text, as well as start to identify where I had ideas about what images to use.

My aunt began illustrating, and sending me pictures. Fun fact – all of the images in the book are put in via iPhone photos -> AirDrop -> my computer -> inserted! No fancy graphics. (Although I did open a few of the images in Preview and change the white balance, since each photo was taken in different lighting, in a weak attempt to balance the colors of the pictures side by side.)
I started dropping them into a Microsoft Word document. The one thing the CS forums warned about was making sure the images were high enough res. The images were…but later in the upload process, it complained about the DPI being low. I switched to Microsoft PowerPoint (doing the same thing I did in Word to create the custom page size to work with bleed, trim, etc.) and dropped the images in the same way, and PPT doesn't compress the images and it was fine. Word was problematic. It didn't take much time to switch back and forth, but if I did it again, I'd start with PPT because they generally seem to get that images need to be full sized.
(A workaround if you take screenshots and need to insert images – you can use Preview to go in and adjust the size and make it >300 DPI that CS prefers, before inserting the images into PPT).
I placed text boxes on top of the images.
Once done, I saved as a PDF, and then went to upload to CS. I uploaded and tweaked and viewed the Digital Proofreader tool about a dozen times the first day I did it, as I wanted to move text a tad up or down, and as I resolved the complaints about DPI not being great.
(You do the same process for the cover image, and CS is pretty good about telling you how to calculate your spine size for the number of pages in the book, and adding that in to the front/back cover size to calculate what you need. You can also get a sized template from them, and then use images and cover it up so it's sized perfectly.)
Once you're happy with what's uploaded to the system, you submit to CS for review (takes 24 hours). You then get to review another digital proof, and a PDF version, and then get the chance to order a physical proof copy!
Tl;dr version 2 – it was actually super easy, even for someone who's not a graphic designer, to do this. This was a great method to work with an illustrator with simple iPhone photos of awesome illustrations and turn them into a book. You could probably also scan and do all kinds of fancy stuff…but for a basic book, the basic process described above works great. It actually doesn't take much time in terms of placing text or uploading and tweaking your file.
The hardest part was calculating the size of the pages and deciding on whether to do with bleed or without bleed.
The other hardest part was keeping the topic of the book a secret from my mom for 10 months, because I thought she'd get a bigger kick out of being surprised with the book's topic and contents when she had a finished copy in her hands. Sorry, Mom! Hopefully you thought it's worth it.