When I wrote my first book for kids about diabetes devices, I had an idea that I might write more kids books for my nieces and nephews. While my first book was inspired by a verbatim conversation with my niece, my next book is inspired instead by a cute story of my nephews, combined with a burst of frustration about living with celiac.
This new book, "Parker's Peanut Butter", wrote itself in my head while I was on a trip in Germany. The hotel I was staying at, despite many early communications about needing safe, gluten-free food, did not get gluten free at all. Being told "this dish is 'usually' gluten free" was incredibly frustrating. That night, I began drafting this story to help explain celiac – and cross-contamination – to kids.
The next day, with the book top of mind, I was at a meeting where artists had been hired to help document and crystallize some of what was happening at the meeting. I had seen some live illustrators before document various sessions at conferences, but these two artists were in a class of their own. They did such an amazing job capturing the key themes, quotes, and their illustrations were simple yet effective – and incredibly quick on the spot. I was in awe. I had an idea that wow, if someone like them would illustrate my next book, it would probably be fairly simple for them to do two dozen illustrations. (And yes – I know it is their incredible skill and artistry that makes it possible for them to do "quick" and "simple" yet incredibly powerful illustrations!) But, this is a zero-budget project: for every two books purchased, that yields enough for me to purchase an author-priced copy to donate to hospitals, libraries, school libraries, etc. I knew there was a really slim chance that other artists would be interested in contributing art to my book. (My amazing aunt was gracious enough to illustrate my first one! <3) However, you never get a yes if you don't ask. So I crossed my fingers and approached the artists, explaining the project and showing them my first book. They seemed at least open to the possibility, so I promised to email and follow up after I got home. I emailed when I got back, and Beatrice said yes to illustrating! I was thrilled. And so "Parker's Peanut Butter" came to fruition.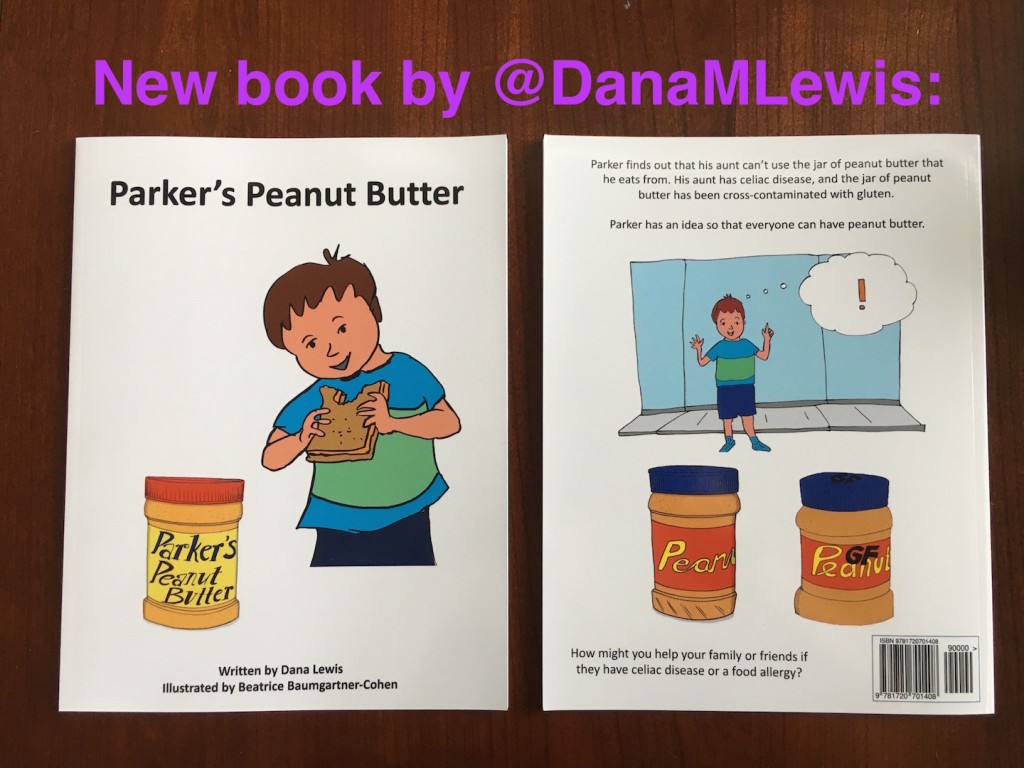 As of today, the book is done and available on Amazon here! (Note: that's an affiliate link, as are the other links to my books from DIYPS.org)
Like my other book, there is no 'profit' – I've priced it so that every two purchases on Amazon will fund an author-priced copy that I will donate to libraries, etc. (And if you'd like to coordinate directing a donation of 10 or more books in a batch somewhere, let me know!)
The story about the peanut butter and the hot tub is true (which I think is/was hilarious). I combined it, though, with a conversation I had with Parker about celiac from one time when he wanted to know why I wasn't eating the other pizza on the table.
Like the diabetes devices book, I used simple tools (Microsoft Powerpoint!) to lay out the book and CreateSpace to publish it. (You can read here about the exact process I took to create & publish the book). I hope this inspires others to consider writing & creating more books with characters living with chronic conditions like diabetes, celiac, food allergies, and more to have diverse representation of the challenges we all live with.
PS – if you're an artist & interested in helping illustrate a future book, please let me know! I'd also love to hear what stories & perspectives you'd love to see in future kids books, if I write more.