We're a few weeks away from the 78th American Diabetes Scientific Sessions (aka, #2018ADA), and I'm getting excited. Partially because of the research I have the honor of presenting; but also because ADA has made strides to (finally) update their photography policy and allow individual presenters to authorize photography & sharing of their content. Yay!
As a result of preparing to encourage people to take pictures & share any and all content from my presentations, I started putting together my slides for each presentation, including the slide about allowing photography, which I'll also verbally say at the start of the presentation. Interestingly to me, though, ADA only provided an icon for discouraging photography, saying that if staff notice that icon on any photos, that's who will be asked to take down photos. I don't want any confusion (in past years, despite explicit permission, people have been asked to take down photos of my work), so I wanted to include obvious 'photography is approved' icons.
And this is what I landed on for a photography encouraged slide, and the footer of all my other slides: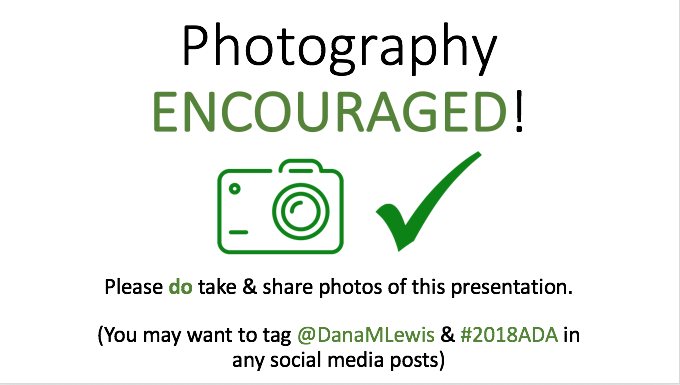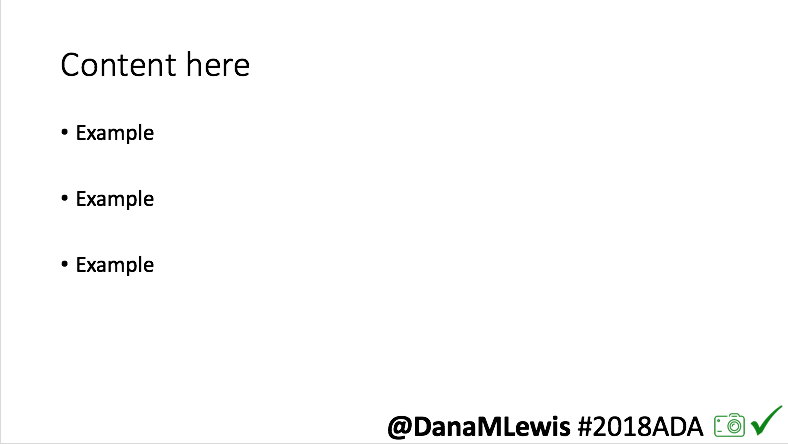 And, if anyone else plans to encourage (allow) photography and would like to use this slide design, you can find my example slide deck here that you are welcome to use: http://bit.ly/2018ADAexampleslides
I used camera and check mark icons which are licensed to be freely used; and I also licensed this slide deck and all content to be freely used by all! I hope it's helpful.
—
Where you'll find me at #2018ADA
And if you're wondering where and what I'll be presenting on with these slides…I'll be sharing new content in a few different times and places!
On Saturday, I'm thrilled there is a full, 2-hour session on DIY-related content, and to get to share the stage with Jason Wittmer, Lorenzo Sandini, and Joyce Lee. That's 1:45-3:45pm (Eastern), "The Diabetes Do-It-Yourself (DIY) Revolution", in W415C (Valencia Ballroom). I'll be discussing some of the data & research in DIY diabetes! A huge thanks to Joshua Miller for championing and moderating this session.
I'm also thrilled that a poster has been accepted on one of the projects from my RWJF grant work, in partnership with Tim Street (as well as Scott Leibrand, and Sayali Phatak who is heading our data science work for Opening Pathways). The embargo lifts on Saturday morning (content will be shared online then), and the poster will be displayed Saturday, Sunday, and Monday. Scott and I will also be present with the poster on Monday during the poster session from 12-1pm.
And last but not least, there is also an oral presentation on Monday evening with a new study on outcomes data from using OpenAPS. I'll be presenting during the 4:30-6:30pm session (again in W415C (Valencia Ballroom)), likely during the 6-6:15pm slot. I'm thrilled that Scott Swain & Tom Donner, who partnered on this study & work, will also be there to help answer questions about this study!
As we have done in the past (see last year's poster, for example), we plan to share all of this content online once the embargo lifts, in addition to the in-person presentations and poster discussions.
A huge thanks, as always, goes to the many dozens of people who have contributed to this DIY community in so many ways: development, testing, support, feedback, documentation, data donation, and more! <3