As we developed #DIYPS from a louder alarm system to a proactive alert system (details here about the original #DIYPS system before we closed the loop) to a closed loop that would auto-adjust my insulin pump basal rates as-needed overnight, I have been tracking the outcomes.
There were the first few nights of "wow! this works! I wake up at night when I'm high/low". Then there were the first 100 nights that involved more iteration, testing, and improvements as we built it out more. And then suddenly it had been a year of using #DIYPS, and it was awesome to see how my average BG and a1c were down – and stayed down – while equally as important, my % time in range was up and stayed up. Not to mention, the quality of life improvements of having better nights of sleep were significant.
Year two has been along the same lines – more improvements on A1c/average BGs, time in range, and sleep – but heavily augmented by the fact that I now have a closed loop. If you follow me on Twitter or have checked out the hashtag, you might be tired of seeing me post CGM graphs. At this point, they all look very similar: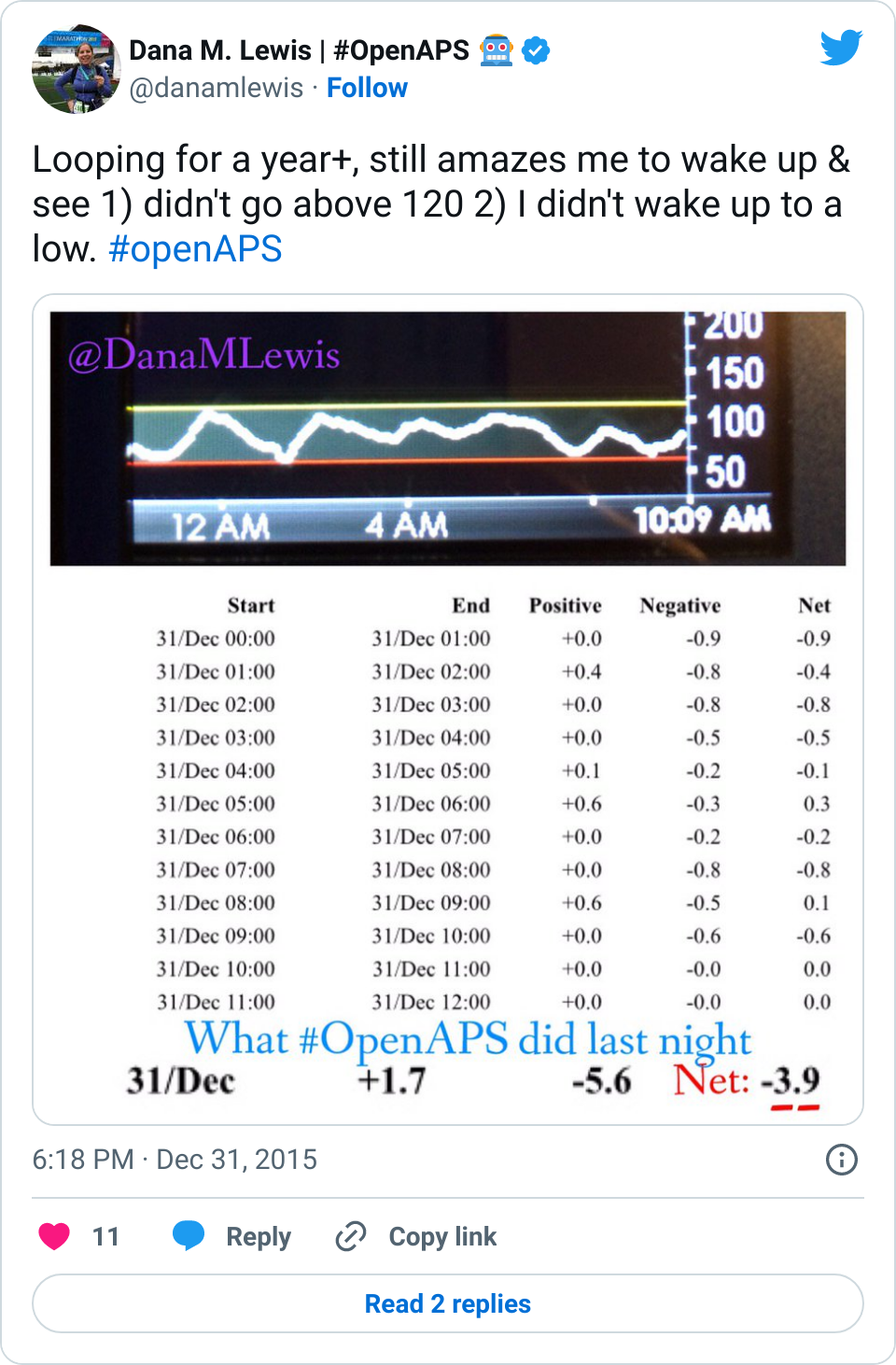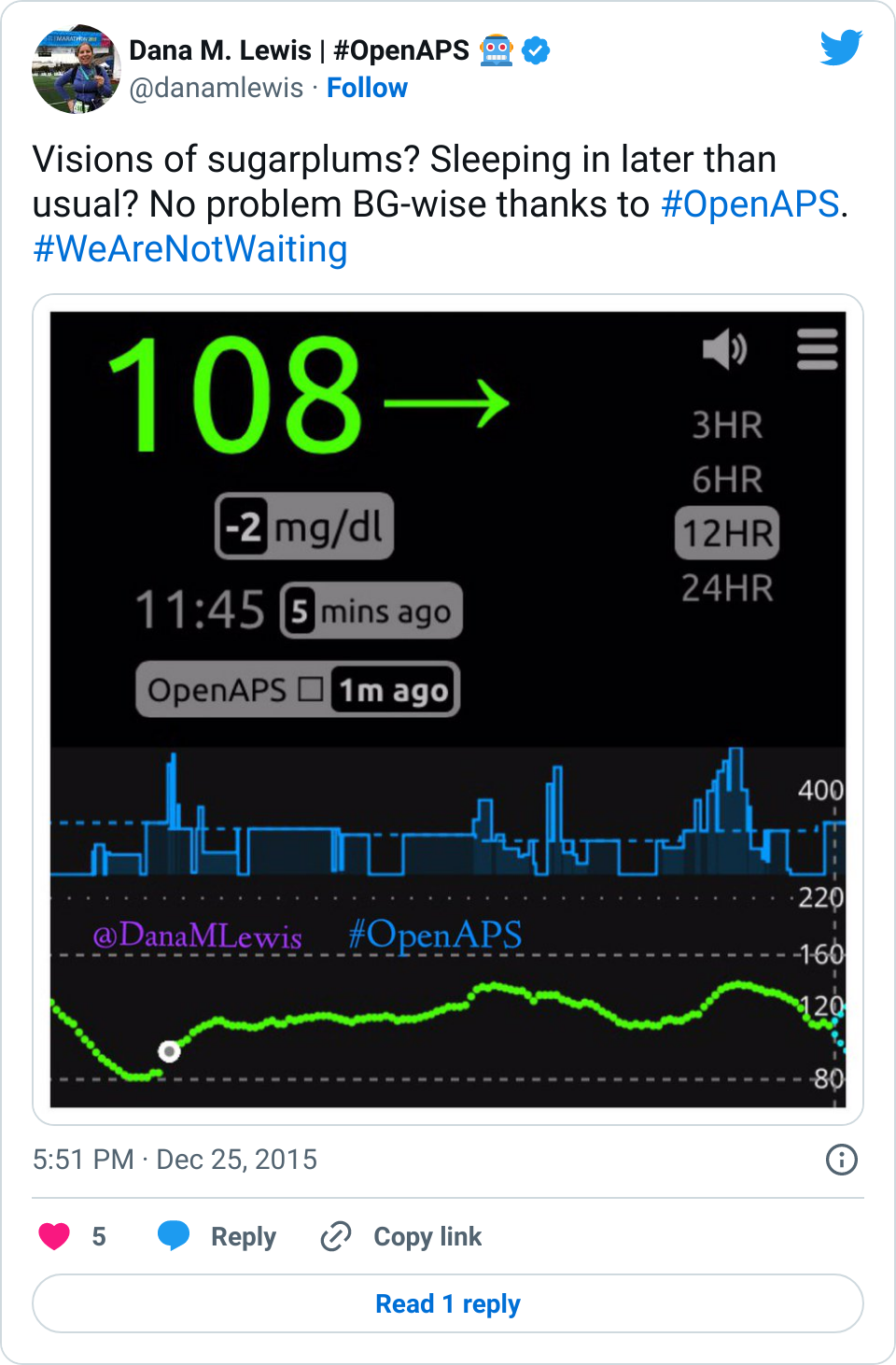 (It's worth noting that I still use #DIYPS, especially during the day to trigger "eating-soon" mode or basically get a snapshot glance at what my BGs are predicted to be, especially if I plan to go out without my loop in tow.)
In this past year, we also went from closing the loop with the #DIYPS algorithms (which required internet connectivity so I could tell the system when I was having carbs), to deciding we wanted to find a way to make it possible for more people to safely DIY a closed loop. (And, we feel very strongly that the DIY part of closing the loop is very important and deciding to do so is a very personal question.)
Thus, #OpenAPS was born in February 2015. Ben West spent a lot of time in 2015 building out the openaps toolkit to enable communication with diabetes devices to make things like closed loops possible. And so the first few months of #OpenAPS seemed slow, while we were busy working on the toolkit and finding ways to take what we learned with the #DIYPS closed loop and model a closed loop that didn't require knowledge of carbs and could work without internet connectivity (see more about the #OpenAPS reference design here).
In July, we saw a tipping point – multiple other people began to close the loop, despite the fact that we didn't have very much documented or available to guide them beyond the reference design. (These first couple of folks are incredible! Watch the #OpenAPS hashtag on Twitter to see them share some of their experiences.) With their help, the documentation has grown by leaps and bounds, as has the number of people who were subsequently able to close the loop.
As of 12/31/15 as I write this post, there are 22 people who have told me that they have a closed loop running that's based on the OpenAPS reference design. I make a big deal about marking the date when I make a statement about the number of people running #OpenAPS (i.e. (n=1)*22), because every time I turn around, someone else seems to have done it!
It's so exciting to see what's happened in 2015, and what this type of #WeAreNotWaiting spirit has enabled. For Scott & me this year: we've climbed mountains around the world (from Machu Picchu to Switzerland), gotten married, changed jobs, and explored Europe together. Diabetes was there, but it wasn't the focus.
There are dozens of other amazing stories like this in the #WeAreNotWaiting community. As we look to the new year, and I start to wonder about what might be next, I realize the speed of technology and the spirit of ingenuity in this community makes it impossible to predict exactly what we'll see in 2016.
What I do know is this: we'll see more people closing the loop, and we'll see more ways to close the loop, using devices other than the Raspberry Pi, Carelink stick and Medtronic pump.  We'll see more new ways to communicate with old & new diabetes devices and more ways to make the diabetes parts of our lives easier – all because #WeAreNotWaiting.