It's fascinating how bodies adapt to changing situations.
For those of us with diabetes: do you remember the first time you took insulin after diagnosis? For me, I had been fasting for ~18 hours (because I felt so bad, and hadn't eaten anything since dinner the night before) and drinking water, and my BG was still somehow 550+ at the endo's office.
Water did nothing for my unquenchable thirst, but that first shot of insulin first sure did.
I still remember the vivid feeling of it being an internal liquid hydration for my body, and everything feeling SO different when it started kicking in.
In case the BG of 550+, the A1c of 14+ (don't remember exact number), and me feeling terrible for weeks wasn't enough, that's one of the things that really reinforced that I have diabetes and insulin is something my body desperately needs but wasn't getting.
Over the last ~14+ years, I've had a handful of times that reinforced the feeling of being dependent on this life-saving drug, and the drastic difference I feel with and without it. Usually, it's been times where a pump site ripped out, or I was sick and high and highly resistant, and then finally stopped being as resistant and my blood sugar started responding to insulin finally after hours of being really high, and I started dropping.
But I've had different ways to experience this feeling lately, as a result of having live with a DIY closed loop (OpenAPS) for 2+ years – and it hasn't involved anything drastic as a HIGH BG or equipment failure. It's a result of my body re-calibrating to the new norm of my body being able to spend more and more time close to 100% in range, in a much tighter and lower range than I ever thought possible (especially now true with some of the flexibility and freedom oref1 now offers).
—
I originally had a brief fleeting thought about how BGs in the low 200s used to feel like the 300s did. Then, I realized that 180 felt "high". One day, it was 160.
Then one day, my CGM said flat in 120s and I felt "high". (I calibrated, and turned out that it was really 140). I've had several other days where I'd hit 140s and feel like I used to do in the mid-200s (slightly high, and annoying, but no major high symptoms like 300-400 would cause – just enough to feel it and be annoyed).
That was odd enough as a fleeting thought, but it was really odd to wake up one morning and without even looking at my watch or CGM to see what my BGs had been all night, know that I had been running high.
I further classified "really odd" as "completely crazy" when that "running high" meant floating around the 130-140 range, instead of down in the 90-110 range, which is where I probably spend 95% of my nights nowadays.
—
Last night is what triggered this blog post, plus a recurring observation that because I have a DIY closed loop that does so well at handling the small, unknown variances that cause disturbances in BG levels without me having to do much work, that as result it is MUCH easier to pinpoint major influences, like my liver dumping glucose (either because of a low or because it's 'full up' and needs to get rid of the excess).
In last night's case, it was a major liver dump of glucose.
Here's what happened:
Scott and I went on a long walk, with the plan to stop for dinner on the way home. BG started dropping as I was about half a mile out from the restaurant, but I'm stubborn 😀 and didn't want to eat a fruit strip when I was about to sit down an eat a burger. So, my BG was dropping low when I actually ate. I expected my BG to flatten on its own, given the pause in activity, so I bolused fairly normally for my burger, and we walked the last .5 miles home.
However, I ended up not rising from the burger like I usually do, and started dropping again. It was quite a drop, and I realize my burger digestion was different because of the previous low, so I ended up eating some fruit to handle the second low. My body was unhappy at two lows, and so my liver decided to save the day by dumping a bunch of glucose to help bring my blood sugar up. Double rebound effect, then, from the liver dump and the fruit I had eaten. Oh well, that's what a closed loop is for!
Instead of rebounding into the high 300s (which I would have expected pre-closed loop), I maxed out at 220. The closed loop did a good job of bolusing on the way up. However, because of how much glucose my liver dumped, I stayed higher longer. (Again, this probably sounds crazy to anyone not looping, as it would have sounded to me before I began looping). I sat around 180 for the first three hours of the night, and then dropped down to ~160 for most of the rest of the night, and ended up waking up around 130.
And boy, did I know I had been high all night. I felt (and still feel, hours later) like I used to years ago when I would wake up in the 300s (or higher).
—
Visuals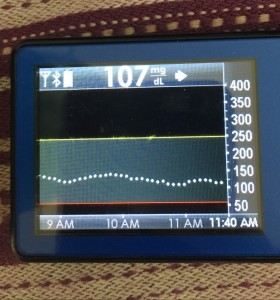 Hmm, 3 hours doesn't look so bad despite feeling it.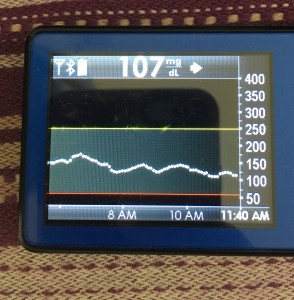 6 hour view shows why I feel it.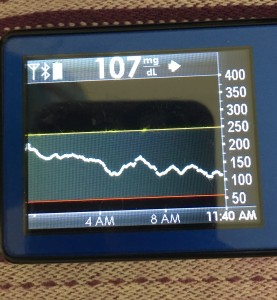 12 hours. Sheesh.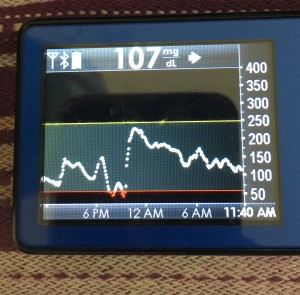 24 hours shows you the full view of the double low and why my liver decided I needed some help. Thanks, liver, for still being able to help if I really needed it!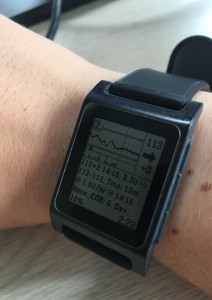 Settling back to normal below 120, hours later.
—
There are SO many amazing things about DIY closed looping. Better A1c, better average BG, better time in range, less effort, less work, less worrying, more sleep, more time living your life.
One of the benefits, though, is this bit of double-edged sword: your body also re-calibrates to the new "normal", and that means the occasional extreme BG excursion (even if not that extreme!) may give you a different range of symptoms than you used to experience.