As mentioned in the previous post, we had the privilege of coming to New Orleans this past weekend for two events – #DData16 and the American Diabetes Association Scientific Sessions (#2016ADA). A few things stuck out, which I wanted to highlight here.
At #DData16:
The focus was on artificial pancreas, and there was a great panel moderated by Howard Look with several of the AP makers. I was struck by how many of them referenced or made mention of #OpenAPS or the DIY/#WeAreNotWaiting movement, and the need for industry to collaborate with the DIY community (yes).
I was also floored when someone from Dexcom referenced having read one of my older blog posts that mentioned a question of why ??? was displayed to me instead of the information about what was actually going on with my sensor. It was a great reminder to me of how important it is for us to speak up and keep sharing our experiences and help device manufacturers know what we need for current and future products, the ones we use every day to help keep us alive.
Mark Wilson gave a PHENOMENAL presentation, using a great analogy about driving and accessing the dashboard to help people understand why people with diabetes might choose to DIY. He also talked about his experiences with #OpenAPS, and I highly recommend watching it. (Kudos to Wes for livestreaming it and making it broadly available to all – watch it here!) I've mentioned Mark & his DIY-ing here before, especially because one of his creations (the Urchin watchface) is one of my favorite ways to help me view my data, my way.
Howard DM'ed me in the middle of the day to ask if I minded going up as part of the patient panel of people with AP experiences. I wasn't sure what the topic was, but the questions allowed us to talk about our experiences with AP (and in my case, I've been using a hybrid closed loop for something like 557 or so days at this point). I made several points about the need for a "plug n play" system, with modularity so I can choose the best pump, sensor, and algorithm for me – which may or may not be made all by the same company. (This is also FDA's vision for the future, and Dr. Courtney Lias both gave a good presentation on this topic and was engaged in the event's conversation all day!).
At #2016ADA: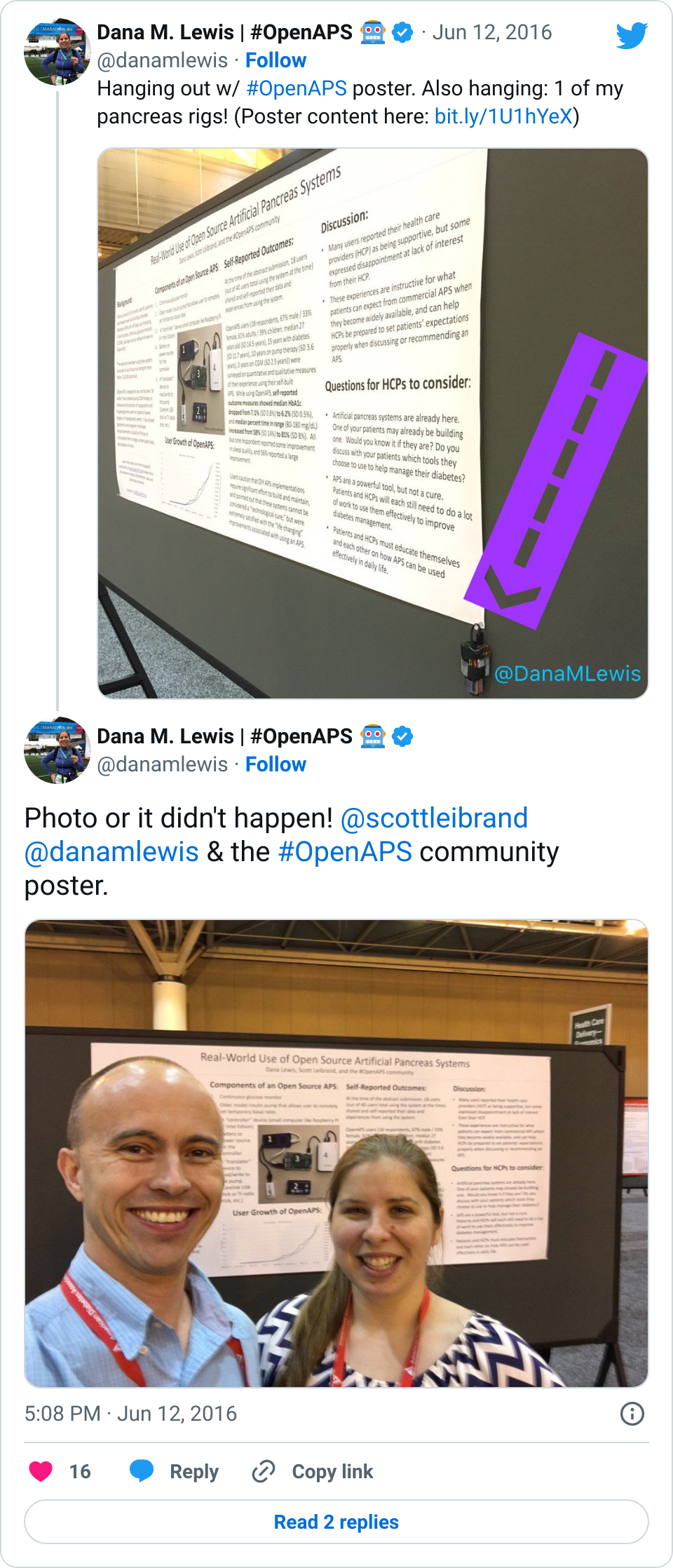 Scott and I walked away from this weekend with energy for new collaborations (and new contacts for clinical trial and retrospective analysis partnerships) and several ideas for the next phase of studies that we want to plan in partnership with the #OpenAPS community. (We were blown away to discover that OpenAPS advanced meal assist algorithm is considered by some experts to be one of the most advanced and aggressive algorithms in existence for managing post-meal BG, and may be more advanced than anything that has yet been tested in clinical trials.) Stay tuned for more!