Having used a CGM for years (and years and years, and years before that), and having chosen to build a DIY system that provides smart alerts and recommendations based on said CGM data (learn more about my #DIYPS system here) and ultimately using CGM data to build the open source closed loop system that automates insulin delivery (find out more about #OpenAPS here)…I've learned a few things about how to get the best data out of my sensors. Currently, I'm using Dexcom, so this applies to the Dexcom sensors.
The biggest thing I do to get better first day results from a continuous glucose monitor (CGM) sensor is to "soak" my sensors. Here's what I mean by this:
Normally, you'd expect to see a person with one CGM sensor on their body, like this: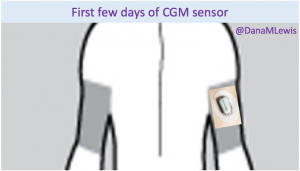 However, 12-24 hours before I expect my sensor to end, I insert my next sensor into my body. To protect the sensor (you don't want the sensor filament itself to get torn off or lost in your body), I plop an old ("dead" battery) transmitter on it.
If you don't have an old/dead transmitter, you could try taping over it – the goal is just to protect the sensor filament from ripping.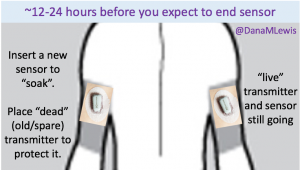 The next day, when my sensor session ends:
I take the "live" transmitter off the old sensor, and remove the old sensor from my body. I hit "stop sensor" on my receiver, if it hasn't already stopped itself.
I gently remove the "dead"/old transmitter from 'new' sensor.
I then stick the "live" transmitter onto the new sensor.
I hit "start sensor" on my receiver.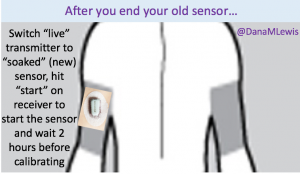 The outcome (for me) has always been significantly improved "first day" BG readings from the sensor. This works great when you can plan ahead and your outfits (don't judge, sometimes you have important outfits like a wedding dress to plan around) and skin real estate support two sites on your body for 24 hours or so. This doesn't work if you rip a sensor out by accident, so in those scenarios I go ahead and put a new sensor on, put the 'live' transmitter on, and hit 'start' to get through the 2 hour calibration period as soon as possible to get back to having live data. (All the while knowing that the first day is going to be more "meh" than it would be otherwise.)