Sometime in the last year, I decided I wanted to run 100 miles. In part, because I wanted to tackle the complex challenge and problem-solving that is even figuring out how to do it.
My situation as an ultrarunner is slightly atypical: I have type 1 diabetes and need to closely manage insulin levels and glucose levels while running; I have celiac disease so I can only eat 100% gluten free things; and I have exocrine pancreatic insufficiency (EPI) so I need to swallow enzymes with everything that I eat, including when I run. It's a logistical cornucopia of challenges…which is in part why I wanted to do it. It wouldn't be half as rewarding if it were easy? Or something like that.
But mainly, I wanted to prove to myself that I can do hard things, even things that most people think I can't do. No, I can't produce my own insulin, but I can locomote for 100 miles at one time despite this and the other challenges I have to deal with along the way.
Plus, there's the "normal" ultrarunning challenges of fueling, hydrating, managing electrolytes, keeping your feet from becoming a ball of blisters, etc.
Ultrarunning is a sport where it generally doesn't matter how fast you go, and the farther the distance the more of an equalizer it is. I'm a slow runner, and I had trained at an easy slow pace that I planned to run during my race (self-organized). Not having the pressure of time cutoffs would help. I was also curious whether running so slow at the start would possibly help me maintain a more even pace split across the entire run, and whether I could ultimately achieve a reasonable time by keeping consistent slow paces, compared to many I've read about who go a bit too fast at the start and end up with wildly different paces at the end. Everyone hurts running an ultra no matter how much you run or walk or both and no matter how fast or slow you go, but I was hoping that more consistent pacing and effort would minimize how terrible everything felt if I could pull that off.
Background
I trained, ran a 50k in June, and resumed training and worked back up to 24 mile long runs and all was going well, until I massively broke a toe and had 6 weeks off. Then I resumed training and re-built back up to running 29 miles, ending around midnight for night-run training. At that point, I had one more long run scheduled (32-ish miles), but decided I would rather skip the last long run and push my 100 mile run up a few weeks to try to beat the impending rainy season that Seattle would eventually get.
The joke was on me. We had 6+ weeks of terrible air quality, which peaked into a two-day stretch of downright "hazardous" (ugh) air quality the two days before my run. Air quality was finally improving overnight before and the morning of my run, thanks in part to the most rain we had gotten in 128 days. Woohoo! So I got to add some wet and cold running challenges to my list of problem-solving that I'd tackle during my run.
Overall, though, my training had gone well, and I had spent enough time planning and prepping that I felt relatively confident. Mostly, confident that no matter how well or long I trained, it was going to hurt. All over. For what felt like forever, and then I still wouldn't be anywhere near done. And confident that I had planned and prepped to the best of my ability, and that I could figure out how to tackle whatever situations I faced as they came.
How I felt before the race
Aside from having cabin fever from being inside (AQI was too hazardous to go out even with a mask), I felt fairly good in terms of running fitness. I had been tapering, my legs felt fresh, I was fueling and hydrating and everything felt fine. Unfortunately, though, while I managed to escape many taper niggles, I experienced a round of ovulation pain that I don't get every month but was lucky enough to get this month, for the 3 days prior to my race. (I'm not sure why, but in the last few years after never experiencing ovulation pain, I have started to get ovulation pain similar to period pain and cramps and general icky feelings. My doctor isn't concerned about it, but it's unfun, and in this case poorly timed.) So I was a bit grumpy about going into my race in a less-than-perfect state, even though "perfect" state is an ideal and usually there is something wrong, whether it's a taper niggle or something else.
The thing I was most pleased about was my feet. My broken toe had healed well and hadn't been giving me any issues. However, after I broke my toe it changed my foot strike or how my feet move in my shoes in a way that caused epic blisters and then I kept getting blisters on top of blisters for several runs. I finally figured out that I needed to try something different, stopped causing new blisters, and the existing blisters healed, peeled off, and went away. So my feet were in great shape, and despite being nervous about the effect of the rain on my feet during my 100 miles, I at least was starting from a "clean slate" with healthy, non-blistered feet.
The start
I set my alarm and woke up and checked air quality. The winds and the start of the rain had blown it absolutely clear, so I was able to head out without a mask for the first time in weeks! (Last time I ran with it for all 8 hours of my long run, which is annoying when you need to fuel every 30 min.)
I wasn't even a mile in when I had my first problem. I started with a long sleeve shirt and my rain jacket, knowing I'd warm up and want to take it off soon after I started. As I removed my arms from my rain jacket (keeping it zipped around my waist) and shuffled my arms in and out of my running vest, I suddenly felt water hit my feet and looked down. Water was gushing out of my hydration hose! I grabbed it and stuck my finger over the end: the bite valve had flown off somehow while I was getting out of my jacket. Ugh.
Luckily, though, this is where all of my planning and reading of others' experiences had come in handy. While this had never happened to me, I had read in someone's blog that this had happened and it took them 20 minutes to find the valve. I had a bright waistlamp and it was getting increasingly lighter outside as the sun rose, so I hoped mine would be easier to spot. I figured it was stuck in my rain jacket sleeve so I worked to check my sleeve and vest for the valve. No go. I looked around and didn't see it. I turned and walked back a bit, looking for it on and off the trail. No luck. I finally pulled out my phone and called Scott, while still holding my finger over the hydration hose to keep it from leaking out 3 liters of water. While I talked to him and told him I probably needed him to get dressed and bike out a replacement valved to me, I turned around and walked forward again one more time. Aha! Found it. It had flown way to the left side of the trail. I replaced it and breathed a sigh of relief. It had added only 4 minutes to my first mile time.
Well, I thought: that's one way to keep my early paces slow! I hung up with Scott, and carried on.
The first lap I was very focused on making sure my socks and shoes were in good shape. I am pretty good at gutting it out if I have blisters or foot issues, but that's not a good strategy when you're going to cover 99 more miles. So 6 miles into my first lap, I stopped at a bench, took my socks off, and re-lubricated my feet. Later on the way back (this first lap was an out-and-back), I stopped at mile 16 and similarly sat on a rock to re-lubricate and add lamb's wool to reduce rubbing on the side of my foot.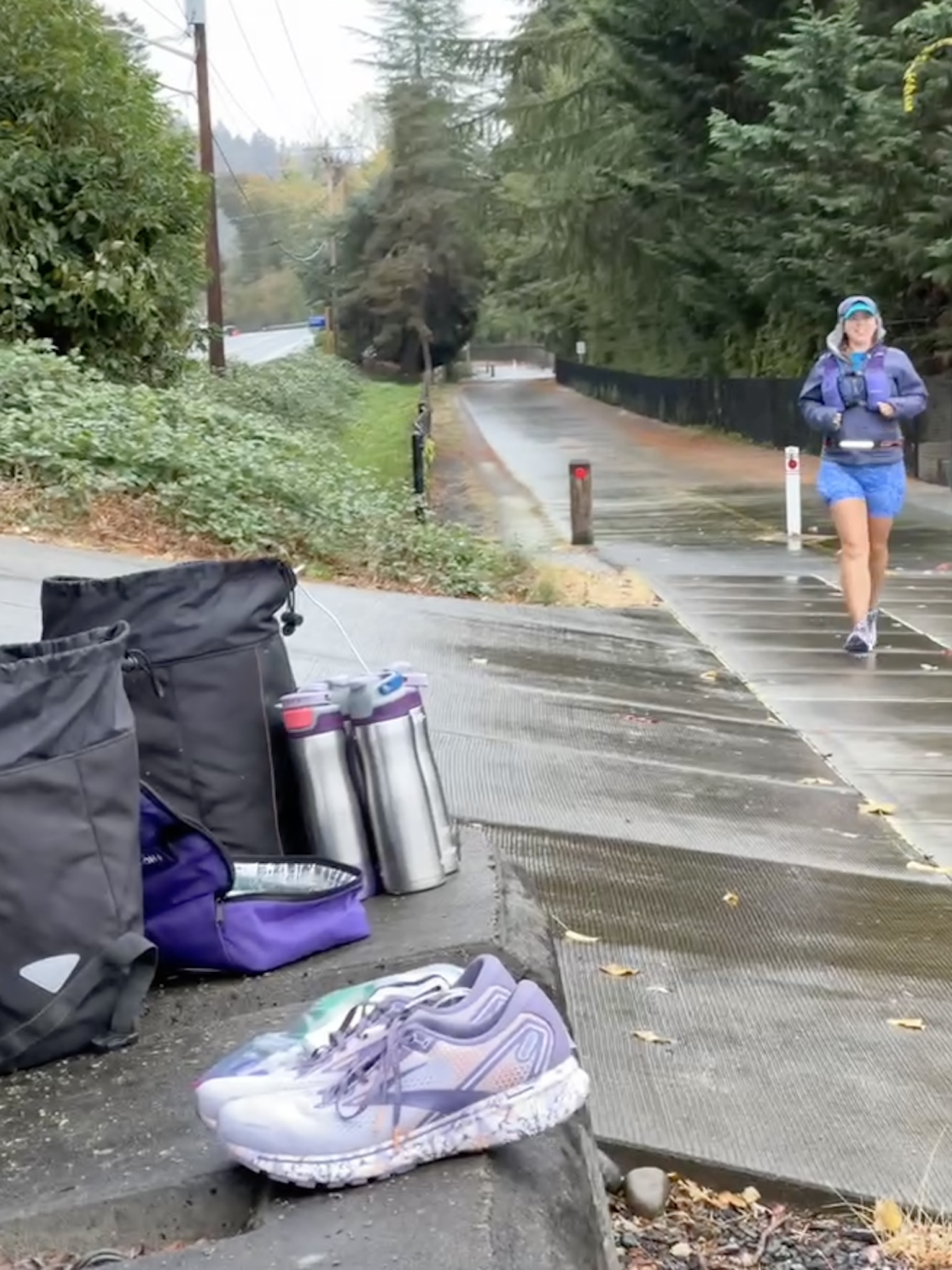 Yet overall, lap 1 went well. It started raining after about 20 minutes so I ran with my rain hat and rain jacket on (I put it on after my bite valve escapades at mile 1), and intermittently put my hood over my hat and took it off when the rain picked up or lessened, respectively. But it pretty much rained the whole time. Scott met me as planned after my turnaround spot (about 12 miles in) and refilled my hydration pack and I re-packed my vest with snacks, enzymes, and electrolytes and carried on.
At the end of lap 1 (almost 24 miles), I physically felt pretty decent. I had been working to focus on the lap I was in and what I needed to do for the next lap. Nothing else. No thoughts of how many miles I would run or hours it would take. My watch had stopped itself in the rain and canceled the run (argh), so I wasn't going to have a running total of time throughout the entire run like I wanted. But this might have been a feature, as it kept me from using my watch for that and I set a new lap/run each time I headed out so I could keep an eye on the segment pace, even though I had no idea what the overall pace time really was.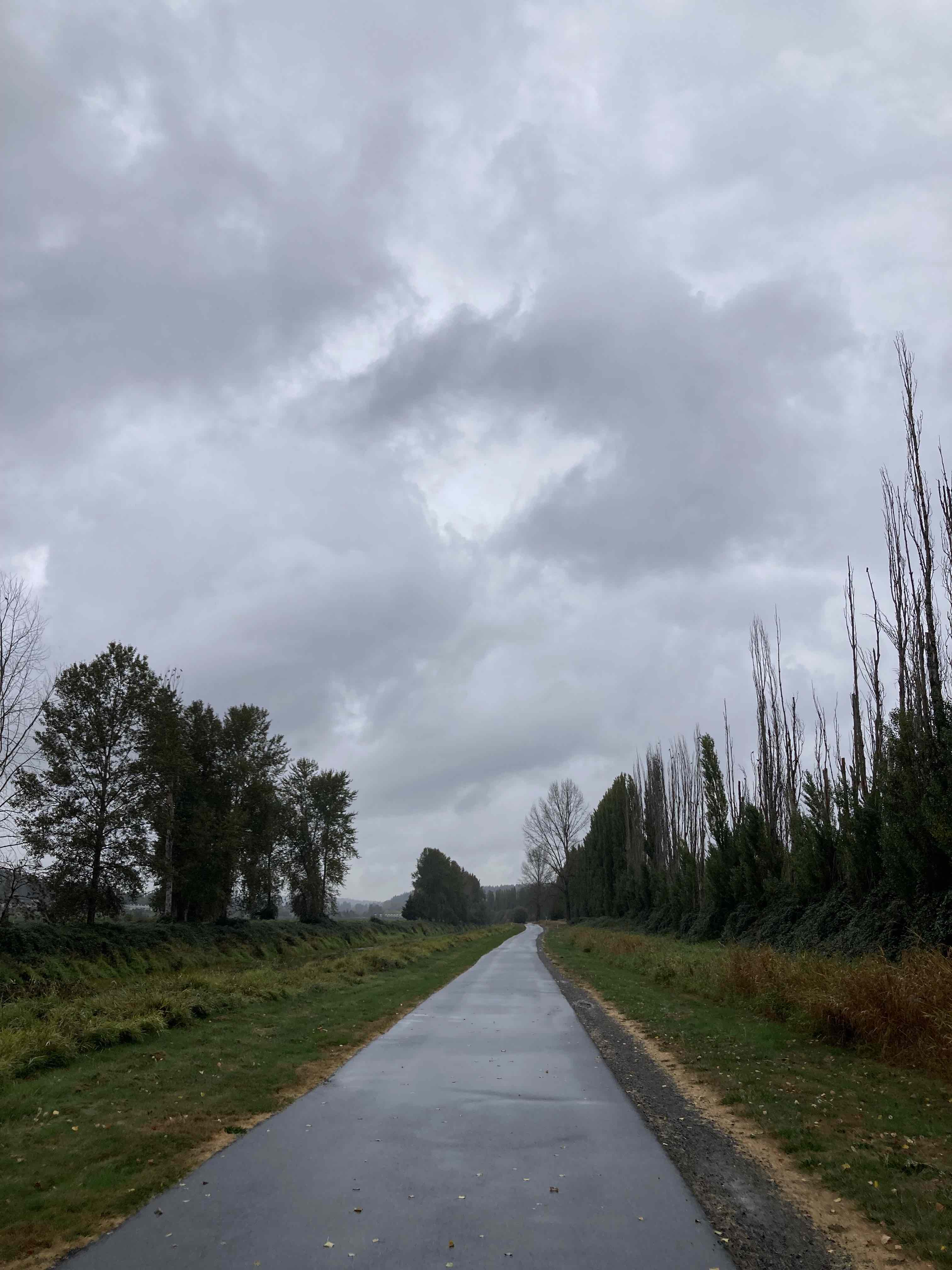 I went slow the first lap (part of why I was feeling so strong), and I took my time in between laps. I pulled off my socks and shoes. I used hand sanitizer on them to draw some of the water out, then re-lubricated and added Desitin (to continue to help draw water out of my feet and aid in preventing blisters). Then I put on a fresh pair of toe socks and added more lamb's wool in between key toes that typically are blister-prone. At this stage I had no blisters, and other than wet soggy feet was in good shape! Sitting for 10 minutes for my sock and foot care change chilled me, though, and I was happy to start moving again and warm back up.
The middle
I headed out on lap 2, which similarly went well. This was my "triangle" shaped loop/lap. The only issue I had this lap was that it was the only section of my route where the trail crossed 3 small intersections. Two had lights but one did not. At the intersection without a light, there were no cars so I continued running across the pedestrian crossing. As I stepped out I saw a car whipping around the corner with their head turned looking for cars in the opposite direction. Not sure if they would turn in time to see me, I slammed on my physical brakes. They did turn and see me and stopped in plenty of time, so I continued across the crossing and on the trail. However, that had tweaked my right ankle and it felt sore and weak. Argh. It felt better after a few more minutes, but it intermittently (once every hour or so) would feel weak and sore throughout the rest of my run as a result.
After lap 2, I again sat to remove my socks and shoes, dry my feet, put hand sanitizer on them, re-lubricate, etc. My feet were definitely wet and wrinkly, so I added even more Desitin to my feet. It wasn't raining super hard but it was a constant hard drizzle that was soaking through to my socks and feet even though there weren't many puddles (yet). This time, though, I used some reusable hot packs while I sat to change shoes, so I wasn't as chilled when I left.
Lap 3 (back to an out-and-back route) also went well, and I was starting to realize that I was in surprisingly good physical shape. My feet were intermittently a little bit sore from pounding the ground for hours, but they weren't constantly annoying like I've had on some training runs. I had long surpassed my longest running distance (previously 32 miles; at the end of lap 3 I would reach 52 miles) and longest ever running time. I did develop one or two small blisters, but they didn't bother me. Usually, I build up huge blisters and they're a constant annoyance. During my race, maybe thanks to the Desitin etc, I only noticed the blisters (which were fairly tiny) when they popped themselves. I had one on each foot pop and sting for a minute and then not bother me again, which was pleasant! Lap 3 was also when it got dark, so I'd headed out with my double waist lamp. I have two sets of two waist lamps that we strapped to each other; I turn one on and run it out (somewhere around ~3 hours) and then turn the belt around and turn the other lamp on. This lasts me the longest laps I have, even if I was going at walking speed. It's plenty of light for the paved trail even on the darkest nights, but because it was raining it was cloudy and the city's light pollution reflected off the clouds so that trail itself was easy to see! So while I only saw a few stars at the end of the night in between patches of cloud, for most of the night the night-running aspects were pretty easy.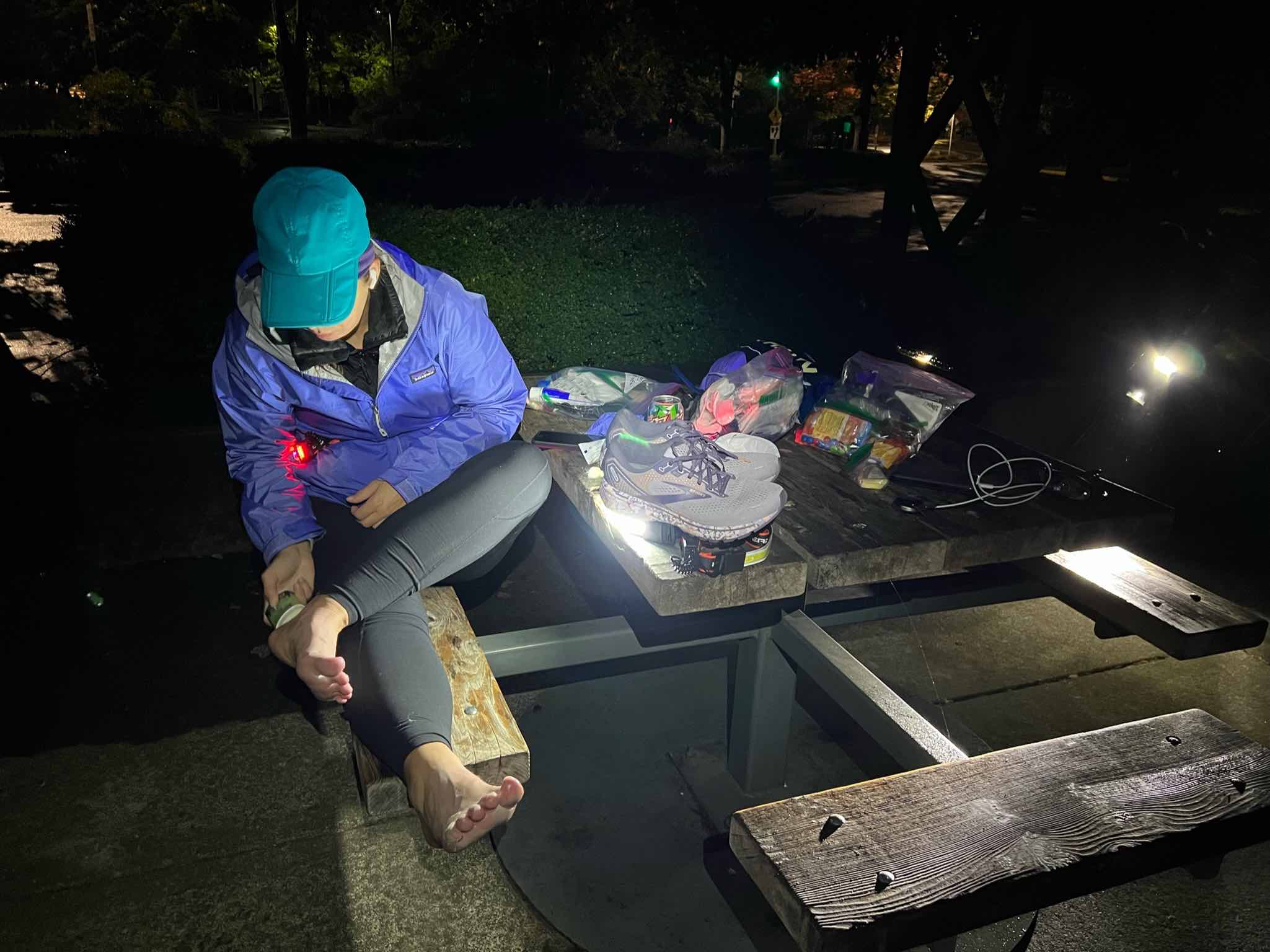 Interestingly regarding my feet, after lap 3 they were still white and wrinkly a bit, but they were definitely drying out. They were much drier than they had been after lap 2, so the combination of hand sanitizer and Desitin was working. I was pleased, and again slathered with more lubricant and Desitin before putting on fresh socks and heading back out for lap 4, which would be a repeat of my "triangle" lap.
Physically, I was mostly ok. My feet weren't hurting. I had expected my IT bands to get tight and bother my right knee and for my hips and back to start getting sore: my left knee did intermittently hurt some, but it was like a 3/10 annoyance and came and went. Stretching my hip flexors didn't change the tightness of my IT band, but it was also the least amount of knee pain I've ever had when things got tight, so it was very manageable and I didn't stress about it. It was hard to believe that with the completion of this lap (lap 4) that I'd have finished a 100k (62 miles) and added a few miles to it!
It seemed like the triangle loop wanted to keep things interesting, though. On Lap 4, after I had turned off into the section that has the intersections and the "triangle" part of the loop, my hydration hose made a gurgling noise. I felt the back of my hydration pack, which was rock solid with ice…but no water left. Oops, I thought. I was at mile 6 out of 13. If I kept going forward on my route, it would take me an estimated 4+ miles to get back to the next water fountain. Or I could call and wake up Scott, who had just fallen asleep for his first 2 hour nap overnight (it was around 1am by now), to bring me water, but that would take him 20-30 minutes before reaching me.
It mattered that I didn't have water. Not just in terms of thirst and hydration, but I also needed water to be able to swallow my electrolyte pills (every 45 minutes) and my fuel (every 30 minutes when I ate a snack) and the digestive enzymes I absolutely require to digest my food since I have EPI. I definitely needed water so that my hydration, fueling, electrolytes, etc. wouldn't suffer.
I could go back, but I hated to backtrack. It would be a mile back to the previous water fountain, although I wasn't even sure it would be turned on and working. Mentally, though, I groaned at the thought of "turning around" and finishing the loop in reverse and trying to figure out how many miles I would cut off that loop and how many I'd have to added to my very last loop to make up for it.
Luckily, I realized a better idea. Because I was on the section of the triangle running alongside a road (hence the annoying intersection crossings), the intersections are where the road turned off into various parking lots. Across the road at one of the two intersections with lights was a gas station! I could see it glowing from a quarter of a mile away. I crossed my fingers hoping it would still be open, because I could go inside and buy a bottle of water to hold me over. It was open! I crossed the intersection and went in, grabbed a liter of water, bought it, went outside, and refilled my hydration bladder under the bright lights of the gas station.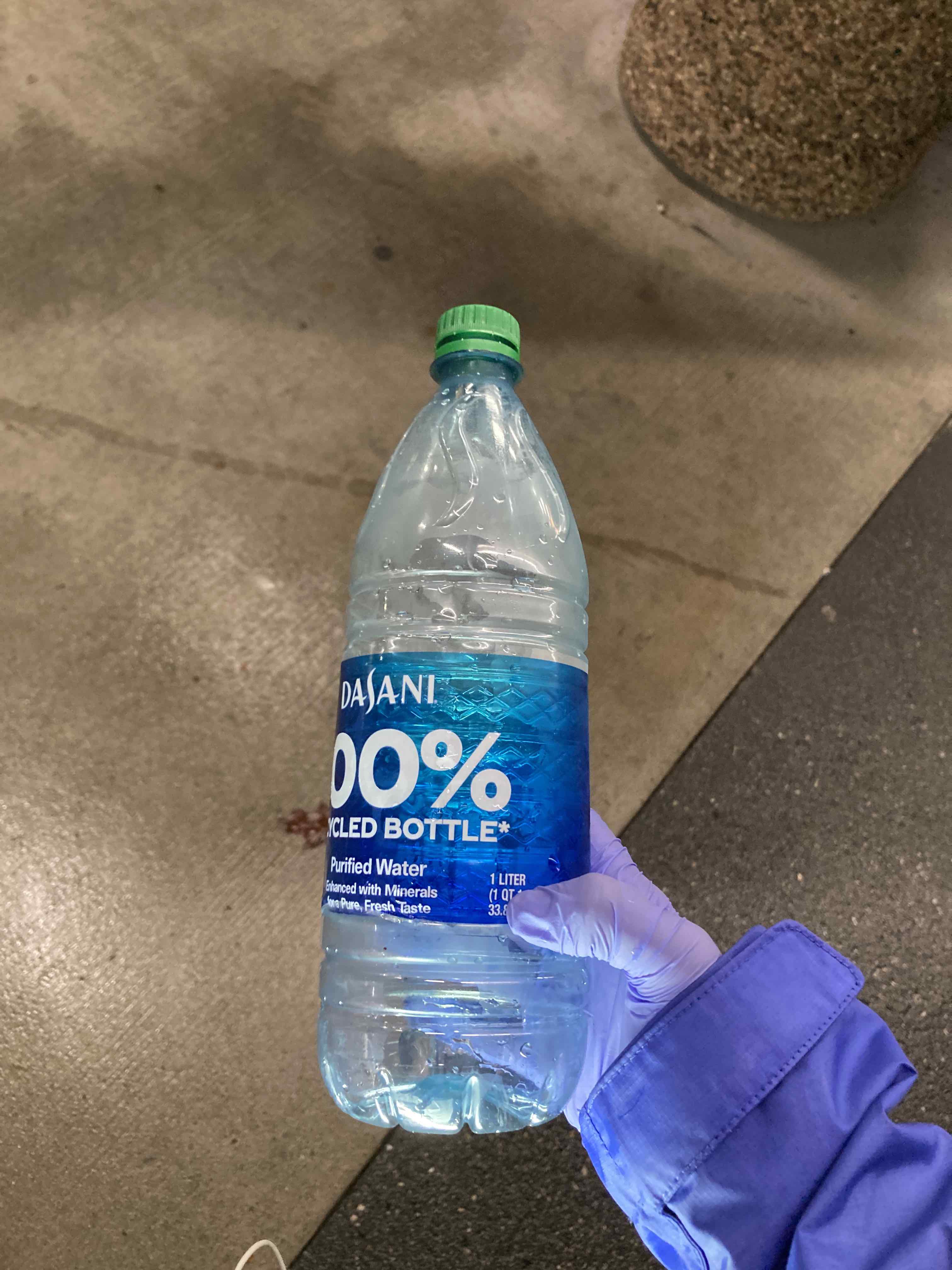 I was pretty proud of that solution, especially because it was ~1am and I had been running for 17 hours and was able to troubleshoot and solve that problem on the fly! Without sending it, I also drafted a text to send to Scott near the end of that loop when he'd be awake, to list out which foods and gear I wanted at the next refuel, and to specify what happened and how I solved it and request that I get more water and less ice for the next loop.
(Running out of water was on my list of things I planned for in all of my preparation, so while I had low expectations of my mental capacity as the miles piled up, that likely helped because I had mentally listed out where all the available water fountains were, so I could run my loop mentally forward and backward to figure out where the closest one was. In this case it was a mile behind me; going forward it would have been 4+ miles or more than an hour away. The gas station ended up being 15 minutes from where I realized I was out of water).

Finishing lap 4 was exciting, because I only had 3 laps left to go! I had one more out and back loop, and my father-in-law was driving down in the wee hours of the morning to run part of it with me to keep me company. We hadn't planned on that all along, but he and Scott had been texting and working it out, so Scott just told me that was the plan and I was thrilled. I was a little bit tired overall, but more energetic than I thought.
The sock change before lap 5 was disappointing, though. After lap 3, my feet had been drying out a little bit. Now after lap 4 they were wet and soft again, like they were after lap 2. The rain had been more constant. I took the time (15-20 min) I needed to dry and treat them with hand sanitizer, lubricant, Desitin, replace fresh toe socks and lambs wool and dry shoes. They weren't hurting, so I was hoping the light rain would taper off and my feet would dry out again.
The (beginning of the) end
I headed out on to lap 5, buoyed by the thought that I only had ~4 miles 'til I had company. The rain picked up again (argh) and as my father-in-law met me on the trail with his headlamp and rain gear, he asked if it had been raining this much the whole time. No, I said, and pointed out that it had only been raining hard in 10-20 minute chunks and this one had been going since before I met him so it should lighten up soon. He commented on how energetic and chatty I was. "You're pretty chatty," he said, "for 5am!" (I am well-known in both our families for NOT being a morning person). I joked about how impressive it was for me being this chatty not only at 5am but also for it being 22 hours into my run!
Unfortunately, 3 miles into the section he ran with me, it went from annoying hard drizzle to an epic mega downpour. My shoes went from damp from constant hard drizzle to super soaked from top all the way down to the insoles squishing with every step. I was frustrated, because this much rain was also making it hard to use my phone. My phone had an alarm going off every 30 minutes to remind me to fuel; I needed to pull out my phone each time and turn off the very loud alarm (it was effective!) and then open up my spreadsheet and enter what I ate and what electrolytes I took. Then I also had to pull the baggie out of my vest pocket, select out the number of enzyme pills I needed with wet and cold gloved fingers, re-seal the baggie and put it back in my vest, and get out the fuel from the other pocket of my vest and eat it. Even tired, I was managing to fuel successfully and stay on top of my schedule. I was increasingly proud of this.
But the rain and the inability to use my phone when I wanted to was starting to irritate me, in part likely because I was trying not to stress about what the volume of water was doing to my feet. They weren't actively hurting, but I knew this much water for this long of time could be dangerous and I needed to be careful. It was still downpouring when we reached the turnaround and headed back to his car. I dropped him off at his car and carried on. I was tired, soaked, cold, but physically in great shape otherwise in terms of legs, knees, hips, back etc all holding up and not feeling like i had run ~78+ miles at that point!
I had just eaten another snack and went to press buttons on my pump to give myself some insulin for the snack. It didn't seem to work. I have a vibration pattern so I can use the pump without seeing it; but the "enter" button was not working. I had been concerned about the volume of water my pump was going to be exposed to and mentally prepared for that, but it was SO disheartening to suddenly feel the pattern of 6+ vibrations followed by an audio beep indicating an error state had been reached on the pump. I cursed to myself, out in the rain after 24 hours of running, knowing what I would find when I pulled my pump out from under my jacket. Sure enough, "button error", because water had gotten under the buttons and to protect itself, the pump went into a "I won't do anything" state. That meant that the insulin I needed for my latest snack wasn't going to happen and any future insulin wasn't going to happen.
I pulled out my phone and started a text to Scott, explaining that I had a button error and needed him to pull out my backup pump. I told him where it was, told him to put in a new battery and program it with the basal rate that I wanted. I then sent a text saying it was raining a lot and it would be easier if he called me if he needed to talk, because it was so hard to use my phone in the rain. He read the text so I knew he was awake, so I called him and talked to him while I trudged on and he was getting dressed and packing up my replacement pump and the gear I needed for lap 6. Then we hung up and I carried on, grumbling along the way and starting to feel the physical effects of not having enough insulin for the past hour or so.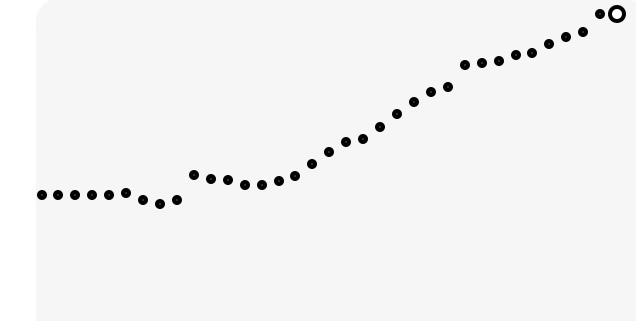 My blood glucose levels were rising, but I wasn't worried about that. I knew once I had replacement insulin my blood sugars would come down nicely. I had prepared for this; there was a "high BG" baggie with supplies ready to go! But the combination of the 25+ hours of rain, the extra hard rain and cold temps from the last several hours, my feet starting to be bothered from the wet soaking, and then on top of it all the chemical feeling of not having insulin going in my body: it was a lot. I really focused on the physical state I was in, evaluating what I wanted to do. I knew that I could fix the cold state (switch to dry clothes; use hot packs) and my blood sugars (new replacement pump, take some inhalable insulin for a faster fix while the new pump insulin would be kicking in within an hour and fixed from there). But my feet were starting to bother me in a way that I wasn't sure could be fixed with a 20 minute sock change.
Scott biked up to me right as I passed my favorite trail bathroom, the stalwart of my ultra, and had me turn around and head in there to be out of the rain. It was clean, big, had toilet paper, and was well lit and had the door open (wasn't locked) all night long. I stepped inside the bathroom while Scott parked his bike by the building and whipped out the baggie with the replacement pump. I checked that no one else was in the women's bathroom and he stepped inside, and impressively (to me) pulled out the baggie that held a garbage bag. I had packed it so I could more easily change clothes in public bathrooms by standing on it and placing my clothes on it so they wouldn't be on the ground. He instead laid the garbage bag on top of the garbage can lid and set out my dry clothes, helped me out of my wet soaked rain jacket, hat, and shirts, and handed me my dry shirts followed by some hot packs. He gave me a giant one and told me to stuff it down my shirt, which I did. I took some inhalable insulin (which hits in about 15 minutes), then held the smaller hot packs in my hands while he was pulling out the bag with my replacement pump. I rewound and primed the pump with my existing reservoir and tubing, then reconnected it to my pump site and primed it. That problem (lack of insulin) was now solved, and I knew that my blood glucose would come back down to target over the next hour.
Next up, I could walk/run (or walk) the remaining 1.5 miles back to my normal turn around point, which was a table under a park awning that was relatively dry. I knew that I needed to be warmer and stay dry, and although I had dry clothes on now, I wasn't sure that sitting outside even with hot packs while I tried to address my feet would warm me up. I told Scott that I wanted to go back to the house (thinking I'd walk the ~1.5 miles to the house). Then I could dry out my feet, get warm, and go back out if I wanted to continue. But I had a hunch I didn't want to continue. My feet were feeling like they were getting to be in a not-good state from the level of water they had retained after 25 hours, despite all the excellent foot care.
I thought about it and realized that I was satisfied with running 82 miles. I was in otherwise decent physical shape and energy, I had been nailing my electrolytes and fueling and blood sugars the entire run. I had successfully run overnight; more than 24 hours; and by far (2.6x) the longest distance I had ever run. I could keep running to 100 miles (about 18 more miles), but no one cared if I did. I didn't have to prove anything to anyone, including myself. I had planned, strategized, and executed above and beyond what I had thought was possible, both in terms of physical and mental performance. I had no major injuries, and I wanted to keep it that way. I knew I had the willpower and persistence to keep going; I was stubborn enough to do it; but as the last bit of icing on top of my ultramarathon cake, I wanted to have the mental strength to decide to stop where I was so I wouldn't create a long-lasting injury in the last 18 miles from sheer stubbornness.
So I stopped. I told Scott I would decide for sure after I got home and dried off and warmed up, but that I was pretty sure this would be a stop and not just a pause. Rather than let me walk home in the rain, he insisted I stay in the warm dry bathroom while he biked home and got the car and brought it to the nearest trail entrance, which was about a quarter of a mile away (more good planning on my part!). Once he had gotten in the car and called me, I slowly walked out to meet him at the parking lot, reaching it right as he pulled in. The walk on my feet confirmed to me that they were done. They weren't exceptionally blistered or injured, but I knew the cumulative water effect and soggy skin would likely lead to some damage if I continued on them. We headed home. I sat down and took off my socks and shoes and sure enough, my feet were wet, white, and very wrinkly and starting to crease. I took a hot shower then dried off, put hand sanitizer on my feet to help dry them out, and laid down with them sticking out of the covers to help them air out. Within a few hours, they had dried out, and showed me some blisters on the bottom of my right foot that were not really bad, but if I had kept going on them, the wet wrinkly tissue would've been very prone to more extreme damage. I reflected on the choice to stop and was still happy with my decision.
The 24 hours after I ran 82 miles
After my shower and laying down, I realized that I was (still) in great physical shape. Some parts of me were starting to stiffen up now that I had stopped, but they hadn't bothered me at all during running. That was my hips that now hurt if I tried to lay on my side but not on my front or my back; and my thighs felt sore when I straightened and bent my legs. I had never even been tempted during my run to take pain meds because I was never overly sore and didn't have any injuries.
(Note: you shouldn't take NSAIDs during extreme events due to the risks of overworked kidneys having problems. I had packed Tylenol, which is acetaminophen, in case I needed it for pain management, but specifically did not pack any oral NSAIDs and warned Scott about offering me any. I did pack topical NSAID *gel* which is an extremely low quantity of NSAID compared to even one oral NSAID pill, and I used that once on my shoulder blades during the run. After my run, I waited several hours and made sure my kidneys were fine via hydration before I took any NSAID.)
It is very surprising to me that despite my longest training runs being almost a third of the distance I did, that I ended up in better physical shape at the end than I did during some training runs! This is probably in part due to going even slower (as planned) during my ultra, but I was really pleased. It might have also been due to the fact that I mentally trained for it to hurt really bad and to continue anyway. Again, lots of mental training and prep.
I ended up napping 2 hours after I got home and showered, and then was awake a few more hours and took another one hour nap. I ate several small meals throughout the day and stayed in bed to rest and not stress my feet further, then went to sleep at a normal bedtime and managed to sleep 9.5 hours through the night. Woohoo! I really wasn't expecting that. I did wake up many times and find myself bending and flexing my knees or my ankles to help me roll over and could feel them being sore, but it wasn't painful enough to fully wake me up or keep me from falling back to asleep within seconds, so it felt like a fully rested un-broken night of sleep.
The bottoms of my feet felt weird as they dried out, but progressively felt better and felt close to normal (normal meaning as normal as you are with a routine blister on the bottom of your forefoot) by the time I woke up the next morning (24 hours after ending my run). Everything that stiffened up in the first few hours after I stop has been gradually loosening up, so other than my forefeet still being sensitive with blisters, I'm walking around normally again.
The good, the bad, the ugly, and what I wish I had done differently
I had prepared for so much to go wrong, both those things in my control and things out of my control. And I think that's why it actually didn't hurt as much or go as wrong as it could have, despite all the variables in play. I nailed my pacing plan, energy levels, hydration levels, fueling intake, electrolyte intake, and enzyme intake.
I had estimated that I would need to take up to ~160 enzymes to cover my fueling. Remember that I stopped at ~25 hours (82 miles) instead of ~32 hours (100 miles) so I took less than that, but still a lot.
I consumed 50 (fifty!!!) snacks, one every 30 minutes, and swallowed multiple enzyme pills each time. I consumed at least 98 enzyme pills (!!!) in this 25 hour time period. I was concerned that my body wouldn't be able to digest the pills or have some other issue with them, because I have never taken anywhere near this number of pills in a single day. But, it worked, and flawlessly: I had ZERO EPI-related issues and ZERO other gastrointestinal (GI) symptoms. GI symptoms are super common in ultras, even for people without things like EPI, so I'm incredibly thrilled with how well my planning and practicing paid off so I could execute my fueling plan and not have any issues.
My goal had been to take in ~250 calories per hour and ~500 mg of sodium per hour (from both the snacks every 30 min and electrolyte pills every 45 min). I use calories as my rolling metric because while most ultrarunners prioritize carbs, I'm running slower and likely more fat adapted than most people, and also need digestive enzymes no matter what I'm eating so taking small amounts of fat and protein are fine for me. Plus it makes for more interesting running snacks. So using calories as the global running metric of consumption rather than just carbs or fat etc. works for me. I nailed it, and across all 25 hours of my run I averaged 671 mg of sodium per hour and 279 calories per hour. I did have one hour where I somehow dropped low on sodium and felt it, and took an extra electrolyte pill to help catch up. It fixed the "low on sodium" feeling and I didn't have any issues again. I had slightly more variability toward the end of the run, but that's just due to the timing of when I logged it into my spreadsheet (due to the wet-phone issues I described earlier) and the auto-calculation on which hour it falls into; overall I still was maintaining the goal levels every hour.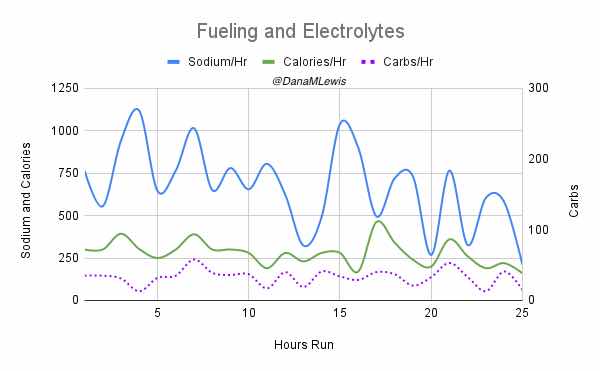 (The purple dotted line is carbs, because I was curious about how that level fluctuated given that I didn't prioritize my run snacks based on carbs at all. I generally seek <20 grams of carbs per snack but have a few that are closer to 30 grams; otherwise <10 or so grams of fat and however many grams of protein I don't care).

How do I have all this data? I used my macronutrient spreadsheet as I went, selecting the snack I was going to eat from the drop-down list that then pre-populated the rest of the data in the sheet and updated a pivot table that summarized my rolling totals per hour. It was getting increasingly hard to use my phone in the mega downpour rain in the last few hours, which is why the timing of logging them was a little variable and the numbers look a little more bouncy each hour toward the end, but my consumption was still on time thanks to my every 30 minute phone alarms and so the logging was the only thing that varied and I was still above-goal overall although trending downward slightly.
This spreadsheet means I can also summarize my total consumption across 25 hours: I consumed an eye-popping 817 grams of carbs; 365 grams of fat; 136 grams of protein; 16,775 mg of sodium; and 6,979 total calories. That matched the 98+ enzyme pills (and 33 electrolyte pills, which are 210 mg of sodium each and reflected in the overall sodium counts), so I also swallowed >131 pills in the 25 hour time period running. Wow.
It's common to end up in a calorie deficit due to the hours and miles that an ultra demand of your body, but my watch estimates I burned around 8,000+ calories (maybe an undercount since it stopped itself a few times), so I didn't have as big of a deficit as I had originally predicted.
There were so many (50!) opportunities to mess up my digestion, and I didn't mess up once. I'm really proud of that! I also had such a variety of snack types and textures that even though I was never really hungry, I ate my snacks like clock work and didn't get major palate fatigue or get to the point that I wanted to stop chewing and needed to switch to my backup list of liquid fuel. The only time I slightly felt off was when I did a Snickers for one snack at the end of my lap and then my next snack was hot mashed potatoes – combined, that was 390 calories (one of my top two hours of calorie consumption) and felt like a little too much food, either because of the calories or the volume of mashed potatoes. It was only a minor annoyance, though, and the feeling passed within another 15 minutes and I didn't have issues with any other combination of snacks. I did get tired of peanut butter pretzel nuggets, because they're drier than many of my other snacks and took a lot of water to swallow. So I stopped choosing those in lieu of my other snacks and left those as emergency backups.
Looking back, I wish I could have done something differently about my feet, but I don't think there's anything else I could have done. I changed socks and into dry shoes at every single lap. I dried them and tried to draw out water with hand sanitizer and Desitin. I lubricated with Squirrel Nut Butter and Desitin, and overall came out with very few blisters compared to my typical shorter long runs (e.g. 25-30 miles). But we did get 0.72 inches of rain in that 24 hour period, and a lot of it was dumped onto my feet in the 4-7am time period. If I'd had a way of knowing 24 hours in advance exactly when the rain was going to let up with enough confidence to delay the run for a day, it turns out it would've been drier, but the forecast before I started running was for similar chances of rain all weekend. The laws of feet physics and the timing was just not good, and that was out of my control. I'll keep researching other strategies for wet feet management, but I think I had done everything I could, did it well, and it just was what it was.
Overall, I can't think of anything else I would have changed (other than my training, it would have been swell not to have broken my toe and been not weight bearing for 6 weeks!). Fueling, electrolytes, enzymes, blood sugars, pacing, mental game: flawless. I was even picking up the pace and still running and walking 30:90 second intervals, and I think I would have continued to pick up the pace and pushed it to the finish, estimating that I would have come in under 32 hours overall for 100 miles (around a 19 min/mi average pace overall, or a bit under that).
But I chose to stop at 82 miles, and being willing to do that was a huge mental PR, too.
So I'm pleased, proud, and thrilled to have run an 82 mile ultramarathon, and physically and mentally feel better than I would have predicted would be possible after 24 hours.