I've had exocrine pancreatic insufficiency (EPI or PEI) for a full year now and have been taking pancreatic enzyme replacement therapy (PERT) ever since diagnosis.
I've written about what EPI is, what it's like to go on PERT, and a variety of other posts (such as how I ultimately taught myself to titrate and adjust my dosing of PERT based on what I am eating) in the last year – you can see all my EPI posts listed at DIYPS.org/EPI. I also wrote recently about estimating the costs of PERT for a year, in which I had tallied up the number of PERT pills I had taken so far in the year. Since I've now hit the one year mark, I wanted to revisit that math.
In 365 days of pancreatic enzyme replacement therapy, I have consumed (at least) 3,277 pills.
That's an average of 8.98 pills per day!
As I previously wrote, the number of pills is in part because I'm trying to lower the total costs (to everyone involved in paying for it) of my PERT by taking a mix of prescription PERT and OTC enzymes to try to balance effective dosing, cost, and the number of pills I swallow. I take one pill with my standard breakfast, so the remaining ~8 average pills are usually split between lunch, dinner, and/or a snack if I have one. (This is also influenced by my ultrarunning where I typically take ~2 pills every 30 minutes with my snacks/fuel for running, so long training days of 4 hours would involve 8 or more pills just for running fuel; obviously longer runs would involve even more, which drives the pills/day average higher.) If I wanted to reduce the total number of pills, I could by driving up the cost by using bigger, prescription PERT pills in lieu of some of the OTC options. However, most of the time, 3-4 pills per meal mixed between prescription and OTC is doable for me. I typically would choose to round up more PERT and reduce OTC pill count when I'm less certain about the macronutrient content of the meal or I want more confidence in better outcomes.
Speaking of better outcomes – is PERT effective?
For me, yes!
Overall, I feel so much better. Most of the time, I hardly ever have ANY symptoms (such as gas, bloating, or feeling icky) let alone my more extreme symptoms of "disrupting" my GI system. In the year of taking PERT, 78% of the time I had no disruption or any noticeable symptoms.
The average length of time between days with noticeable symptoms was 5.37 days.
And, if you look at the second half of the year, this increased quite a bit: 88% of the time I had no noticeable symptoms and the streak length of days between symptom days increased to 6.81 average days! The max streak is now 28 days (and counting)!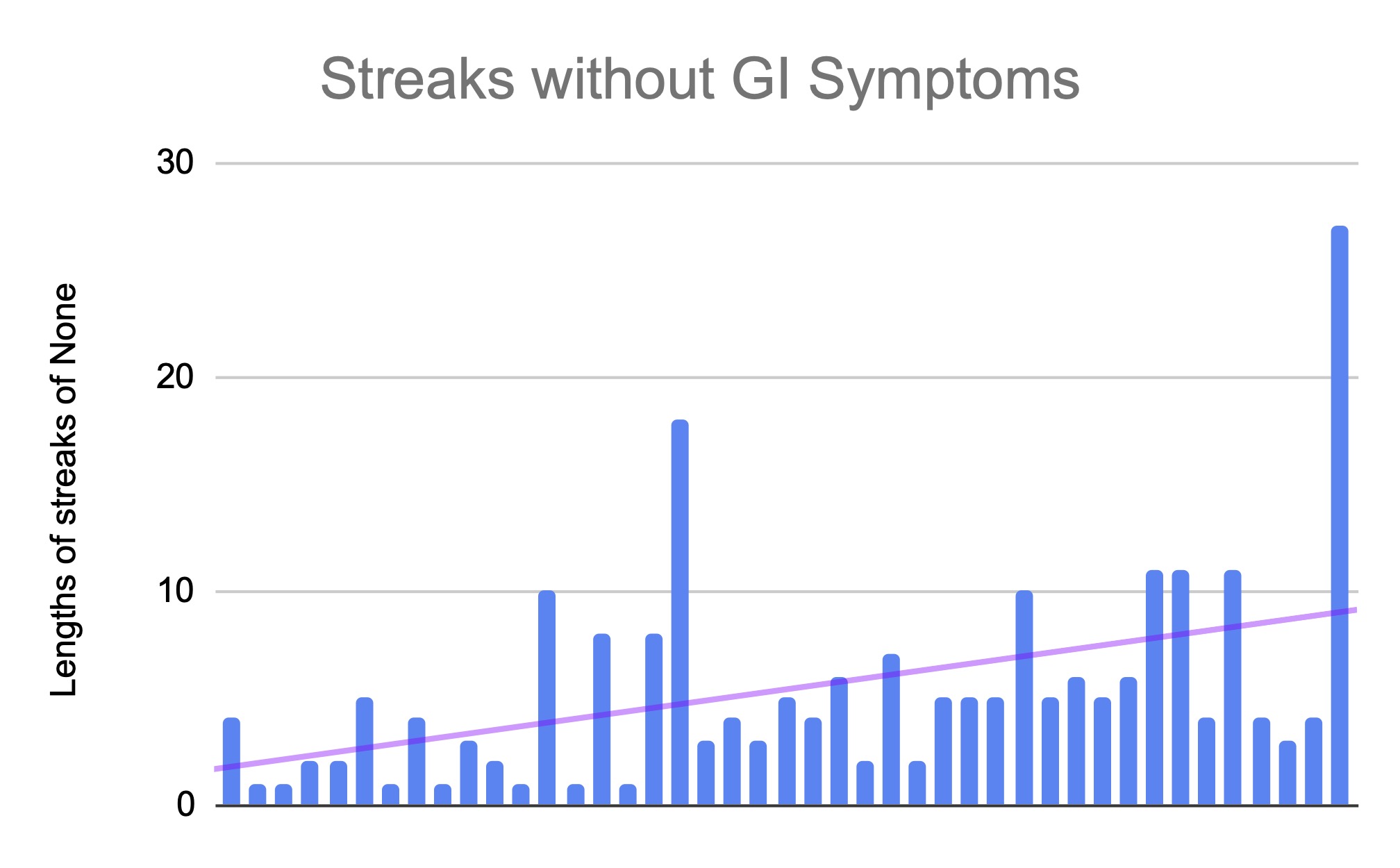 That's approaching a full month without any GI symptoms (woohoo) of any kind, and means less than 1 or 2 instances of symptoms per month for me in the last several months. That's probably better than average for most people, even people without known GI conditions, and getting a lot closer back to my personal level of "normal".
And obviously, this is continuing to increase over time as I improve my PERT dosing strategy.
This is pretty meaningful to think about.
PERT made a difference overall straight away, but I was also starting with very small portions of food and a very restricted diet. (This is because before I realized I had EPI I had done all kinds of behavioral gymnastics to try to eliminate foods like onion, garlic, and other foods that seemed to cause issues). So first I figured out PERT successfully for what I was eating; then carefully expanded my portion sizes back to typical quantities of food; then slowly expanded my diet to cover all the foods I used to eat before I started having all my GI problems.
It very much felt like I had three phases this year:
Phase 1: Use PERT to cover small quantities of small varieties of food. Figure out what foods I could eat that could "fit" into one PERT pill.
Phase 2: Start to figure out what quantities of food I wanted to eat, and get the PERT to match the food.
Phase 3: Finish expanding out my food choices to cover everything I was eating before and tackling all my "firsts" with PERT.
You can see this evolution in my diet, too, when you look at the relative changes in the amount of fat and protein I have eaten over the course of the year. (The one big obvious outlier on the graph in October is my 82 mile ultramarathon where I ate every 30 minutes for 25 hours!) There's been a slight increase in my fat consumption over the course of the year, and protein consumption has stayed relatively flat as I've been making a very conscious effort to eat enough protein to fuel my ultrarunning endeavors throughout the year.
You can then see the relationship with increased number of pills (albeit pills with different amounts of lipase) over the course of the year, relative to the fat and protein consumed.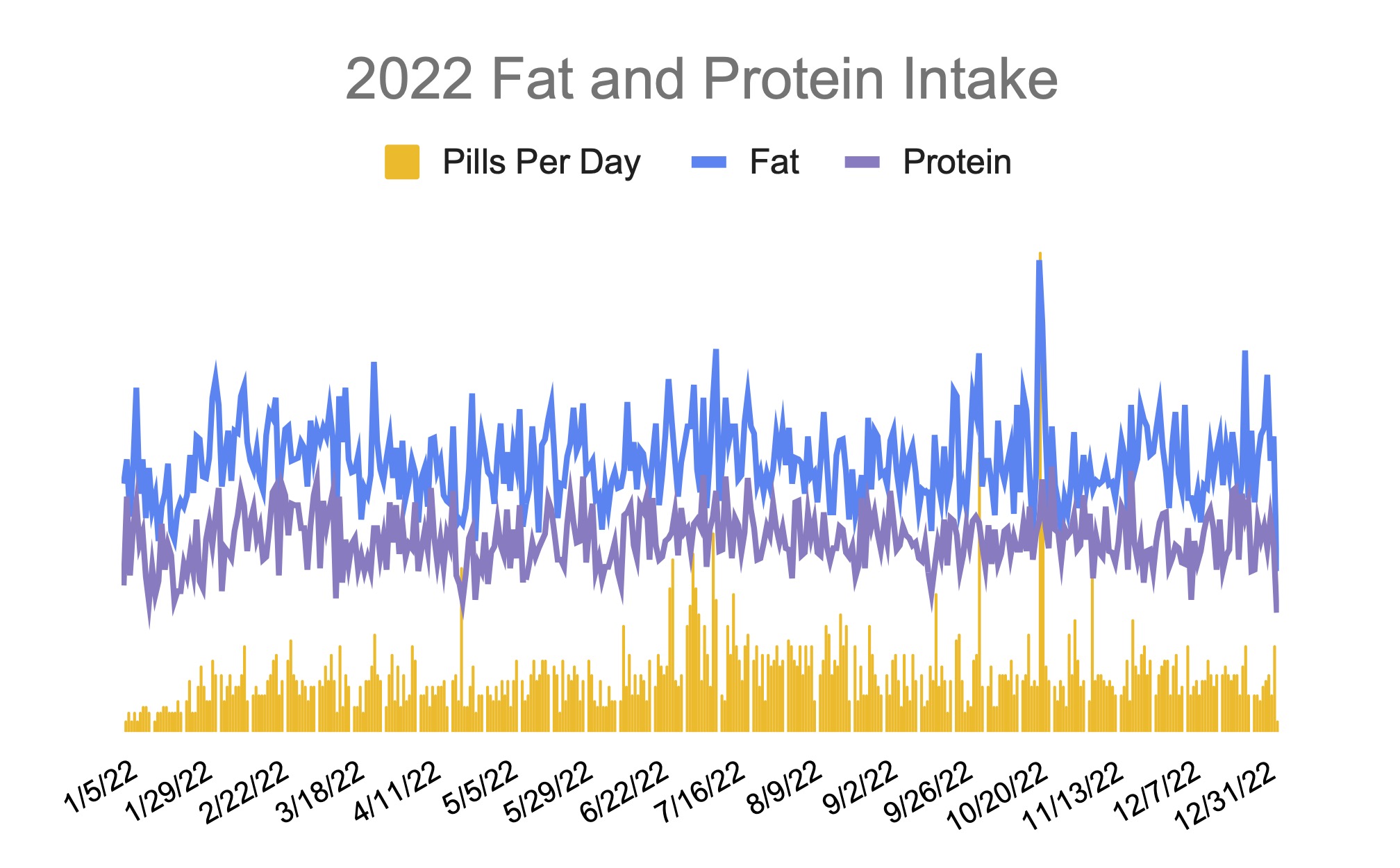 (Note that the pills per day is using a hidden right axis, whereas the fat and protein share the same left axis numbers, also not shown)
For anyone who is new (just diagnosed or recently diagnosed within a few weeks or months) to EPI, here's what I would hope you take away:
PERT works, but it needs to match what you are eating. Come up with a strategy (here's mine – you can use it!) to adjust your dosing to match what you are eating. What you eat changes, and so should your PERT dosing.
Things will improve over time, and you will get more effective at matching your dosing to what you are eating. You should be able to have more and more "streaks" of days without symptoms, or with reduced symptoms. However, this may take a few months, because you'll likely also be – at the same time – re-expanding your variety of foods that you're eating. The combination of eating more and different foods AND tweaking your dosing can make it take a little bit longer to figure it all out.
If you're not seeing success, talk with your doctor. There are different sizes of PERT pills – if you're struggling to take X number of pills, you may be able to take fewer pills of a bigger size. There are different brands of PERT – so if one isn't working for you (after you match your dosing to how much fat and protein is in each meal), you can switch and try another brand. There are also OTC options, which you can use to "top off" your prescription PERT or substitute, but you need to have an effective strategy for adjusting your dose that you can translate to your OTCs to be sure that they're working.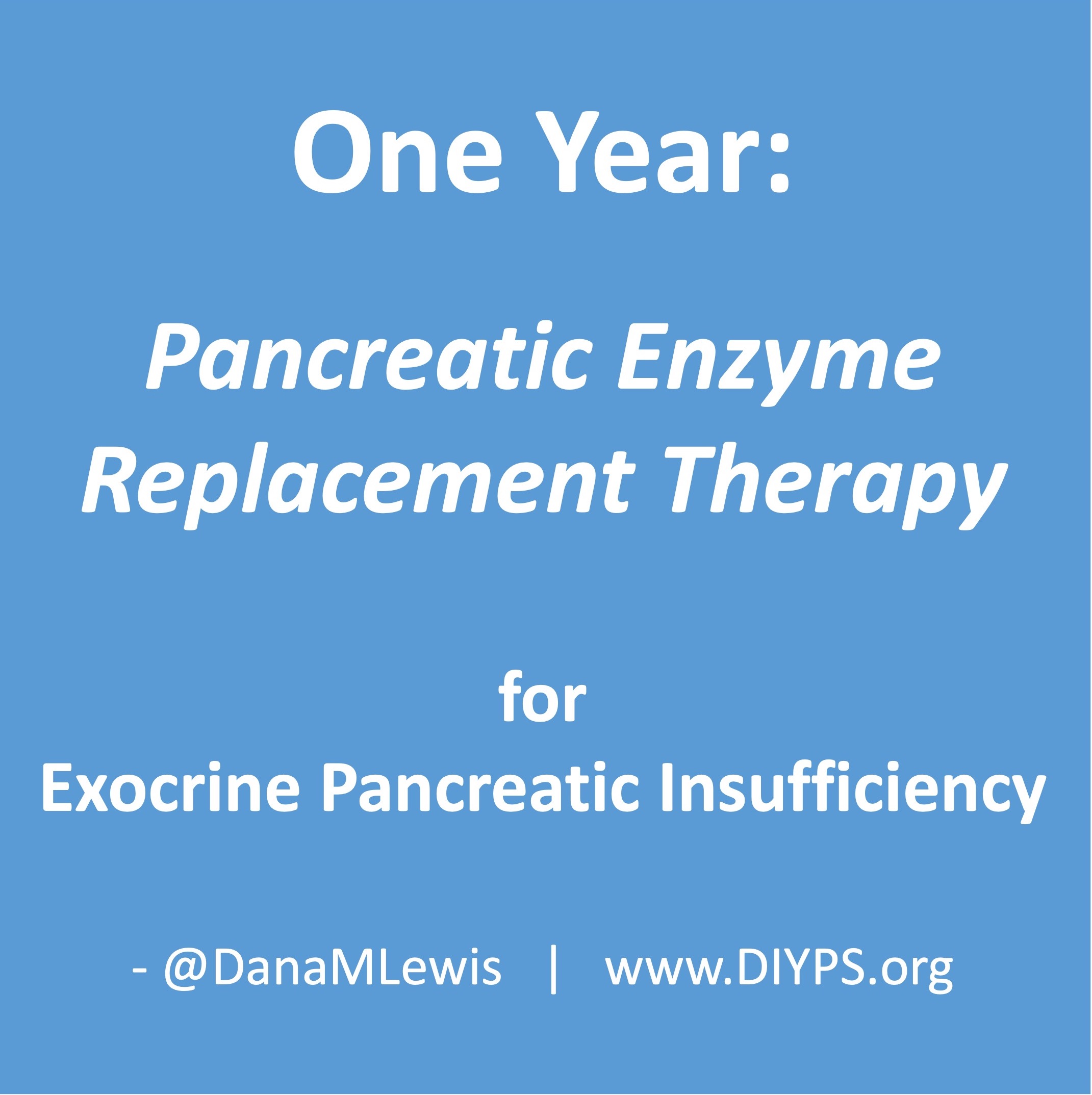 —
(PS – you can find my previous posts about EPI at DIYPS.org/EPI – and make sure you check out PERT Pilot, the first iOS app for Exocrine Pancreatic Insufficiency!)
—
You can also contribute to a research study and help us learn more about EPI/PEI – take this anonymous survey to share your experiences with EPI-related symptoms!
—