Introducing PERT Pilot, the first iOS app designed for people with exocrine pancreatic insufficiency (EPI / PEI) and the only iOS app for specifically recording pancreatic enzyme replacement therapy (PERT) dosing!
*Available to download for FREE on the iOS App Store *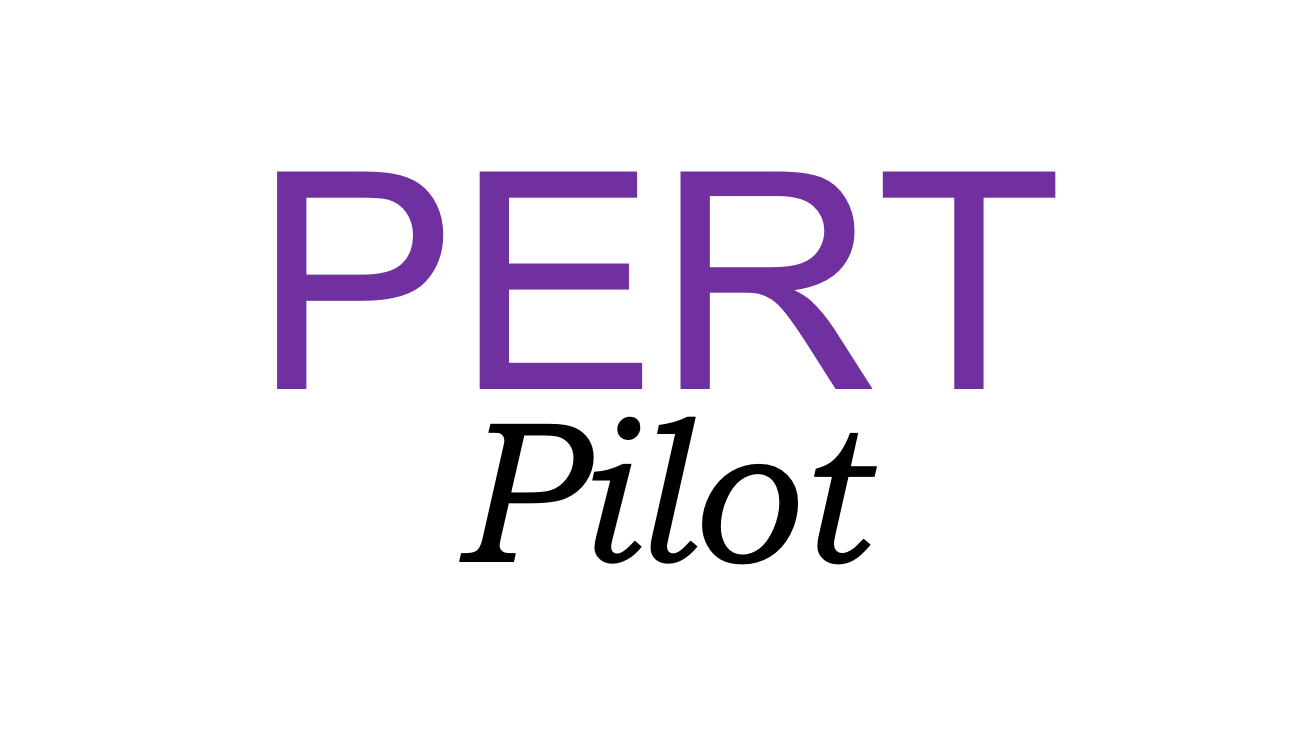 After originally developing GI symptoms, then working through the long journey to diagnosis with exocrine pancreatic insufficiency (known as EPI or PEI), I've had to come up methods to figure out the right dosing of PERT for my EPI. I realized that the methods that I've made work for me – logging what I was eating in a spreadsheet and using it to determine the ratios I needed to use to dose my pancreatic enzyme replacement therapy (PERT) – weren't methods that other people were as comfortable using. I have been thinking about this for the last year or more, and in my pursuit for wanting to encourage others to improve their outcomes with EPI (and realize that it IS possible to get to few symptoms, based on increasing/titrating the enzymes we take based on what we eat), I wrote a very long blog post explaining these methods and also sharing a free web-based calculator to help others to calculate their ratios.
But, that still isn't the most user-friendly way to enable people to do this.
What else could I do, though? I wasn't sure.
More recently, though, I have been experimenting with various projects and using 'large language model' (LLM) tools like GPT-4 to work on various projects. And a few weeks ago I realized that maybe I could *try* to build an iOS app version of my idea. I wanted something to help people log what they are eating, record their PERT dosing, and more easily see the relationship in what they are eating and what enzymes they are dosing. This would enable them to use that information to more easily adjust what they are dosing for future meals if they're not (yet) satisfied with their outcomes.
And thus, PERT Pilot was born!

What does PERT Pilot do?
PERT Pilot is designed to help people living with Exocrine Pancreatic Insufficiency (EPI or PEI) more easily deal with pancreatic enzyme replacement therapy (PERT). Aka, "taking enzymes".
The PERT Pilot calculator enables you log the PERT that you are taking along with a meal, how many pills you take for it, and whether this dosing seems to work for you or not.
PERT Pilot then shows you the relationship between how much PERT you have been taking and what you are eating, supporting you as you fine-tune your enzyme intake.
PERT Pilot also enables you to share what's working – and what might not be working – with your healthcare provider. PERT Pilot not only lists every meal you've entered, but also has a visual graph so you can see each meal and how much fat and protein from each meal were dosed by one pill – and it's color coded by the outcome you assigned that meal! Green means you said that meal's dosing "worked"; orange means you were "unsure", and red matches the meals you said "didn't work" for that level of dosing.
You can press on any meal and edit it, and you can swipe to delete a meal.
PERT Pilot also has is an education section so you can learn more about EPI and why you need PERT, and how this approach to ratios may help you more effectively dose your PERT in the future.
Why use PERT Pilot if you have EPI or PEI or PI?
PERT Pilot is the first and only specific app for those of us living with EPI (PEI or PI). People who use the approach in PERT Pilot of adapting their PERT dosing to what they are eating for each meal or snack often report fewer symptoms. PERT Pilot was designed and built by someone with exocrine pancreatic insufficiency, just like you!
With PERT Pilot you can:
Log your meals and PERT dosing. No other app specifically is designed for PERT dosing.
Edit or adjust your meal entry at any time – including if you wake up the next morning and realize your last dose from the day before 'didn't work'.
Review your dosing and see all of your meals, dosing, and outcomes – including a visual graph that shows you, for each meal, what one pill 'covered' so you can see where there are clusters of dosing that worked and if there are any clear patterns in what didn't work for you.
You can also export your data, as a PDF list of all meals or a CSV file (which you can open in tools like Excel or other spreadsheet tools) if you want to analyze your data elsewhere!
Your data is your data, period. No one has access to your dosing data, meal data, or outcome data, and nothing you enter into PERT Pilot leaves your device – unless you decide to export your data. (See more in the PERT Pilot Privacy Policy.)
Note: this app was not funded by nor has any relationship to any pharmaceutical or medical-related companies. It's simply built by a person with EPI for other people with EPI.
Here is a quick demonstration of PERT Pilot in action: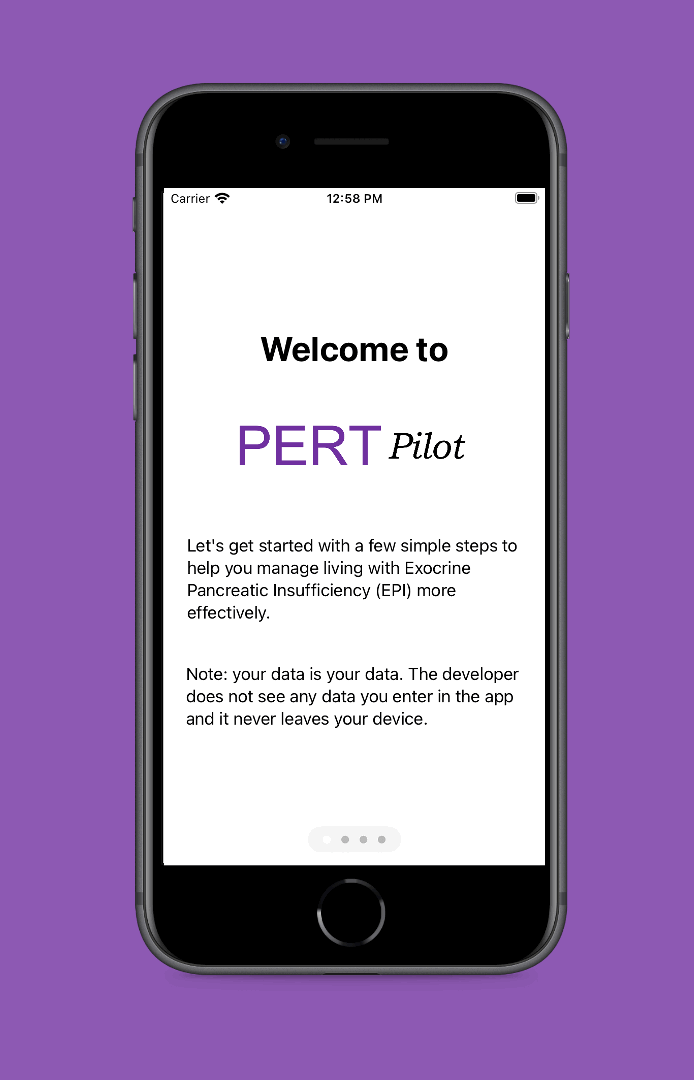 You can share your feedback about PERT Pilot:
Feel free to email me (Dana+PERTPilot@OpenAPS.org) any time.
I'd love to hear what works or is helpful, but also if something in the app isn't yet working as expected.
Or, if you use another approved brand of PERT that's not currently listed, let me know and I can add it in.
And, you can share your feature requests! I'm planning to build more features soon (see below).
What's coming next for PERT Pilot:
I'm not done improving the functionality! I plan to add an AI meal estimation feature (UPDATE: now available!), so if you don't know what's in what you're eating at a restaurant or someone else's home cooked meal you can simply enter a description of the meal and have macronutrient estimates generated for you to use or modify.
—
Download PERT Pilot today! It's free to download, so go ahead and download it and check it out! If you find it useful, please also leave a rating or review on the App Store to help other people find it in the future. You can also share it via social media, and give people a link to download it: https://bit.ly/PERT-Pilot-iOS