I wrote two new books! You can find "Cooper's Crutches" and "Chloe's Cookies" on Amazon in paperback and Kindle formats.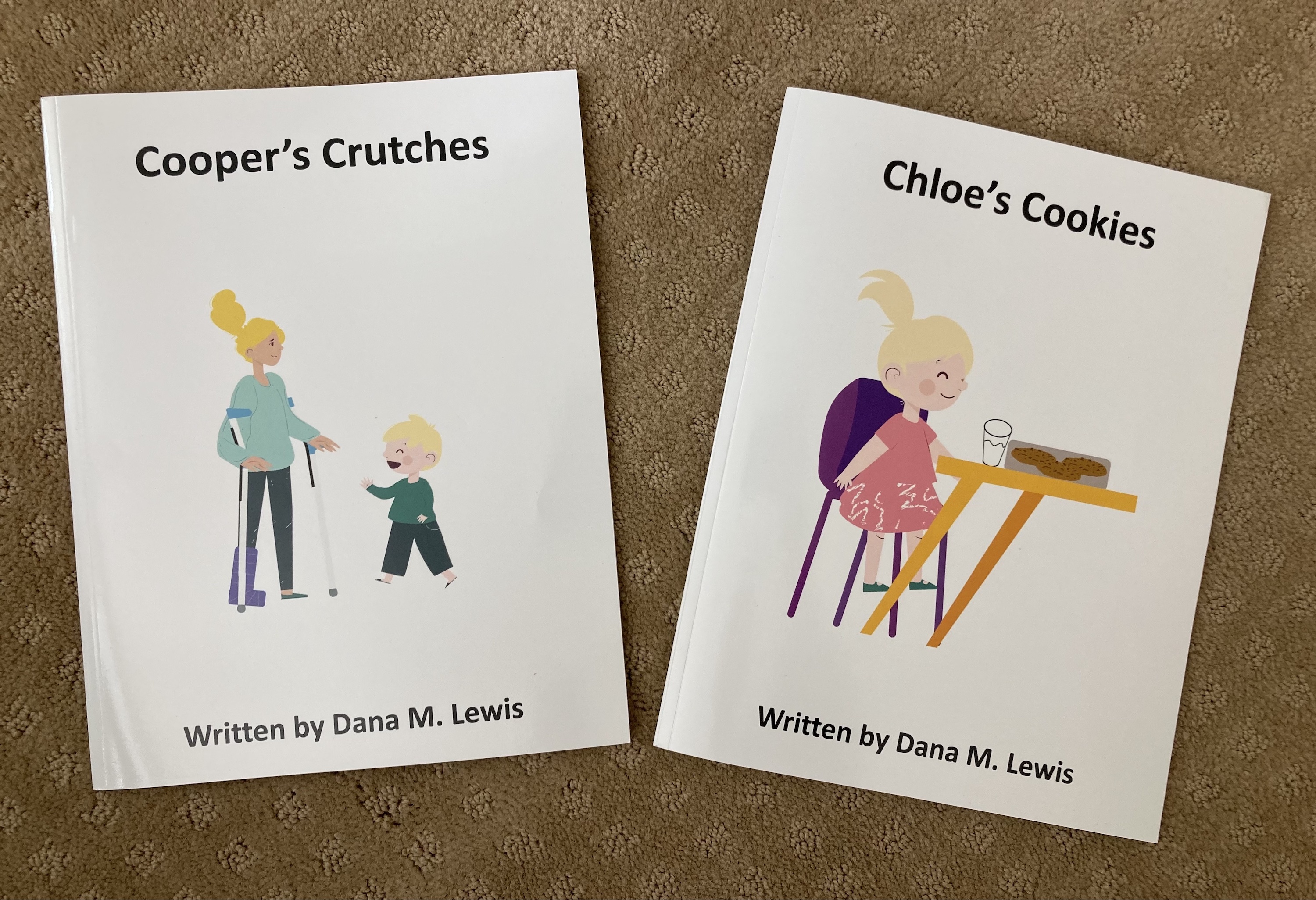 —
One of these books I wrote years ago, about a month or so after I broke my ankle, inspired by the initial reactions from one of my nephews about me being on crutches. This new book is called Cooper's Crutches.
I let it sit for several years, though, because I didn't have illustrations for it. I've used a different illustrator or artist for each of my books so far.
My first book, Carolyn's Robot Relative, was illustrated with art by my aunt, Sandra Massengill.
My second book, Parker's Peanut Butter, was illustrated by an artist I met through a workshop, Beatrice Baumgartner-Cohen.
My third children's book, "Understanding Automated Insulin Delivery: A basic book for kids, family, and friends of people living with diabetes" I illustrated myself, DIY (do-it-yourself), using PowerPoint. (Seriously).This is in part because I started making an animation to illustrate this concept for a presentation and realized I could convert it to a book! (You can watch the animated video for free.)
A few weeks ago, though, I started thinking about experimenting with AI-driven illustrations for various projects, including wondering whether I could illustrate a children's book or other projects with it.
The answer is: not yet. It's hard to create a character who persists throughout image generation for enough scenes that can fit a two-dozen page storyline, although it would probably work for one or two images! (Especially if you managed to AI-illustrate a character that you could then place in various AI-illustrated scenes. The challenge is also having different poses for the same character, to illustrate a story.)
It then occurred to me to search around and I stumbled across a library of free, open source illustrations. Woohoo! Maybe those would work. Actually, I couldn't even download that one due to a bug in their site, so I started searching (now that I knew to look for it) and found several other sets of illustrations. I even found a site called Blush that had a series of illustrations by various artists, and a web interface (GUI) that allowed you to modify images slightly then download them.
It's like paper dolls, but digital – you can adjust the coloring of the hair, hair style, accessories, etc to modify the illustrated character.
I gave it a try, building some illustrations and downloading them. I then did some DIY-ing again in PowerPoint to modify them to help illustrate the full story in my children's book. I printed a proof copy, but the versions I had downloaded for free were too low resolution and were fuzzy. However, the idea as a whole had worked great! I signed up for a free trial of the "Pro" version of Blush which enabled me to download both high-resolution PNG (image) files as well as SVG files.
Having SVG files theoretically would enable me to further modify and customize these, but as a non-illustrator even though I could load them in Figma and modify them, I still struggled to export them as high-enough resolution to work for printing in a book. I gave up and went back to DIY-ing the modifications in PowerPoint. They're not perfect, but for the use case of my books (for a very small, niche audience), I doubt they care that they're not perfect.
Here's a selection of a few of the pages (not in order) in Cooper's Crutches:

At the same time that I started playing with these illustrations, I wondered whether I had any more ideas for books that I could illustrate at the same time with the same methods. I had had Cooper's book written and waiting to illustrate; I now had a method to illustrate, but I wasn't sure what story to illustrate.
But like all of my children's books, inspiration again struck based on a situation and conversation I had with one of my nieces. She's newly lactose intolerant and is taking lactase any time she has milk, like with milk and cookies for a bedtime snack. Lactase is an enzyme…and I've been taking enzymes of another sort this year, for exocrine pancreatic insufficiency.
Thus the next book, Chloe's Cookies, was created!
Here's a selection of a few of the pages (not in order) in the book:

—
Both Cooper's Crutches and Chloe's Cookies are illustrated with illustrations from a variety of artists who make their work available on Blush, including: Veronica Iezzi; Susana Salas; Pau Barbaro; Ivan Mesaroš; Mariana Gonzalez Vega; Deivid Saenz; and Cezar Berje.
The neat thing about Blush is their license: you can use the illustrations in any way, including commercial products, and you can modify or combine it with other works (like I did, modifying the images and combining illustrations from various artists) however you like.
—
I think I've likely maximized my use of Blush between these two books; unless other collections get uploaded in the future. But if you need a handful of illustrations that you can customize, definitely check it out!
And if you have ideas for other cool illustration libraries that I could use for future books, please let me know! (Or if you're an artist who would like to contribute to one of my future books.

)
—
TLDR:

I have two new children's books, and you can find "Cooper's Crutches" and "Chloe's Cookies" on Amazon in paperback and Kindle formats.