It's hard to express the magnitude of how much closed looping can improve a person with diabetes' life, especially to someone who doesn't have diabetes or live closely with someone that does. There are so many benefits – and so many way beyond the typically studied "A1c improvement" and "increased time in range". Sure, those happen (and in case you haven't seen it, see some of the outcomes from various international studies looking at DIY closed loop outcomes). But everything else…it's hard to explain all of the magic that happens in real life, that's made so much richer by having technology that for the most part keeps diabetes out of the way, and more importantly: off the top of your mind.
Personally, my first and most obvious benefit, and the whole reason I started DIYing in the first place, was to have the peace of mind to sleep safely at night. Objective achieved, immediately. Then over time, I got the improvements in A1c and time in range, plus reduction in time spent doing diabetes 'stuff' and time spent thinking about my own diabetes. The artificial pancreas 'rigs' got smaller. We improved the algorithm, to the point where it can handle the chaos that is everything from menstrual cycle to having the flu or norovirus.
More recently, in the past ~17 months, I've achieved an ultimate level of not doing much diabetes work that I never thought was possible: with the help of faster insulin and things like SMB's (improved algorithm enhancements in OpenAPS), I've been able do a simple meal announcement by pressing a button on my watch or phone..and not having to bolus. Not worrying about precise carb counts. Not worrying about specific timing of insulin activity. Not worrying about post-meal lows. Not worrying about lots of exercise. And the results are pretty incredible to me: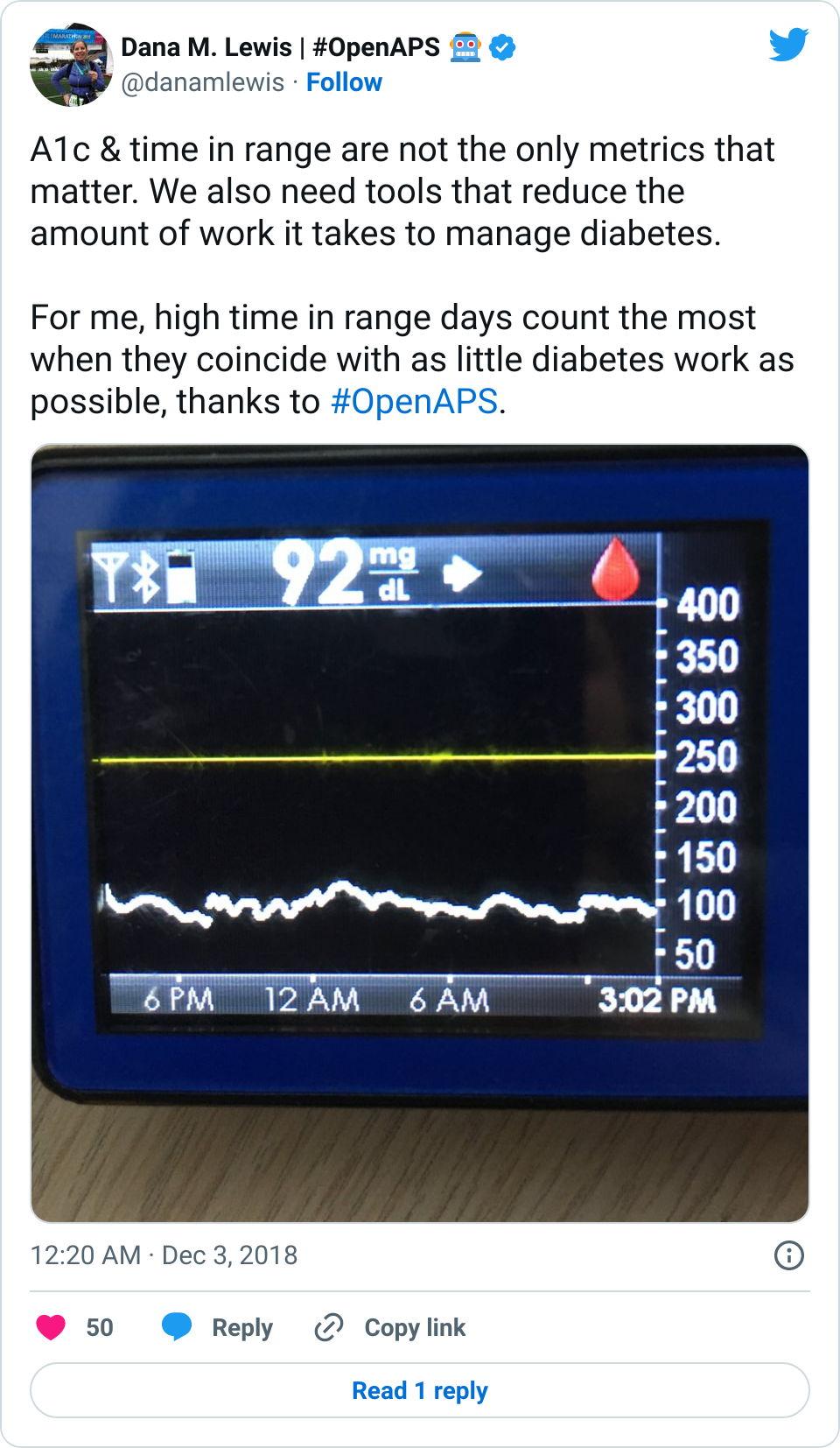 But I remember early on when we had announced that we had figured out how to close the loop. We got a lot of push back saying, well, that's good for you – but will it work for anyone else? And I remember thinking about how if it helped one other person sleep safely at night..it would be worth the amount of work it would take to open source it. Even if we didn't know how well it would work for other people, we had a feeling it might work for some people. And that for even a few people who it might work for, it was worth doing. Would DIY end up working for everyone, or being something that everyone would want to do? Maybe not, and definitely not. We wouldn't necessarily change the world for everyone by open sourcing an APS, but that could help change the world for someone else, and we thought that was (and still is) worth doing. After all, the ripple effect may help ultimately change the world for everyone else in ways we couldn't predict or expect.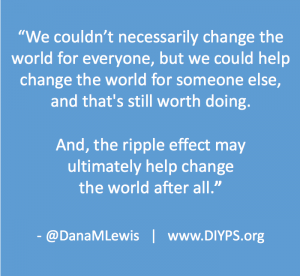 This has become true in more ways than one.
That 'one other person' turned into a few..then dozen..hundreds..and now probably thousand(s) around the world using various DIY closed loop systems.
And in addition to more people being able to choose to access different DIY systems with more pumps of choice, CGMs of choice, and algorithm of choice, we've also seen the ripple effect in the way the world works, too. There is now, thankfully, at least one company who is evaluating open source code; running simulations with it; and where it is out-performing their original algorithm or code components, utilizing that knowledge to improve their system. They're also giving back to the open source diabetes community, too. Hopefully more companies will take this approach & bring better products more quickly to the market. When they are ready to submit said products, we know at least U.S. regulators at the FDA are ready to quickly review and work with companies to get better tools on the market. That's a huge change from years ago, when there was a lot of finger pointing and what felt like a lot of delay preventing newer technology from reaching the market. The other change I'm seeing is in diabetes research, where researchers are increasingly working directly with patients from the start and designing better studies around the things that actually matter to people with diabetes, including analyzing the impact and outcomes of open source technology.
After five years of open source diabetes work, and specifically four years of DIY closed looping, it finally feels like the ripples are ultimately helping achieve the vision we had at the start of OpenAPS, articulated in the conclusion of the OpenAPS Reference Design: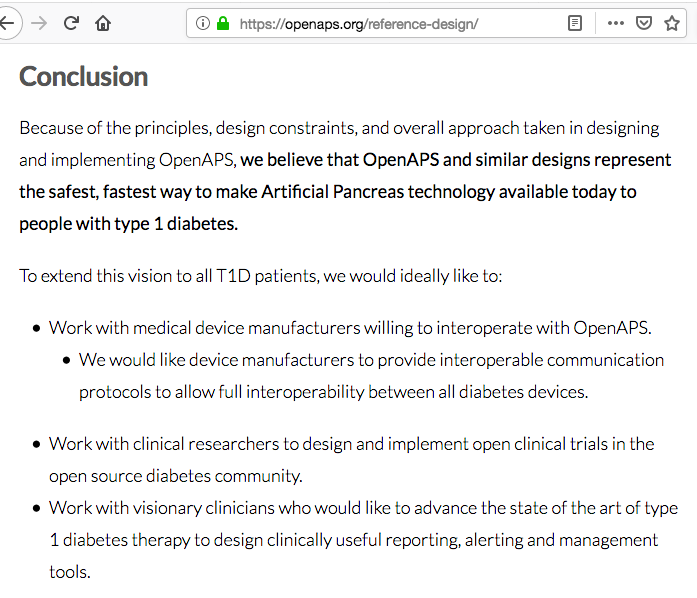 Is there still more work to do? Absolutely.
Even as more commercial APS roll out, it takes too long for these to reach many countries. And in most parts of the world, it's still insanely hard and/or expensive to get insulin (which is one of the reasons Scott and I support Life For A Child to help get insulin, supplies, and education to as many children as possible in countries where otherwise they wouldn't be able to access it – more on that here.). And even when APS are "approved" commercially, that doesn't mean they'll be affordable or accessible, even with health insurance. So I expect our work to continue, not only to support ongoing improvements with DIY systems directly; but also with encouraging and running studies to generalize knowledge from DIY systems; hopefully seeing DIY systems approved to work with existing interoperable devices; helping any company that will listen to improve their systems, both in terms of algorithms but also in terms of usability; helping regulators to see both what's possible as well as what's needed to successfully using these types of system in the real world. I don't see this work ending for years to come – not until the day where every person with diabetes in every country has access to basic diabetes supplies, and the ability to choose to use – or not – the best technology that we know is possible.
But even so, after four years of DIY closed looping, I'm incredibly thankful for the quality of life that has been made possible by OpenAPS and the community around it. And I'm thankful for the community for sharing their stories of what they've accomplished or done while using DIY closed loop systems. It's incredible to see people sharing stories of how they are achieving their best outcomes after 45 years of diabetes; or people posting from Antartica; or after running marathons; or after a successful and healthy pregnancy where they used their DIY closed loop throughout; or after they've seen the swelling in their eyes go done; etc.
The stories of the real-life impacts of this type of technology are some of the best ripple effects that I never want to forget.