As someone new to EPI who is also new to figuring out how to optimally dose my pancreatic enzyme replacement therapy (PERT), I'm constantly balancing the cost of PERT from prescription enzymes against the cost of over the counter enzymes.
I've personally calculated that one pill of my current dose of PERT covers about 30-4o grams of fat, and 30 grams of protein.
Meals with more than 30 grams of protein get 2 PERT pills, but meals with more than 40 or so grams of fat could be covered by 1 PERT pill and some OTC lipase.
But not all meals come with nutrition information, which makes titrating PERT at every single meal a challenge.
And, now that I've realized I'm likely not sensitive to all FODMAPs after all (hooray, although I may still have some slight sensitivity to massive amounts of onion or garlic), I've been able to eat a lot more takeout food from restaurants, both enthralling my taste buds and challenging my brain trying to estimate how much fat and protein there is in what I am choosing to eat.
I've been keeping careful notes of what I'm eating along with my fat and protein estimates and the results following each meal. Then, if I want to repeat or alter a similar meal, I can use my data and results to guesstimate my next PERT dosing.
For example, we have a local taco place that has done a really good job to enable online ordering with gluten-free and celiac tags in the order, so you can order digitally without having to talk to humans at the store. A few weeks ago, I ordered 3 tacos and some queso dip. It was delicious. I estimated it was more than 30g of protein, so I took 2 PERT with it.
However, while I didn't have post-meal immediate symptoms, my next-day results were slightly off, and I made a note that I probably needed a little more lipase the next time I had that quantity of tacos.
Yesterday, I ordered 3 tacos again but decided to try a small "street corn" appetizer instead of queso. Corn is less fat and protein than queso, but I figured there was still >30g of protein from tacos like from before, so I took 2 PERT. This time, due to my notes, I added a few lipase to cover additional fat.
I had no immediate post-meal symptoms and felt great! However, today indicated that I did not have enough enzymes, and I'm suspecting that it's because I swapped one of my taco types. Last time, I had a shrimp taco, but this time I tried a lamb taco for my third taco type. Even with the reduced fat and protein going from queso to corn, the increase in fat and/or protein (likely the protein, given my extra lipase) from shrimp to lamb meant that my meal was not optimally dosed.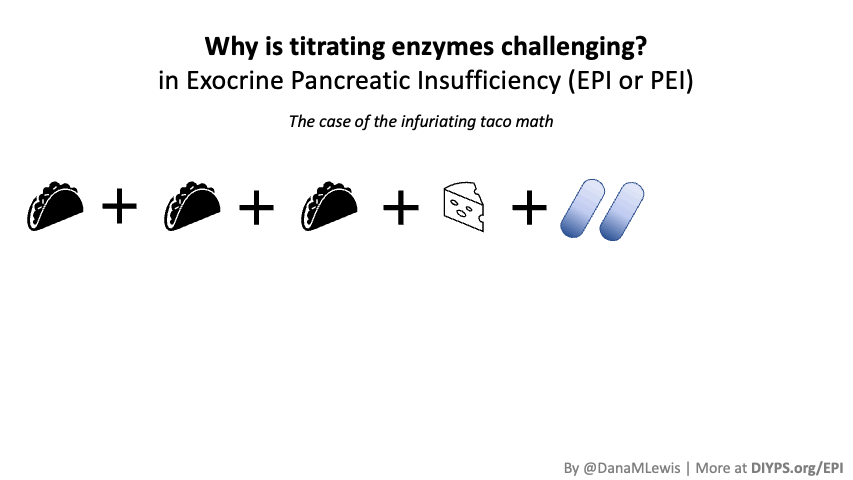 Next time, I need to pay closer attention to what kind of tacos I eat as well as whether I get queso or not. If I did the same meal (three tacos, one of which is lamb, and corn), I'd probably experiment with 3 PERT to cover the suspected increased protein that I was missing with the 2 PERT + extra lipase. If I went back to a shrimp taco and queso, I'd probably re-try 2 PERT + extra lipase again.
—
PERT dosing, like insulin dosing, involves a lot of experimentation and some art, and some science, to try to get it right (or better) every time.
—
(PS, if you didn't see them, I have other posts about EPI at DIYPS.org/EPI, including one about PERT Pilot, the first iOS app for Exocrine Pancreatic Insufficiency! It's an iOS app that allows you to record as many meals as you want, the PERT dosing and outcomes, to help you visualize and review more of your PERT dosing data!