I previously wrote about my experience figuring out that I have exocrine pancreatic insufficiency (known as EPI or PEI), and also a little bit about starting on pancreatic enzyme replacement therapy (PERT). I talked briefly about the method I was using to figure out the right amount of PERT for me, but I realize that there's a lot more detail I could provide about how to titrate enzymes in general, and not just PERT.
Some background first, though. When I write about PERT (pancreatic enzyme replacement therapy), I am talking about the FDA-approved class of drugs (called "pancrelipase") that contain THREE types of enzymes, which the FDA calls "pancreatic enzyme products" or PEPs. Pancrelipase contains lipase (helps digest fat), protease (helps digest protein), and amylase (helps digest starches and other complex carbohydrates). As of 2010, all pancrelipase products that are marketed for EPI must be FDA approved.
Any time I refer (here or in other blog posts) to other enzyme products (either single enzyme or multi-enzyme), I'm referring to over the counter products that are not FDA approved.
Why does FDA approval matter for PEPs? FDA approval is essentially a rubber stamp saying you can trust the FDA to have validated that the companies making these products are making them as they describe them, meaning if they say they have 25,000 units of lipase, they actually have 25,000 units of lipase in them. (And protease and amylase). FDA-approved PEPs used in PERT are made from ground up pig pancreas (really), which is why they're expensive. There is no generic PEP or PERT. (FDA also has a nice page here explaining the importance of understanding what is and is not an approved PEP/PERT product, and it also explains the brands that are currently approved and the differences between them.) This matters because when you talk about the cost people will probably suggest a "generic" of PERT, but there isn't one.
However, there are non-FDA-approved over the counter enzyme products. They do exist, but because they have not been vetted by the FDA, I (and you!) should be wary about trusting them when they say they contain X units of lipase or any other enzyme product. Additionally, there are no studies (that I can find) comparing the efficacy between over the counter enzymes (single or multi-enzyme products) and FDA-approved PERT. (If you have found such a study, please leave a comment!)
So does that mean you can't take them? No, I'm not saying that. What I am saying is you should only try other products with enzymes if you are willing to carefully test and vet FOR YOURSELF whether they work FOR YOU or not. (P.S. – did I mention I'm not a doctor? This is not medical advice; for medical advice, talk with your doctor. Although, doctors may not be aware of the over the counter enzyme options either, and this post might be worth sharing with them as well).

Three goals for optimally titrating enzymes for exocrine pancreatic insufficiency
I have three goals for getting my PERT dose titrated well.
First, get enough enzymes (through PERT) to reduce all symptoms.
Second, test and assess my lipase:fat and protease:protein ratios so I can figure out how to optimally dose enzymes for new meals of different amounts of fat and protein.
Third, optimize for reducing cost with enzymes, through a combination of supplementing PERT with standalone lipase and/or using lipase for fat-only snacks.
Here's an example of how you might consider vetting over the counter enzyme products, and using them to supplement your FDA-approved (and hopefully insurance-covered) PERT:
As I mentioned earlier, I titrated and found out that my current dose of PERT covers about 30-40 grams of fat and 30 grams of protein. Some individuals only need support in digesting fat (e.g., need only lipase), but I have found that my body also needs support in digesting protein. (However, I don't appear to need much amylase for carbohydrates.) Therefore I am tracking what amount of fat and protein I am eating with every meal. A 25,000 (lipase) dose of my PERT also contains enough protease to cover 30 grams of protein. Sometimes, I eat higher (>30-40g) fat meals that mean I need more lipase. So I would need two pills of the current dose of PERT, because 25,000 only covers ~30-40g of fat (FOR ME).
But – what if there was another way to get additional lipase without needing a full second pill of PERT, if I don't need the additional support for more protein for this meal?
Enter over the counter enzyme options. In this example, a single enzyme option for lipase. Here is an example (Amazon affiliate link) to a standalone, single enzyme lipase product that is available as an over the counter product.
I personally have experimented with using standalone over the counter lipase to supplement my PERT dose, for the reason described above (needing more lipase but not necessarily needing more protease or amylase). The reason I would choose standalone lipase has to do with cost.
PERT, being ground up pig pancreas, is expensive. There is no generic for PERT! However, there have been methods to develop lipase from microbes as well as other sources beyond animals. Thus, it is possible to have a standalone source of lipase that is a lot cheaper than PERT. How much cheaper? Well, the bottle linked above when I calculated this was $23.50 for 90 pills. One pill each contains roughly 3,150 units of lipase (again, caveat from above about trusting the amount in over the counter products). That means each pill ($23.50/90 pills) is $0.26 USD, and each 1,000 units of lipase is roughly $0.08.
This math is then helpful to compare the cost of PERT. Depending on the size of prescription PERT, you might see a prescription anywhere from 3,000 to 25,000 to 36,000 units (depending on the brand, they have different amounts, but they are all measured based on units of lipase). Using GoodRx, you can generally compare retail prices of medications, such as this search for 24,000 PERT of one brand (90 capsules) or this search for 25,000 PERT of a different brand (also 90 capsules). Both of them are in the ballpark (for 90 capsules each) of $700-900, so let's use $800 for 90 capsules for simple math. The per-pill price is $8.89 ($800/90 pills). The per-1,000 unit of lipase cost depends on whether you are using the 24,000 PERT ($8.89/24) or 25,000 PERT ($8.89/25) option, but those are roughly $0.37 and $0.36 per 1000 units of lipase.
So if you were to consume a meal that was ~10g of fat above your current PERT dose, and you didn't need additional protein support, it would be cheaper to add on additional lipase (at $0.08 per 1000 units of lipase) as a standalone enzyme product instead of an additional PERT (which is, per our estimates, ~$0.36 per 1000 units of lipase). You don't get to break apart a PERT (It can't be cut in half, for example), so the per-pill cost is the better comparison. Adding a 3000-ish unit lipase onto your meal to cover an additional 10g of fat costs $0.26, and a second PERT is $8.89.
Therefore, a meal that needs 28,000 lipase is cheaper as 1 PERT and 1 extra standalone lipase rather than 2 PERT.
This of course assumes you have tested the standalone lipase and found that it works for you. I personally have done so and found that standalone lipase of the brand I chose works for this purpose (there are many brands and sizes: again, test what works for you), so I can titrate my meals as PERT+lipase, or even take 1-2 lipase (depending on the fat content) for a snack that's mainly fat. However, again, a caveat that I personally am sensitive to protein and am tracking everything that I'm eating, so I know my personal math very well. Typical PERT dosing and recommendations is to take "2 or more" for meals or "1-2 for snacks", but that completely ignores how much fat and protein is in the meals, and might be significantly undertreatment or overtreatment for you.
Why does undertreatment matter? Well, you get symptoms. Those are no fun.
Why does overtreatment matter? Well, you can get constipation. (I haven't had it, but it also doesn't sound like fun).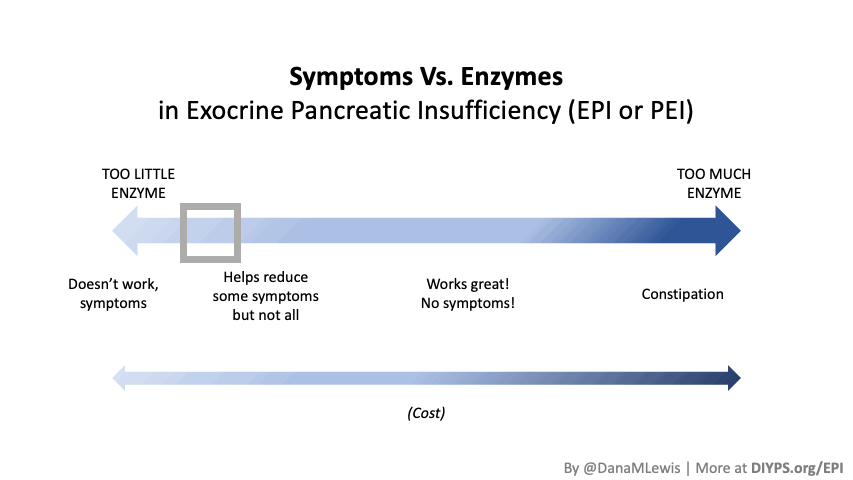 My approach was making sure my meals were covered first with prescription PERT, then evaluating additional standalone products that I could use to supplement or replace PERT depending on what I was eating, so I could prioritize reducing symptoms and then for improving the cost required to achieve that.
There are other standalone enzyme products, including products containing multiple enzymes. If you join one of the Facebook groups for EPI, you'll see people recommencing various names of enzymes for over the counter products. But again, you really should test things and see if they work for you. Read all the ingredients on any product you're taking. A lot of times you can search for lipase and you'll get a multiple-enzyme product. And that product may have additional ingredients or fillers that don't sit well with you. You may even find that one brand of prescription PERT might not work for you, whereas another one does.
My suggestions include:
Carefully test any product, whether it's PERT or over the counter enzymes. Keep a good log of your post-meal symptoms and next-day symptoms (e.g. bathroom results) and try different meals with different amounts of fat and protein.
If you have symptoms regularly with a certain amount of enzymes, it could be either that this particular brand (over the counter or even prescription PERT) does not work well for you, OR that you are not taking enough enzymes to cover your needs.
If in doubt, talk with your doctor. They may/not have opinions on over the counter products, especially if they haven't had other patients reporting back what is working for them or not, since there are no studies on those particular brands (and of course, they're not FDA approved). But with approved PERT, they should be able to give you some more input on how to increase your dose or change your prescription to adjust. Having the data on how much fat and protein you're eating and what results you've been getting could help you (and them) get to a more optimal dose more quickly.
—
(PS, if you didn't see them, I have other posts about EPI at DIYPS.org/EPI)