Now that I've been taking pancreatic enzyme replacement therapy (PERT) for a month and a half for my newly discovered exocrine pancreatic insufficiency (EPI), I've not only discovered that the GI symptoms I had are gone, but I've also gained something back: the sensation of hunger.
For two years, I've struggled to eat. I found a breakfast that I could eat that was higher fiber (albeit nontypical American breakfast food) and kept me full for hours. So many hours that I didn't feel like eating at lunchtime.
Essentially, I would eat breakfast and maybe one other meal, and occasionally a snack. Far from three meals. I learned quickly that eating just because other people were eating made things worse (worse symptom severity, plus gave me more symptoms), so I studiously avoided eating just because that's what I had done in the past or that's what other people were doing.
Figuring out I had EPI and starting to dose PERT was a relief. I could tell from symptom reduction that it was working. And within a week or so, I started to feel hunger multiple times a day! Now I'm more regularly eating three small meals a day, and sometimes more (especially on after long runs). My meals are more likely to be a little bit smaller due to how I'm titrating my PERT dosing, so that plus my activity levels plus actually digesting my food when I eat it means that I'm eating more often now than I have over the last few years.
The only downside is that my brain is VERY unfamiliar with the sensation of hunger, and despite knowing I will not starve or even be hungry for very long, there seems to be a switch after three minutes where I go from recognizing hunger and starting to think about doing something to having already passed the point of no return where my number one priority becomes eating.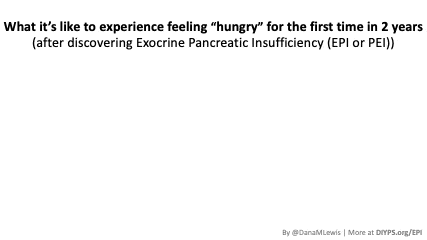 I'm guessing this is what toddlers feel like, and I have a lot more empathy for their hanger now after experiencing this! And like toddlers, hopefully my brain re-learns how to deal with and moderate the feelings of hunger soon.
—
(PS, if you didn't see them, I have other posts about EPI at DIYPS.org/EPI)