You may have previously read a blog post about Convening The Center, a RWJF-grant-funded project with the aim of bringing together 25 diverse individuals who are working to change healthcare in nontraditional ways. The main part of the CTC project has finished (more about that soon!), but we also realized that we had a little bit of budget left over from the project, and pitched to RWJF a new plan to use the remaining funds.
We want to give individuals working to make a difference in health and healthcare – and the health of their (online, geographic, or disease) communities – by providing 9 internet scholarships of $1,000 USD each. This is estimated to cover about a year's worth of internet access for each individual. Individuals who are applying should be able to articulate their past, current, or future efforts as it relates to making a difference in health/care.
There are no strings attached to this 'internet scholarship.' You don't have to do anything particular, or commit to any projects if you're selected, other than write us a few (say, 250 or so) words within the next year to let us know what it meant to you to have your internet paid for. That's it. This feedback (which can be given privately to us, or posted publicly – your call) is the only requirement for receiving these funds.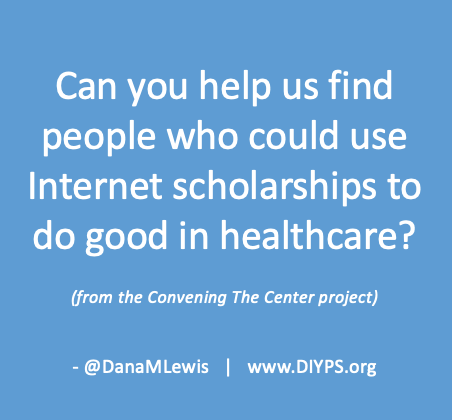 Why are we doing this?
We learned (and re-learned) from working with the cohort from the original CTC project that internet access is something many of us take for granted, and that we shouldn't. Many of us may assume, from a privileged position, that access to high speed internet is table stakes and that everyone has it, so when invited to take a seat at the table, anyone invited could get there. But that's not the case.
This is relevant to the space we are working in with CTC, where we are seeking to support patients (people living with diseases) or carers who are working to improve healthcare and their communities, often from non-resourced settings. The ability to afford high-speed internet access therefore might be a barrier for enabling patients/carers to take a seat at the table, when invited – or from building their own table.
We realize that $9,000 won't solve all the problems of equitable access and facilitate online participation of everyone who needs it. But it's a start, and could be the thing that makes a difference for 9 individuals, and it's the best use we can envision for this remaining budget.
So our ask, if you're reading this:
Please consider nominating someone or applying (self-nominating) for the Convening The Center Internet Scholarship, by filling out this Google form by November 14.
Please share this blog post (https://bit.ly/CTC-Internet-Scholarships) with your online and offline networks, including with those you know in rural settings where internet cost may be a bigger barrier.
John and I are excited to facilitate this last use of our CTC project budget. We will close the nomination Google form on November 14; select recipients by the end of November; and aim to provide payments of the CTC Internet Scholarships (administered by Trailhead Institute, our fiscal sponsor) in early December (all 2021). Within the next year after we receive feedback from all participants, we will also (anonymously, at an aggregate level) share the feedback and what we learned from using the remaining budget funds for this purpose with the broader community, to help inform others who are looking to create similar initiatives in the future.
In summary:
Who: People who are looking to make a difference in health/care who might benefit from having a year's worth of internet costs covered
What: Up to 9 individuals will receive $1,000 USD, estimated to cover a year's worth of typical high speed internet plans.
How: fill out this Google form and nominate yourself or someone else. Multiple nominations are welcome, there is no limit.
When: Please apply by November 14, and recipients will be selected in November 2021.