(Update: see the latest about Convening the Center in 2021 here)
Patients and care partners who want to make a difference in health care are advised to give up our day jobs, create non-profits, or change previously identified career paths to "go work for a healthcare organization." These formal constructs are not the only ways to achieve change or make a difference.
Those who choose to work outside of traditional pathways often end up with fewer resources and fewer opportunities (not just financial, but also the opportunity of collaborations and connections).
Thinking about these gaps in resources and opportunities has been swimming around my head since the Convening we hosted as part of the Opening Pathways project (more about it here). As a project, we learned so much from the conversations we had when we were able to just bring people together.
The feedback we received from non-traditional healthcare stakeholders was one of the most surprising results of the Convening. These are people who are not necessarily working professionally in healthcare, but doing a lot of work in the nontraditional spaces. In the year since the Convening we've repeatedly heard how valuable it was for this group to come together, in person, to connect with others with a similar drive and passion.
Fast forward to early last year. My friend Liz Salmi (of #BTSM) reached out Alicia Staley (of #BCSM) and me to share about an exciting, random conversation and brainstorm she had with Steve Downs from Robert Wood Johnson Foundation (RWJF).  The idea: What if there was an 'unconference' to bring together more of these individuals–those working outside of traditional pathways–to learn and collaborate, without the agenda driven by an existing organization, association, established conference, or company?
This concept sounded great to me! It feels like a next logical step to take with Opening Pathways especially if we pair it with a few structured activities similar to what we did at the Convening to create more equitable participation opportunities for patients and care partners to help people feel comfortable engaging together in person.
When Liz said she didn't have time to lead this project I volunteered to take it on. Liz and Alicia agreed and expressed their full support.
I put together a proposal in partnership with John Harlow who also worked on Opening Pathways, and was instrumental in designing the original Convening. We submitted a proposal to RWJF, did a few rounds of feedback and discussion about the proposal, waited a bit, and found out right around the new year that the proposal was accepted and had been awarded funding! Yay!
We're calling this project "Convening The Center." This both picks up on the name of the previous Convening, and emphasizes the people/patients as the center on which all of health and healthcare should be focused.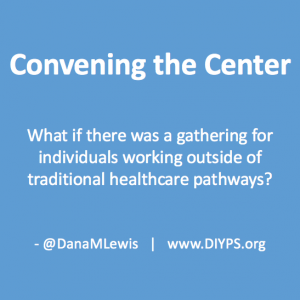 What this means:
We have funding to put together a ~2 day meeting for ~25 individuals who are doing both the possible and the impossible to change and improve healthcare.
The funding includes travel (ground transportation, flights), lodging (hotel), food during the event, and an honorarium for the participants' time.
The meeting was originally scheduled to be sometime in 2020 (August or September was goal; COVID-19 disrupted this planning, TBD for new dates but looking at 2021 instead).
Who will be involved:
Convening The Center project team:
Dana Lewis (me), Principal Investigator (PI)
John Harlow, Co-Principal Investigator (PI)
Convening Advisors: Liz Salmi, Alicia Staley, Nick Dawson
Who can participate?:
Why must we convene the Center?
If you're reading this, you likely have your own story of doing the "impossible" — you've faced barriers and obstacles, but have found a way to innovate, overcome, or steer around. There are a LOT of people doing this "work," whether it's their professional work, their personal passion, or a necessity driving them to improve things for themselves or a loved one, building and supporting their communities as unfunded labors of love. But we also know that geography, socioeconomic background, and financial resources, among other reasons, commonly leave some of these individuals siloed, or prevent them and their work from reaching its full potential.
We know there is a lack of connectedness among individual innovators, researchers, and advocates who are not employed in the traditional healthcare system. While there have been a handful of attempts to convene patient advocates to share ideas and connect with opportunities and resources, none have been devoted solely to this type of community. Existing attempts have included ad-hoc social media groups and inclusion at existing conferences and meetings. Both face serious limitations.
Social media is limited by one's ability to stumble across a network, while conferences or meetings—which are traditionally held by legacy institutions—usually include people who are already "in" a network that invites them to such physical events, and are thus already "doing" the work, but these do not do enough to encourage new participants. Additionally, conferences and meetings prioritize the hosting organization's agenda rather than facilitating the development of non-traditional innovators. Given the limitations of social media and existing conferences, the status quo leads new "doers" to (unknowingly and repeatedly) duplicate the work of others and fail to effectively share knowledge and scale tools that could help others. Overall, there are not a lot of resources for people who do this outside of a professional job.
Therefore, we aim to do something different to identify participants for this meeting.
Rather than just invite the same individuals who have the resources to participate, or have already succeeded somewhat, even in the face of all the existing barriers, we plan to solicit attendees from a mix of health communities, from a range of experiences, with diverse demographics, including those who are newly working in this space, as well as experienced individuals with established credibility.
How will we reach all of these different communities and individuals? This is where we need your help!
We have a two-phase recruitment process to identify potential attendees.
Phase 1 (right now)
Fill out this form! 

We'd love for you to nominate yourself, if you're potentially interested in participating.
But a crucial part of this is to ALSO nominate someone else – a friend or someone you know who may not otherwise hear about this opportunity.

We'd also love for you to help share this form widely and help us reach people in different networks. If you TikTok, post it on TikTok. If you're on LinkedIn, share it on your LinkedIn or a group. If you're part of an offline support group, talk about it there. Or reach out and share the link with your advocacy organization and encourage them to nominate other advocates and 'doers' that they know.
Based on the first wave of nominated folks, we'll work to make sure we're striking the balance between people who are longer-timers in this space and people who are newly emerging in this type of work.
We'll reach out to a selection of folks identified in phase 1 and ask for a little bit more information to help determine the final cohort of participants for the in-person meeting. (Goal: ~25 participants).
We've learned through Opening Pathways and other work in this space that more — and perhaps different — resources are needed for "doers" in healthcare who are not traditionally employed in this space.
We don't expect the outcome of this project to solve all problems or identify a one-size-fits-all resource. However, we do hope to help manifest a new, more inclusive, and more effective vision for changing the future of healthcare.
The future we seek augments the existing health efforts of legacy institutions by coordinating the work of individual innovators, researchers, and advocates in a more inclusive community of practice. We do not think this will solve all problems around under-representation and the static network of those already "in" and doing this work, but it's an important step and one we're happy to be able to take.
FREQUENTLY ASKED QUESTIONS
Who is funding this project? How is it being funded? What organization are you partnering with?Robert Wood Johnson Foundation (RWJF) is a great partner, and I'm proud that they're willing to fund this meeting. Paul Tarini is our project officer at RWJF. While my co-PI is based at an academic institution, we decided to experiment with using a fiscal sponsorship organization to manage the grant. We identified and selected Trailhead Institute, a 501(c)(3) organization that works with a variety of projects and organizations in the public health space. I'll write more about this in the future, but so far they have been GREAT administrative partners and have been seamless to work with during the application and kickoff of the grant process. Also, we learned from the past Convening that it would be beneficial to directly fund a meeting planner to do logistics work (rather than me), so we included in our budget a meeting planner that is coming from Trailhead to help with administrative and logistics planning for the meeting. Yay!
How will you select participants?Our goal is to gain a diverse slate of people, including diversity in socioeconomic background, ethnicity, gender, education, area of healthcare, type of work, how long they have been doing the work, etc. Before finalizing the list of participants we will collect information from potential participants and make sure they'd be interested and available to participate once the date is selected.
What are the outputs?We anticipate one primary output from this meeting to be relationships among attendees. After observing the strength and resilience generated for individuals by participating in our Opening Pathways convening, we see relationships as a powerful support for the efforts of healthcare "doers". By relationships, we do not mean a community of 25. Community building is long-term labor-intensive work. Rather, we hope that some attendees will find common ground and collaborate in various ways after Convening the Center.We do not expect to produce a particular report or website from this work. However, we do expect to write blog posts about our process of developing the meeting, the experience of facilitating the meeting, and the insights derived from conversations at the meeting. We anticipate those insights to be about the wants and needs of healthcare doers, what they wish they had when they started out, what they'd tell their younger selves, and how to refine and scale various healthcare improvement efforts.
What about COVID-19?While we have been planning this meeting for August or September 2020, we are aware that currently (in March 2020) there is a lot of uncertainty about how COVID-19 may impact meetings after the next few months. While we are beginning virtual recruitment of participants, we will work with public health officials to get guidance on whether August/September still makes sense, and if not, work with both participants and public health to determine a suitable alternative timeline for holding the meeting. If that's not feasible, we may find ways to meet this goal virtually.Update: Obviously, it does not make sense to convene the center physically for an in-person meeting in 2020. We are aiming for a gathering – in-person if safe and appropriate, otherwise adapting to virtual – in 2021. We'll keep everyone posted!
—
(Update: see the latest about Convening the Center in 2021 here)