"Diabetes wasn't in the picture during the wedding, and that was exactly how it should be."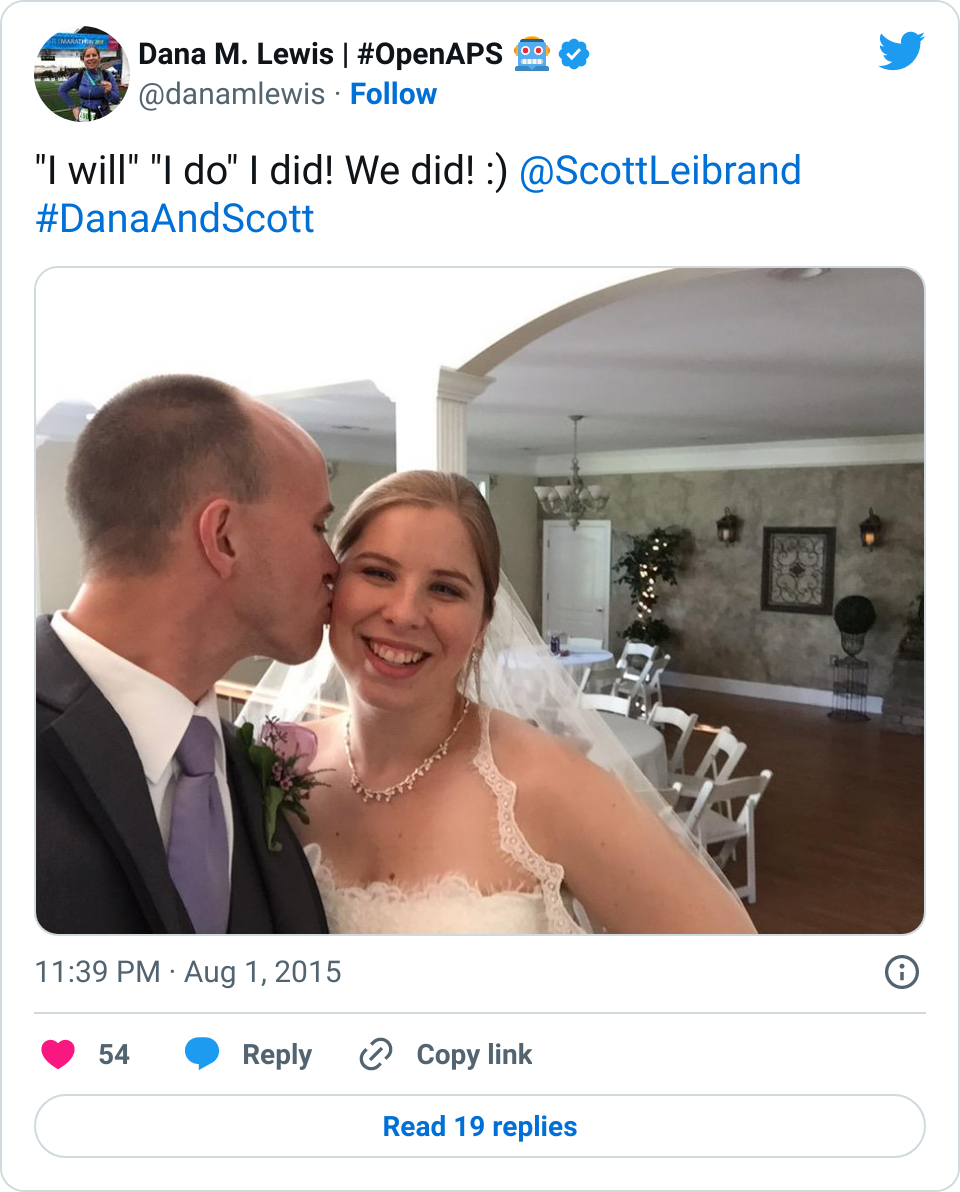 If you're not familiar with Scott & me (Dana), and how we ended up building #DIYPS and later #OpenAPS, you might be interested to read this great article in Business Insider. (And I've been told it's guaranteed to make you go "awww" even if you already sort-of know us!)
I love that it also highlights how #DIYPS played into our wedding, which was exactly how I wanted it: I hardly thought about diabetes at all. I didn't have to cut into the lining of my wedding dress to carry d-supplies. In fact, up until the last minute, I wasn't sure if I was going to carry the closed loop during the wedding itself, because I had decided not to put pockets in my dress and I wasn't sure Scott's suit had big enough pockets to hold everything.
But just like all things in this #DIYPS and #OpenAPS journey, a couple of serendipitous events gave us our solution.
First, we were in Alabama for the week before the wedding, and I was working a few days remotely there. But I like to move while I work, and so I'd move around the house (and go outside) with my laptop while I was on calls. This led to Scott getting no data alerts and no-loop-running alerts, and randomly chasing me down to re-plunk the loop down into range. Finally, he asked if I would consider a fanny pack. I laughed, and told him no way, and that HE should wear a fanny pack. Then I remembered hearing about flip belts and thinking about getting one at one point to try for running. So, we made a quick Amazon purchase (where all great artificial pancreas parts come from ;)).
Scott probably thought he'd get me to wear the flip belt around the house (it is purple, after all), and maybe at the wedding, but when it arrived two days before the wedding and I was busy working, he actually put it on, placed all the loop parts inside, and then decided to try putting his tux coat on over it.
It didn't show.
And this is how *Scott* ended up wearing the belt and the AP parts during the wedding (he's wearing it above and you can't see it!). I obviously was stilling wearing my pump and my CGM sensor under my dress where it wasn't showing. We also gave my second CGM receiver to Tim ( Scott's brother and best-man-extraordinaire), who also wore Scott's watch for much of the day and helped give me updates on my BGs when Scott & the loop were out of range prior to our "first look".
As a result of having #DIYPS/#OpenAPS, my BGs had been
picture perfect the night before the wedding
, and were within range all afternoon leading up to the wedding. (They were fine during and after the wedding, too, so much so that it never occurred to me to take more pictures of my graph, which shows how perfect it was to have diabetes not on my mind!)
This may have been (one of) the first wedding(s) with an artificial pancreas in it, but we bet it won't be the last – one of our friends in the Seattle area who is now up and running on #OpenAPS is also getting married next month, and he may wear his loop during his wedding, too!
We like this trend.